STV will host a special 70-minute programme from 9pm to allow health secretary Humza Yousaf, finance secretary Kate Forbes and former minister Ash Regan to put forward their pitches. Colin Mackay, the broadcaster's political editor, will ask questions before the hopefuls cross-examine each other. Members of the public will also have an input.
Channel 4 will host a further debate on Thursday, with the 30-minute head-to-head taking place in Glasgow and kicking off at 7pm.
The three candidates will then take part in an hour-long debate on BBC Scotland on March 14 from 8pm. Mr Yousaf, Ms Forbes and Ms Regan will face questions from host Stephen Jardine and an audience in Edinburgh.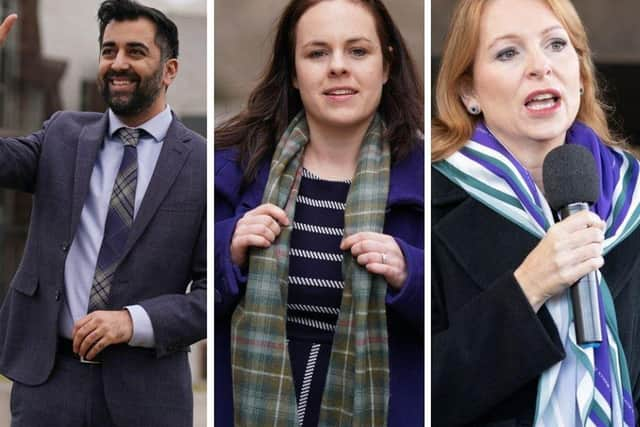 A series of party hustings for SNP members are also being held around the country, with the first having taken place in Cumbernauld on Wednesday evening. These were initially due to be held behind closed doors, with no media access, but the party U-turned on this following a backlash.
So what can we expect to feature in the TV showdowns? Here are five key areas to watch out for.
Independence
For most SNP members, this is obviously the big one. Where do the three candidates stand on the best route to independence? Mr Yousaf has distanced himself from Nicola Sturgeon's preferred strategy of fighting the next general election as a "de-facto" referendum. Instead, he would focus on building support "so we can definitively say that independence has become the settled will of the Scottish people".
Ms Forbes has also emphasised building sustained majority support. She told an SNP hustings that she would seek the transfer of the legal powers to hold a referendum within three months of the SNP winning the next general election. Under Ms Regan's leadership, meanwhile, the SNP would pledge to "begin independence negotiations" from day one of the new parliament if it achieves a majority of seats and votes cast in any election going forward. She calls this strategy the "voter empowerment mechanism". It is not clear how it would work in practice.
Gender reforms
This is one of the big dividing issues between the three candidates. Mr Yousaf backs Ms Sturgeon's controversial gender reforms, which would make it easier for a trans person to change their legal gender by removing the need for medical reports. He insists the Scottish Government must challenge the decision by UK ministers to block this from becoming law.
However, Ms Forbes says the reforms are "not a priority right now for the people of Scotland". She said she would seek legal advice, but would "far rather sort out the legislation ourselves rather than having to go to court or without having to seek Westminster's permission around what we do next".
Ms Forbes has spoken of her concerns about gender self-identification. Ms Regan resigned as a minister over the reforms. She told an SNP hustings she would not challenge the UK Government's decision, "for the simple reason that we are going to lose that court case and we are going to be throwing probably hundreds of thousands of pounds of public money into something that the public don't support".
Gay marriage
The start of Ms Forbes's leadership campaign was consumed by a row over her socially conservative religious views. She found herself at the centre of a media storm after she said she would not have voted for gay marriage if she had been an MSP at the time. Ms Forbes, who is a committed member of the Free Church of Scotland, later said she recognised her phrasing could have been better on this issue.
She wants to move beyond it, but it is almost guaranteed to be raised in some shape or form. Mr Yousaf appeared to take a swipe at Ms Forbes during the SNP hustings on Wednesday evening. "It's so, so important that whoever is first minister, that whether you're lesbian, gay, bisexual, transgender, whoever you are, you can look the first minister in the eye, and you can have confidence that they will not only protect your rights, that they will not only tolerate you, but that they will celebrate you and that they will advance your rights where they possibly can," he said.
Policies and vision
What do the candidates actually want to do if they win power? There are clear differences in their visions for the country. Mr Yousaf is seen as the "continuity" candidate and is keen to emphasise his admiration for Ms Sturgeon and her administration, while also insisting there are things he would do differently.
Ms Forbes seems to be positioning herself as more pro-business and focused on growing the economy, although she rejects accusations that she would move the party to the right. Ms Regan, on the other hand, is the self-confessed outsider and the candidate for change.
Her pitch is directed at those SNP members disillusioned with the current leadership and impatient for independence. All three have begun to outline their policies, such as rethinking aspects of the SNP's flagship National Care Service. Expect them to be pinned down on some of the details.
Economy and public services
The candidates will also inevitably face questions about the ongoing cost-of-living crisis and the state of public services, including the NHS. These are potentially tricky areas for both Mr Yousaf, who is the health secretary, and Ms Forbes, who is the finance secretary, but has been off on maternity leave.
Opposition politicians view Mr Yousaf's track record as particularly weak, given the well-publicised problems facing the health service. Will he come under pressure from the public? The dispute over teacher pay could also be raised. Many parents will be hoping for a rapid end to strike action. How would the candidates handle such issues? There are no easy answers here.