'I would have voted against gay marriage', says SNP leadership contender
Kate Forbes would have voted against gay marriage "as a matter of conscience" if she had been a member of parliament at the time, the SNP leadership contender has said.
The finance secretary, one of the two frontrunners to succeed Nicola Sturgeon as SNP leader and first minister of Scotland, told The Scotsman she would not have backed the legislation, but would have "respected and defended the democratic choice that was made".
In response, her main rival in the contest, health secretary Humza Yousaf, said he did not use his Muslim faith "as a basis of legislation".
Her comments drew sharp criticism from SNP colleagues, including Livingston MP Hannah Bardell, who wrote on Twitter: "I would have hoped that given Kate has so many friends, including myself, who are LGBTQ and hold her and her talents in such high regard, she might have tempered them or at least considered her response a little more carefully."
Mr Yousaf said he did not "use my faith as a basis of legislation". He told Tonight with Andrew Marr on LBC: "I'm a supporter of equal marriage. Let me get to the crux of the issue that you're asking me. I'm a Muslim. I'm somebody who's proud of my faith. I'll be fasting during Ramadan in a few weeks' time.
"But what I don't do is, I don't use my faith as a basis of legislation. What I do as a representative, as a leader, as a member of the Scottish Parliament, is to bring forward policy and pursue it in the best interest of the country."
Forbes, 32, speaking to The Scotsman, also committed to not unilaterally discarding the existing co-operation agreement with the Scottish Greens, instead stating it would be up to that party to decide whether her approach to issues such as the economy would be something "they can live with".
The MSP also inched herself away from using the next general election as a "de-facto referendum". She said the election would be used to "put pressure" on the UK by demonstrating the "weight" of opinion.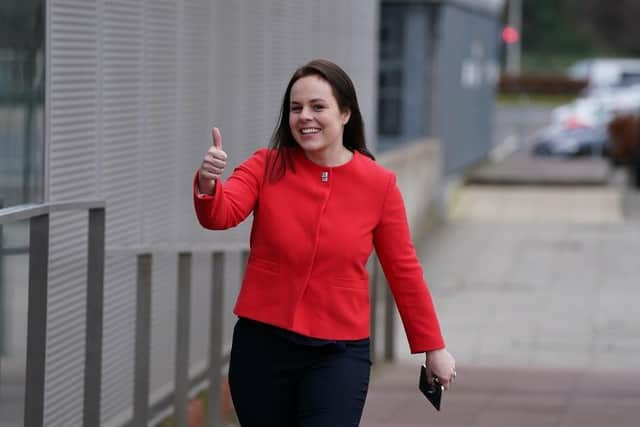 Ms Forbes is up against Mr Yousaf, who also formally launched his leadership campaign on Monday, and former community safety minister Ash Regan in the race to succeed Ms Sturgeon.
Another possible successor to Ms Sturgeon, constitution secretary Angus Robertson, ruled himself out
Ms Forbes, who has returned early after maternity leave to frontline politics following Ms Sturgeon's resignation, has faced questions about her views on social issues such as gender reforms and gay marriage.
She told the BBC she would not have voted for the Gender Recognition Reform Bill, passed by a majority of cross-party MSPs before Christmas, and that self-identification for transgender people was not "sufficient".
The MSP for Skye, Lochaber and Badenoch also faced questions on whether she believed in same sex marriage, stating she would defend the right for gay, lesbian and bisexual people to marry under the law.
However, asked by The Scotsman whether she would have voted for equal marriage, passed by the Scottish Parliament overwhelmingly in 2014 by 105 votes to 18, Ms Forbes said she would have voted against the Bill.
The leadership contender cited the example of Angela Merkel who, while Chancellor of Germany, voted against an equal marriage bill in 2017.
Ms Forbes said: "I believe that it should be a conscience vote because of its profound significance in all mainstream faiths. I think for me, Angela Merkel is the example I would follow. I would have voted, as a matter of conscience, along the lines of mainstream teaching in most major religions that marriage is between a man and a woman.
"But I would have respected and defended the democratic choice that was made. It is a legal right now and I am a servant of democracy, I am not a dictator."
The finance secretary also said she would not challenge the UK Government's section 35 order blocking Holyrood's gender reform Bill, stating the Government should focus on the priorities of voters such as the cost-of-living crisis and the NHS.
Asked why she would defend the right to legal marriage, but not challenge the blocking of a Bill passed by the Scottish Parliament on transgender rights, Ms Forbes rejection the comparison.
"I don't see that contradiction," she said. "I do absolutely believe that Holyrood should pass its own laws, but the question right now for any future leader is do we, obviously after seeking legal advice, challenge it in the courts at a time when people want us to focus on the NHS and cost-of-living?
"Do we do that, or do we find a way to work with the UK Government to make the amendments required to enable it to pass? I think it is a question of how we govern, right now, at a time of difficult choices in a way that most aligns with the people who sent us here to govern."
This position is in direct contrast to that of her closest leadership rival, Humza Yousaf, who said he intends to go ahead with a legal challenge if he wins the race for Bute House.
The majority of SNP voters back such a move, but a majority of the public do not, a poll by Savanta for The Scotsman found on Sunday. At risk if the GRR bill is not enacted is potentially the Bute House Agreement signed by the SNP and the Greens in August 2021, effectively forming a coalition government.
Any victory by Ms Forbes could see that deal at risk. However, she said she would stand by its terms should she win.
"I would argue that of all the people in the SNP, I have probably got the most experience in negotiating with the Greens," she said. "I have negotiated with the Greens over three budgets, successfully I hasten to add, and I would certainly enter into discussions with them.
"I am being open in what I would put front and centre of my campaign, which would put a real, massive focus on economic prosperity and it would then be for the Greens to determine whether they could work with me on that."
Asked if this meant she would ditch the deal and renegotiate it, the finance secretary was clear that was "not what I'm saying".
She said: "What I am saying is that as part of this campaign I am putting things like a significant focus on the economy, a significant approach to economic growth, to business growth, to unleashing the potential of our industries.
"I think it is for the Greens to figure out whether they can live with that or not. Incidentally, economic growth is, of course, excluded for the co-operation agreement. The theme of my comments are very much about wanting to enter into discussion, but I guess it is for them to determine that is good enough for them.
"In the event of being elected, we would continue to discuss with them whether they are content. My focus is very much going to be on a step-change on Scotland's economic prospects."
The future strategy for independence will also be key to the leadership election, with Ms Forbes inching away from the suggestion of using the next general election as a 'de-facto referendum'.
She said her approach would be different to that of Ms Sturgeon and involve reaching across the aisle to both Yes campaigners in other parties such as Alba and No voters.
"Any future for independence requires a competent leader that can inspire the confidence, not just of SNP members, but of the people of Scotland and I, of course, believe I am that person," she said.
"The conversation needs to be so much broader than it has been. The conversation needs to include wider SNP members, it also needs to include members of the Yes movement, and – this is controversial – it also needs to include people who are not yet persuaded of independence.
"Ultimately if we are going to shift the dial, we need to reach out and they need to be part of the conversation. They are not people that I write off or criticise, they are people that we need to speak to.
"I do believe we need to use all means possible to put pressure on the UK Government, and that includes the next Westminster election. I do think independence needs to be front and centre of that, and it should be used as a means of putting pressure on the UK Government."
Asked to clarify whether this meant the next election would see negotiations on independence begin the day after the results, Ms Forbes simply repeated that she would use the result to "put pressure" on the UK Government.
She said: "It will give an indication of where voters are in terms of their support for independence and their appetite. Ultimately what will force the UK Government's hand is seeing that pressure, because it is obviously a matter of outrage that the UK Government has not provided for a democratic route to independence.
"I think we need to show the weight of support in order to put any pressure on them at all and I will continue to negotiate with the UK Government on all those matters."
Want to hear more from The Scotsman's politics team? Check out the latest episode of our political podcast, The Steamie.
Comments
 0 comments
Want to join the conversation? Please or to comment on this article.