Scottish independence: Alex Salmond calls for pro-independence pact between Alba, the SNP and Scottish Greens for general election
The former First Minister wrote to SNP MPs urging them to back Alba's bid for a single Yes candidate at the next General Election.
The former first minister has written to SNP MPs urging them to work together so that a single candidate stands in each constituency representing the independence cause in a Westminster election.
It comes a month after Holyrood polling by Panelbase put his party on 5 per cent of the regional vote at a future Scottish Parliament election.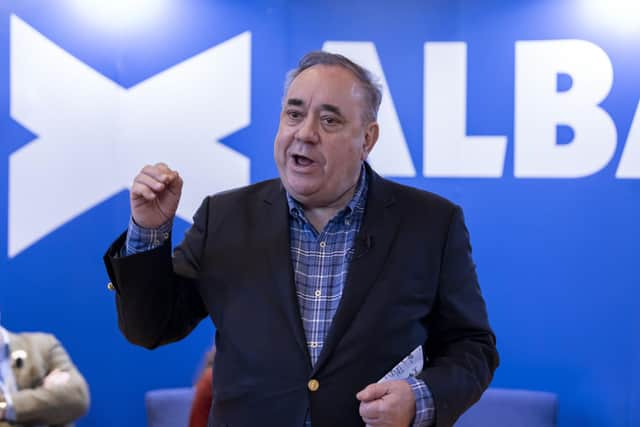 Calling for a "Scotland United" approach to the general election, Mr Salmond also suggested the move would stop a resurgent Scottish Labour.
He said: "At a time when Westminster is refusing to agree to a referendum, a single pro-independence candidate on each ballot paper creates the opportunity for a Scotland United victory to provide the mandate to enter straight into independence negotiations with the UK Government.
"Back in 2014, support for the SNP was at near 50 per cent and support for independence was around 30 per cent at the start of the referendum campaign.
"Now we have the opposite – support for independence is about 50 per cent and it is the support for the SNP which is much lower."
In his letter to SNP members of Parliament, Mr Salmond claimed a universal front would see out "the entire dynamic of the election change".
He said: "The focus will no longer be on how many SNP seats will be lost to Labour, but how many of the ten remaining unionist seats will be lost to the Scotland United coalition. Election debate will be centred on independence and how to get it, and not on the government record or current internal difficulties of Scotland's major party.
Comments
 0 comments
Want to join the conversation? Please or to comment on this article.