Scotland's bottle deposit return scheme: Westminster set to block upcoming deposit return scheme
The UK Government is poised to block Scotland's coming bottle deposit return scheme.
The Times reports the UK Government has signalled that it would block the "inflationary" project to protect cross-border trading and as the scheme would add to the cost-of-living crisis.
A UK source told The Scotsman: "It is the Scottish Government's job to come up with a scheme that works. But it is crystal clear the scheme is already in deep trouble even before the UK Government have been asked to relax laws protecting cross-border trade.
"If the Scottish Government are attempting to shift the blame for this fiasco on to Westminster, it is pretty desperate stuff even by their standards."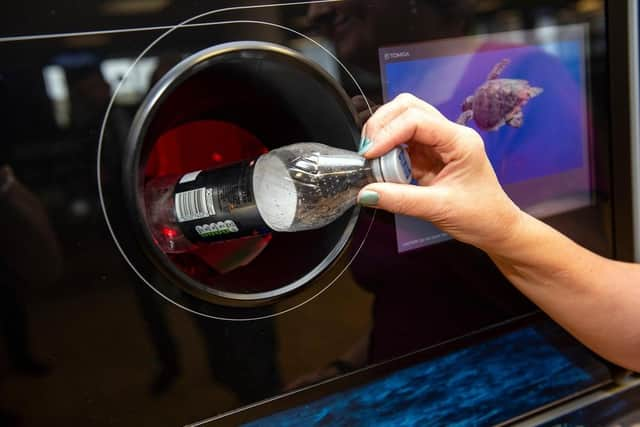 Alister Jack, secretary of state for Scotland, said the scheme would add to the cost-of-living crisis, telling the Commons last week the bar for an exemption "is very high indeed" adding: "Aldi will sell 12 bottles of Scottish water for £1.59. Under this scheme, that will become £3.99. If that is not inflationary, if that is not adding to people's cost of living, I do not know what is."
SNP leadership candidate Kate Forbes has said she would put the scheme on hold in response to a "wave of concern" from business while leadership rival Humza Yousaf said he would go ahead with a similar exemption to the one being proposed by Lorna Slater that would see a one-year exemption offered to companies.
Companies are required to register for the scheme by Wednesday ahead of its planned launch on August 16.
A UK Government spokesperson said: "The Scottish secretary has urged the Scottish Government to pause its scheme and work with the UK Government on a solution that works for both Scotland and the whole of the UK. That would be the best way to maximise environmental benefits, minimise disruption to the drinks industry and ensure choice for consumers."
Chris Shoogle on Shoogle Spirits said: "It's hard not to be annoyed that it has come to this. Producers have been trying to speak to government for months now and no one was listening. If there had been thorough industry engagement, collaboration, and transparency then we could have had a world leading recycling scheme that everyone would support. Our main question now is how do we recover from this?"
Stephen Montgomery from the Scottish Hospitality Group said: "The pragmatic approach which Lorna Slater talks of is one which obviously the UK Government are now also seeing as the best way for a deposit return scheme to work, as they seem to now wish to halt it under the UKIM Act. This is something we [Scottish Hospitality Group] would welcome, and in working together we can create a scheme which brings with it positive outcomes."
Max Nowell of Steilhead Cider said: "This news will come as a life-saver to hundreds of Scotland's vibrant small beverage producers like myself, but I sincerely hope that a similar but much better-implemented scheme comes about as soon as possible to cut litter and boost our recycling rates."
James Porteus, from Electric Spirit Co, said the situation had "imploded". He said: "We have the Scottish Government telling us the deposit return scheme is absolutely going ahead, while Westminster says it absolutely won't be, the day before we're required to sign up.
"We have the minister in charge informing industry of potentially huge, vague changes to the scheme via an appearance on a TV chat show. The ongoing lack of competence is exhausting. Small businesses are fighting for their lives while second-rate politicians indulge in third-rate politics over an issue that demands our absolute best."
Comments
 0 comments
Want to join the conversation? Please or to comment on this article.