Scotland's deposit return scheme in disarray as SNP leadership frontrunner Kate Forbes threatens to scrap initiative
Scotland's flagship deposit return scheme has been thrown into disarray after the minister spearheading the initiative admitted small producers could be given a grace period from the contentious scheme.
Circularity minister Lorna Slater said the Scottish Government was "actively considering" a mechanism that would pause the scheme for smaller producers for a year, while stressing the need to have a "conversation" about which businesses might be eligible for any such temporary exemption.
However, she was unable to clarify those businesses that would be impacted, and insisted the large-scale recycling initiative was "definitely going ahead" as planned this summer.
Ms Slater's change of position comes just days before producers must meet a deadline to sign up to the DRS, which is set to go live this August. Trade groups such as Scotland Food & Drink and the Scottish Wholesale Association have been calling for the introduction of a 18-month grace period in the regulations, warning many firms lack the finances and resources to meet the DRS requirements. It comes amid questions over the environmental track record of those firms behind the day-to-day operation of the scheme.
The future of the DRS, hailed by ministers as a key driver towards reducing waste and driving down emissions across the country, has also been placed in doubt after Kate Forbes, one of the contenders to succeed Nicola Sturgeon as leader of the SNP and first minister, said she would "pause" the scheme's rollout.
The finance secretary warned the initiative needed to be re-examined in the context of businesses who were overwhelmed by sharp rises in energy costs.
Health secretary Humza Yousaf, another leading candidate for the SNP top job, said that if elected, he would exclude small businesses from the first year of the operation of the DRS, insisting it was the "big producers" that should be targeted, instead of craft breweries and craft gin makers.
Asked during an interview with BBC Scotland's Sunday Show whether Ms Yousaf's proposal was one the Government was looking at, Ms Slater, co-leader of the Scottish Greens, said: "That is absolutely something we are actively considering. There are two different things in line here. One is signing up with the scheme administrators. The deadline for that is Tuesday and I would encourage all businesses who are affected by this scheme to contact Circularity Scotland [a private company set up to administer the DRS] and find out what they need to do to get registered by Tuesday.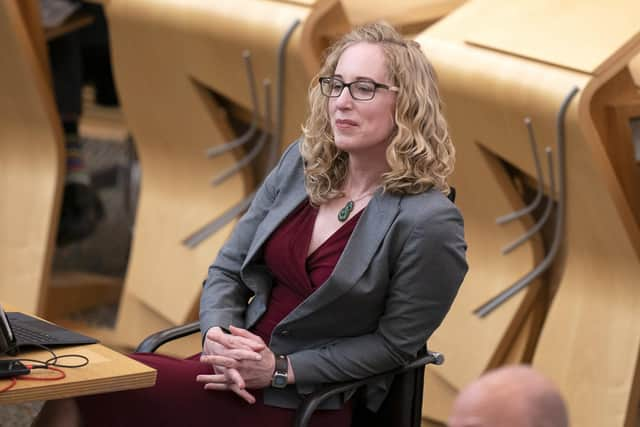 "In terms of actively getting their products on the shelf and making sure the labelling is right and so forth, we will then work with small producers going forward to then bring them into the scheme in a pragmatic way that works for them. That's two different deadlines."
However, questioned on which producers would be eligible for any grace period, Ms Slater added: "That is exactly the kind of question that we need to have a conversation about. These businesses need to contact Circularity Scotland and have that one-on-one conversation about what's right for them.
"Every business in Scotland is slightly different and has different needs. Circularity Scotland is very keen to speak to those businesses who haven't yet had that conversation and find out what they need to do."
Ms Slater stressed the DRS was "definitely going ahead", with "great momentum" in place as the August roll-out nears. She said industry had invested tens of millions, and in some cases, hundreds of millions of pounds, towards the scheme.
However, her Cabinet colleague, Ms Forbes, said businesses across the country were suffering as a result of the impacts of Brexit, the pandemic and the cost-of-living crisis. "We need to be identifying the cumulative burdens and try to give them a bit of breathing space," she told the Scottish Mail on Sunday. "That requires you to listen to them and then deliver for them."
Ms Forbes said she had raised issues around the DRS with Ms Slater on "a number of occasions" and emphasised any scheme has to work for all of the country. "We need to identify why businesses are up in arms, how to adapt the scheme to ensure it works for all of Scotland, and then deliver a scheme that actually is going to achieve its aims," she explained.
The SNP MSP for Skye, Lochaber and Badenoch added: "The wave of concern needs us to pause, review the pressures and look at this in the context of businesses who are at the moment overwhelmed. Businesses in food and drink particularly are seeing their energy bills go up exponentially. I've seen this week alone a business talk of their energy bill go up five times in the space of 12 months."
Dougal Sharp, the founder of Innis & Gunn, and one of the most vocal critics of the DRS, said businesses were facing a catch 22 situation ahead of Tuesday's deadline to sign up.
He said: "It's like a devil's choice – you're damned if you do, and you're damned if you don't. There are real risks with signing up, but, of course, there are real risks if I don't sign up, so it's a difficult position to be in.
"To sign up allows us to trade in Scotland beyond the implementation date. However, it also opens us up to risk if the scheme doesn't go live, or only partially goes live. The administrator can reach into our bank account and take out significant sums of money, and we think that's a significant risk to business."
If his firm did not sign up, Mr Sharp added, it would "cripple" his company, and leave it unable to sell anything in Scotland. "Anyone that doesn't sign up faces that choice, and I think that's an unfair choice for any company to face," he said.
Comments
 0 comments
Want to join the conversation? Please or to comment on this article.