Throw your mind back six years to May 2017 and the SNP were facing the aftermath of a bruising general election, one that delivered a loss of 21 seats and a drop in public support to 37 per cent.
Many of those defeats were driven by pro-Brexit and pro-union politics and the peak of Ruth Davidson's popularity, helping the Scottish Conservatives to a decades-long high of 13 seats north of the border, with Scottish Labour also buoyed by Corbyn-mania among parts of its vote base.
Since then, the SNP has returned to near-dominance of 2015 levels and the decline of Labour on the Scottish Westminster stage to a near irrelevance as it toiled and began its rebuild.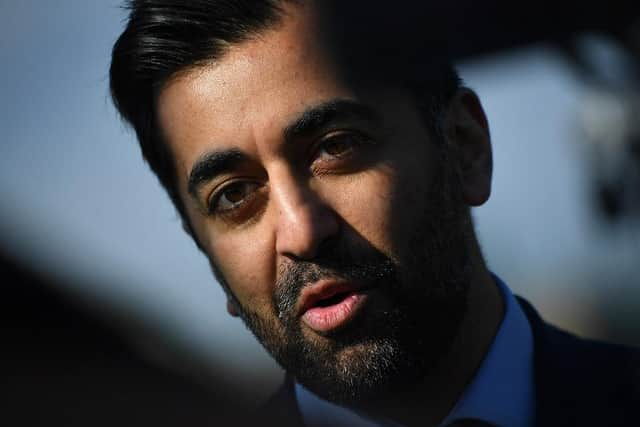 But the resignation of Nicola Sturgeon has changed everything. It has exposed internal wounds to the salt of a leadership contest, and the damaging optics of a high-profile police investigation into the party's finances has damaged the SNP's reputation further, even without any charges.
And where the poll from YouGov, modelled by individual constituency and with the loss of more than 20 seats, will have sparked concern, a conventional Ipsos poll for STV with the overall loss of just four seats will have sprung hope.
How bad the current situation is for the SNP is a matter of debate, both internally and among its opposition.
Scottish Labour are salivating at the prospect of a by-election in Rutherglen and Hamilton West, Margaret Ferrier's seat, and it's easy to see why. But the party is also setting expectations for a likely 2024 general election lower than the success polls are suggesting.
Double figures, the party says, would be success. The truth is they will be aiming for around 20 gains, which would be a very good day, one Anas Sarwar would have jumped at when he was elected leader three years ago.
For the SNP, the truth of their predicament lies somewhere in the middle of the apocalyptic predictions of annihilation from those who spend too much time online (no poll has them close to 2010 levels of support where just six seats were won with 20 per cent of the vote) and hopes a repeat of 2019 or, better yet, 2015 with close to 50 per cent of the vote.
The scale of the defeat will ultimately decide the First Minister's fate ahead of the 2026 Scottish Parliamentary election. Finish first – and it worth noting how dominant the SNP have been in recent years to be considering a first place finish a defeat – but with 2017 levels of seats and he may well survive any onslaught from the likes of former finance secretary Kate Forbes.
Finish second in either vote share or seats and the voices of dissent and calls for his departure will grow too loud to ignore.
Polling is suggesting, however, the now decade-long link between supporting independence – still sitting on average at or just below 50/50 support for Yes/No – and voting automatically for the SNP is beginning to decouple.
For 2024, SNP voters will be looking at Labour and Sir Keir Starmer's promise of change with envious eyes. Many could make the decision to swap to Labour to ensure the Conservatives do not hold the keys to power.
The impact of a handful of Scottish seats turning red would be limited in any election, but dozens turning red would provide constitutional ammunition for a new Labour government.
The more pertinent, if not pressing, question for the future success of the SNP is how voters will approach 2026 and a Holyrood election.
If, as appears to be happening, pro-independence voters are willing to flirt with Labour at a general election, will that decision to break a pattern of an exceptionally busy political decade carry over to 2026?
Labour strategists will hope that one habit breaking vote will be enough to repeat – in the opposite direction – the surge of Labour to SNP switchers in Scotland in the Alex Salmond days, even if it does not dent independence support in the short term.
But that uncoupling of voters could be temporary, a shot across the bow of the SNP whose version of change is, in the words of Mr Yousaf, a settled majority of Scots away from even being subject to a referendum.
Much of the 2026 vote will depend on two different, but related factors. First, how much change can the SNP leader deliver in his time in charge of the Scottish Government, both in terms of improving his party's reputation for delivery and instilling fresh thinking in what had become a tired, sleep-walking government under Nicola Sturgeon?
And secondly, much will depend on how Sir Keir approaches government, either in coalition or, as is much, much more likely, with a whopping majority.
A Labour government that drives transformational change in the first two years – against the expectations of those now used to hearing the leader of the opposition refuse to commit to overturning controversial legislation such as the anti-protest bill and immigration policies – would be a difficult beast for an ailing nationalist government.
Some argue Sir Keir's language in opposition, which appears to be built on a move rightwards to the centre, is merely a smokescreen to allow the party to return to power for the first time in a decade-and-a-half.
But if, once in power, Labour get cold feet, fail to deliver change they promised and Sir Keir continues to gain a reputation for U-turning on policy commitments he made while in opposition, the SNP will be confident it can make the case for Scottish voters to keep the faith.
Want to hear more from The Scotsman's politics team? Check out the latest episode of our political podcast, The Steamie.