A vote of more than 50 per cent would mean the Speaker would notify the Returning Officer in South Lanarkshire, who will then open a recall petition, with signing stations opened across the constituency.
An appeal by Ms Ferrier, heard by the Independent Expert Panel, had rejected her attempts to avoid potentially losing her job.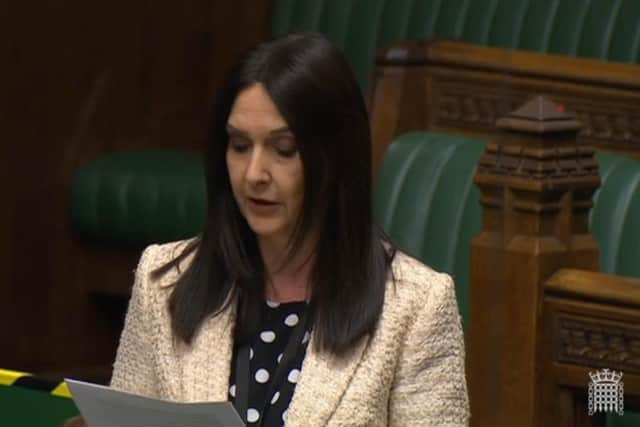 Ms Ferrier had spoken in Parliament in September 2020 while awaiting the results of a Covid test, then took a train home to Glasgow despite knowing she had tested positive.
If an MP is suspended from the Commons for more than 10 days, a recall petition can be launched seeking a by-election, requiring just ten per cent of voters in the constituency.
Here's how close the seat has been in the past, and the details of how Ms Ferrier found herself in this situation.
Historically a safe Labour seat, in 2015 it was gained by the Scottish National Party when they won a record 56 of the 59 Scottish seats at Westminster.
Ms Ferrier won the seat for the SNP with a majority of 5,230 at the last general election, with Labour's with Gerard Killen finishing second with 18,545 votes.
Now a key swing seat, Mr Killen had won the seat from Ms Ferrier in 2017, with the then-SNP MP having been first elected in 2015.
Leah Stalker now hopes to run in the seat for the Labour party, having previously been a teacher and worked in the trade unions.
Scottish Labour are very confident about taking the seat, and its leader Anas Sarwar has visited the constituency to call for a by-election.
An urban seat in Greater Glasgow about 15 minutes from the centre, the constituency voted 62 per cent in favour of remaining in the Brexit referendum, and approximately 50-50 on Scottish independence.
Part of South Lanarkshire, it is composed of eight electoral wards. Its neighbouring constituency Lanark and Hamilton East has been held by the SNP's Angela Crawley since 2015, with Labour's Jimmy Hood previously holding it since 2005.
Ms Ferrier's local paper is the Rutherglen Reformer, which had a front-page open letter calling on her to step down.
It said: "The time for honour is rapidly running out. Think no more about what you want, but instead of what others need. Resign, before you become a social pariah and not just a political one."
What did Margaret Ferrier do?
The MP had taken a Covid test on September 26 2020 because she had a "tickly throat", and went to church and a bar in Prestwick, Ayrshire, while awaiting her results.
She then travelled to London by train, which had 183 passengers on board and spoke in the Commons.
Finding out she was positive, Ms Ferrier took a train back to Glasgow the next day, fearing she would have to self-isolate in a London hotel for two weeks.Once the details emerged, the SNP removed the whip, with Nicola Sturgeon saying she should stand down.
The Commons' Standards Committee recommended last month that Ms Ferrier should be suspended.
Parliamentary Commissioner for Standards, Daniel Greenberg, concluded she put her own personal interest ahead of the public interest by not immediately self-isolating in London, and had caused "possible risk of harm to health and life for people she came into contact with".
The commissioner added her actions "caused significant damage" to the reputation of the House of Commons and noted that people in other roles would have been sacked for a similar breach of the lockdown rules.
In August last year she was sentenced to 270 hours community service at Glasgow Sheriff Court after pleading guilty to a charge of culpable and reckless conduct.