The SNP's support ahead of the next general election has slumped by 10 points since the end of 2022, but still sees them as by far the largest party in Scotland winning 44 seats against Labour's nine.
The poll, by Ipsos for STV, is significantly better than a recent poll released this morning by YouGov which would see the SNP suffer a lost of 23 seats, dropping to 27 in total, with Labour close behind on 24.
Support for the SNP is estimated to be at 41 per cent, ten points below the December 2022 figure, with Scottish Labour on 29 per cent, Scottish Conservatives on 17 per cent, and the Scottish Liberal Democrats on six percent.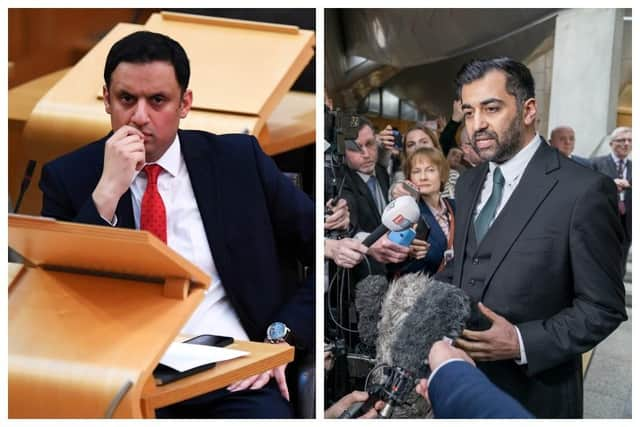 Scottish Labour leader Anas Sarwar will see an increase of eight seats for his party with that level of support, up to nine in total, while Douglas Ross and Alex Cole-Hamilton's parties are predicted to win three seats each.
Independence support is more positive for Mr Yousaf, however, with Yes support at 53 per cent and No at 47 per cent when don't knows are included.
This is lower than the 56 per cent in December 2022, Ipsos said, but is better than other polls which give No a narrow lead.
The First Minister is also facing an upward struggle with his personal ratings, with an overall net rating of -9. His closest rival, Anas Sarwar, is the only politician with a positive net rating of +7 per cent.
Douglas Ross has a net satisfaction rating of -25, an improvement on his rating of -38 in December.
Emily Gray, managing director of Ipsos in Scotland, said: "In the wake of Nicola Sturgeon's unexpected resignation, a divisive leadership contest and controversy over the party's funding and finances, support for the SNP has fallen back.
"With First Minister Humza Yousaf's approval ratings weaker than Nicola Sturgeon's were, it may be challenging for the party to regain that support. Meanwhile, Labour will be hoping that the indication in this poll of a weakening relationship between past independence support and voting for the SNP becomes a trend on which they can capitalise."
Want to hear more from The Scotsman's politics team? Check out the latest episode of our political podcast, The Steamie.