SNP Westminster leader Stephen Flynn used his questions to discuss food prices, warning of a "cost-of-greed crisis".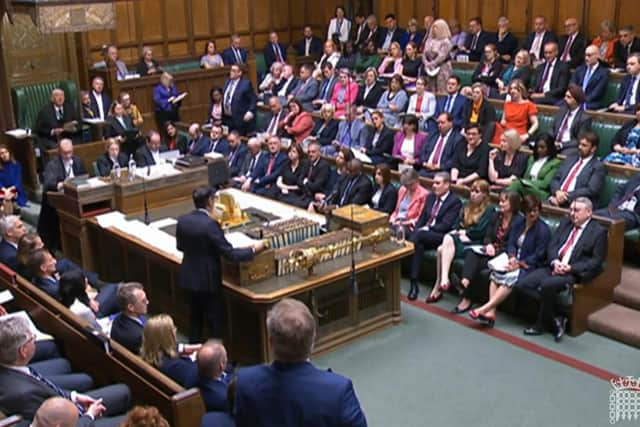 The Prime Minister faced questions from Mr Flynn about the Competition and Markets Authority and the rising price of food, something he dismissed with a barb about the SNP's issues with the Deposit Return Scheme.Pointing out the CMA is independent, he added: "We're doing everything we can to help consumers manage the challenges of the cost of living, but if the SNP wanted to do their bit, maybe they could reconsider their deposit return scheme, which, it's very clear what people have said….it will reduce choice and increase prices for consumers."
There was also a strong riposte to Labour's criticism of immigration policy, with Mr Sunak pointing to comments made by one of Sir Keir's own frontbenchers.
He said: "He talks about immigration but we know his position because it turns out that Labour would actually like to see even more people coming to the UK, increasing the numbers.
"It's not just my view, those are the words of his own frontbencher who said 'having a target is insensible and that the numbers might have to go up'."
The Labour leader made Government failure on immigration the cornerstone of his criticism, tying it with jokes about the Home Secretary's attempt to cover up her speeding.
He told the Commons: "The Prime Minister stood on three Tory manifestos, each one promised to reduce immigration. Each promise broken. They (Conservative backbenchers) all stood on those manifestos as well.
"Why does he think his Home Secretary seems to have such a problem coping with points-based systems?".
The joke and point show a clear attempt by Labour to look stronger on immigration, with the failure of the Rwanda scheme, among others, showing a clear Government weakness on it.
The SNP Westminster leader went in on issues with a real impact on people, pointing to corporate greed with food prices too high.
He said: "We learnt today that the price of milk, cheese and eggs are up 29 per cent, the price of pasta up 27 per cent, the price of a loaf of bread 18 per cent. Does the Prime Minster agree that this is no longer just a cost-of-living crisis, this is a cost-of-greed crisis?".
While Mr Sunak agreed food inflation was too high, he also distanced himself from responsibility.
The question itself shows an SNP focus on day-to-day issues, not those in the Westminster bubble, and one when compared to Labour's questions on immigration, a clear sign Mr Flynn's party are portraying themselves as more progressive.