PMQs: How did SNP's Stephen Flynn, Rishi Sunak and Sir Keir Starmer perform as China and pensions raised
The Prime Minister attacked Labour's housebuilding policy when criticised over China and collapsing schools.
There are no easy weeks for Rishi Sunak at the moment, and he will be pleased to have seen off the final Prime Minister's Questions before conference season.
In a bruising session, Sir Keir Starmer questioned Mr Sunak over Chinese interference, prison security and a failure to deal with Britain's problems.
The SNP Westminster leader Stephen Flynn took a different approach, instead asking questions about both Labour and the Tories failing to confirm they support the pensions triple-lock.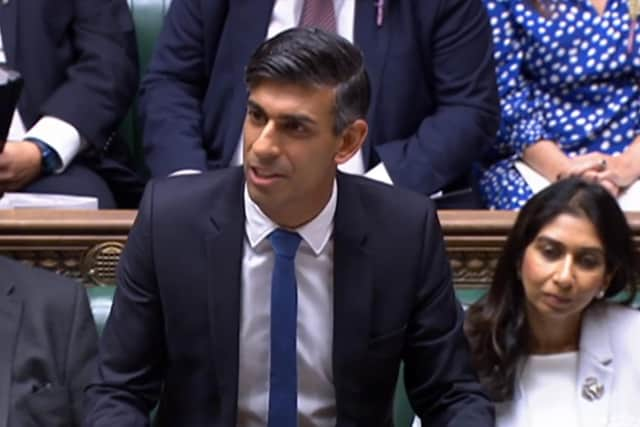 Initially asked about why the terrorist suspect Daniel Khalife, who escaped from jail, was not held in a category A prison, Mr Sunak sought to reassure the public and criticise Labour's record from ten years ago.
The Prime Minister said: "He [Sir Keir], with his background, should know better that because of the wide variety and considerable difference in severity of people charged under that Act, it is not and has never been the policy that they are all held in category A prisons.
"But if he wanted to have a truly honest debate about this, perhaps he'd acknowledge that prison escapes under the Labour government were almost ten times higher than under the Conservatives."
Mr Sunak also struggled to answer whether foreign secretary James Cleverly had raised with China the specific case of a Scottish parliamentary researcher alleged to have spied for Beijing.
Much like last week where the concrete in schools scandal dominated, again the Labour leader had a lot to work with.
Sir Keir criticised the UK Government's handling of the criminal justice system, pointing to both the escape and failures in the probation system that a victim's family saw ministers have "blood on their hands".
He said: "The Chief Inspector of Prisons said conditions in Wandsworth are so bad it should be shut down. The Chancellor is telling anyone who will listen that he raised concerns months ago. Probation, school buildings, now prisons. Why does the Prime Minister keep ignoring the warnings until it's too late?".
On China, Sir Keir accused the Government of being "totally at odds with Parliament's intelligence and security committee report of July this year".
He said: "This has been raised time and time again. But, yet again, the Prime Minister fails to heed the warnings and he's now desperately playing catch up. So, will he finally commit to the full audit of UK-China relations, which so many in this House have so long demanded?"
Mr Flynn tried to pin down the Prime Minister on the triple lock on state pensions, with Mr Sunak failing to guarantee it will feature in the next Conservative manifesto.
The SNP Westminster leader said: "As someone who spends more money heating their swimming pool than the total value of the UK state pension, I think it's safe to say that the Prime Minister might not be as invested in this topic as some others. But let's afford him the opportunity to clear up any confusion.
"Will he commit his party, the Conservative Party, to maintaining the state pension triple lock beyond the next general election – yes or no?".
Comments
 0 comments
Want to join the conversation? Please or to comment on this article.