Peter Murrell arrested: Police Scotland search home of Nicola Sturgeon and her husband
It is an anonymous new-build property on an anonymous street in a suburban town on the north bank of the River Clyde. The ideal place, in other words, for Scotland's highest-profile political power couple to enjoy a degree of privacy.
But that privacy was shattered on Wednesday morning after Police Scotland launched a large-scale operation at the home of Nicola Sturgeon and Peter Murrell as part of their investigation into the Scottish National Party's finances.
The unprecedented chain of events saw a flurry of activity at the couple's detached property in Uddingston, one of a number of addresses across Scotland searched by the force as part of Operation Branchform. It began with no warning shortly after 8am, a time when most people on the street were setting off for work, or putting their bins out for collection.
Within the space of an hour, several Police Scotland vans were in situ outside the house, with an incident tent set up in the property's front garden. The property's perimeter was taped off, and a cordon and screening were also put in place, so as to obscure views of its garage, as officers came and went.
For tradesmen who were already on site at one of the adjacent neighbouring properties, the spectacle of Ms Sturgeon and Mr Murrell's house becoming the focus of a significant police operation played out in real time. One plumbing engineer, who did not wish to be named, said that when he arrived shortly before 8am, he saw police officers sitting in an unmarked police car parked in the nearby street of Broomhouse Crescent, a minute's walk away from Ms Sturgeon and Mr Murrell's house. Soon afterwards, he said, it became apparent why they were there.
"When I got here, there were already police around, but they hadn't started anything then," he explained. "But about 15 or 20 minutes after that there were more police that arrived." The eyewitness said he watched as Ms Sturgeon left her home around 8:10am before being driven away in a black Volvo, understood to be a Scottish Government vehicle.
"There was no noise or sirens or anything like that – it was really quiet," he said. "After that they started getting the vans outside and setting up the tent. It's pretty weird, the whole thing. It's not something you usually see."
By mid-morning, the police operation was in full flow. A steady stream of officers went in and out the property, and it appeared that some items were being removed from the house. They included a tote box, which looked to contain bundles of printer paper. To the rear of the house, other officers could be seen in the garden. At one point, two officers emerged from the conservatory to search a Keter-style storage box as well as a barbecue area. Other officers could be seen with a spade and garden equipment.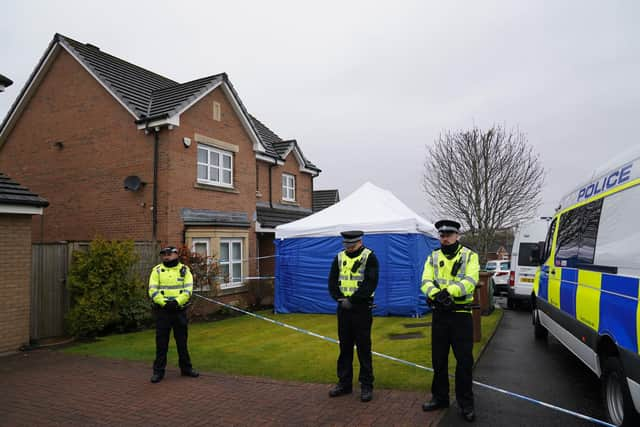 Throughout the activity, the curtains and blinds of the property remained drawn, and there was no sign of anyone at home. The couple's green and brown recycling bins were still positioned on the verge of the front garden on collection day.
Outside, ordinary life went on. A postwoman did her rounds, and an Amazon delivery driver struggled to navigate his van through the parked vehicles. At one point, an ice cream van made its way through the chicane of police and transit vans. The chime it played? Raindrops Keep Fallin' on My Head.
A succession of dog walkers stopped at a patch of ground opposite the couple's house, while drivers passing by slowed down to look at the scene, with some taking pictures on their smartphones. Few people, however, lingered for long, or wished to speak to the growing ranks of reporters.
One nearby neighbour of the political power couple, who did not wish to be named, was an exception. "Everyone here knows them, or knows they live here and as you'd expect because of their politics, everyone has a different impression of them," he said. "It's just become normal over the years to see her [Ms Sturgeon] coming and going like anyone else.
"But there's never been anything like this. It's a total circus, a real shock. I think above all else, she'll be embarrassed at this huge police presence in her home and on her street."
According to the neighbour, the couple, who have been married since 2010, have called the property home for more than 15 years. Given the high public profile of Ms Sturgeon, their street has been glimpsed fleetingly during the years of her premiership. She would occasionally field questions from reporters concerning major stories as she left, or arrived, home.
Eight years ago, she even let cameras in through the front door as she invited a team from Good Morning Britain to conduct a sit-down interview. At one point, the interviewer, Susanna Reid, remarked the property was so immaculate that it looked like a show home. Ms Sturgeon replied that it was not always so tidy, and that she had her husband tidy up the previous evening.
Such glimpses into the couple's home life have been rare and, in truth, the place they call home speaks to how much they value a life outside the glare of the political spotlight. Despite the fact Ms Sturgeon is no longer first minister, and Mr Murrell has stepped down as chief executive of the SNP, Wednesday's events underline the fact there is no guarantee of such a thing any time soon.