"There's plenty in the tank at the moment," the First Minister told the BBC. It turns out she was running lower on fuel than anyone realised.
The First Minister is at the centre of political life in Scotland. Whatever you think of her, we have been living through the Sturgeon era. That is now drawing to a close.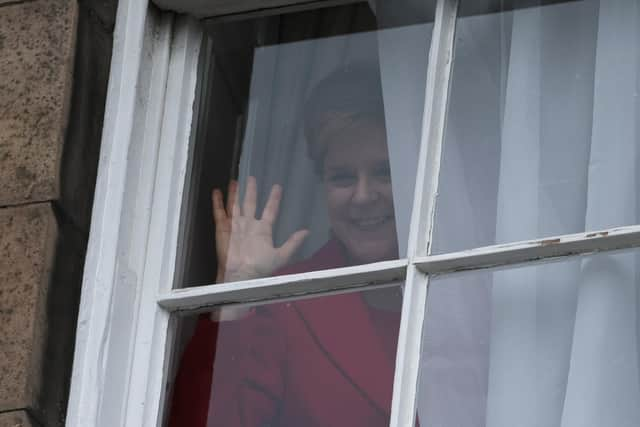 I was about to take my car for an MOT in Dunfermline when an email dropped announcing her unexpected Bute House press conference. "Get on a train to Edinburgh," a figure close to Ms Sturgeon replied when I asked how big this was. "I'm not messing you about – get on a train to Edinburgh."
There are now huge questions facing the SNP and the wider country. Ms Sturgeon's party is about to embark on an era-defining debate about its future independence strategy.
The First Minister wants to fight the next general election as a "de-facto" referendum. Many disagree with this plan, seeing it as a potentially damaging dead-end.
Ms Sturgeon said her decision to step down will leave the SNP free to choose the best route forward. But it will also leave the party grappling with more than one major conundrum.
The fact is, there is no clear successor to Ms Sturgeon. No one obvious is waiting in the wings, eager to grab the spotlight.
Names to watch include Kate Forbes, the finance secretary who is currently on maternity leave, and Angus Robertson, the constitution secretary. A recent poll found Ms Forbes was the choice of 7 per cent of voters, more than any other party figure – but an overwhelming 69 per cent of respondents said they didn't know.
Ms Sturgeon's legacy will be debated and poured over in the weeks and months to come. Those close to her point to policies such as the expansion of funded early learning and childcare and the rollout of devolved benefits, as well as measures to tackle child poverty. Her communication during the pandemic was widely praised.
Ultimately, however, her party exists to drive forward the cause of Scottish independence. Ms Sturgeon failed to notably shift the dial on that issue. The baton now passes to someone else.