At a hastily-arranged news conference at Bute House in Edinburgh, the leader of the SNP announced she would be standing down once a replacement had been chosen by her party.
She will end her career at the top of Scottish politics as the longest-serving First Minister and with her party significantly ahead in the polls, having won eight successive elections in as many years.
"In my head and in my heart, I know that time is now – that it's right for me, for my party and my country," she said.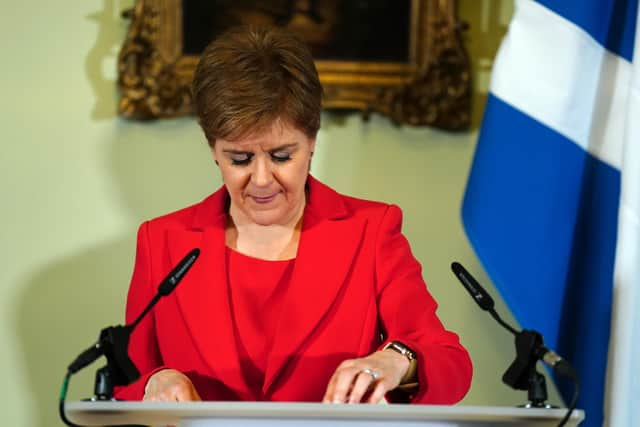 Prime Minister Rishi Sunak thanked Ms Sturgeon for her "long-standing service", while his Scottish secretary Alister Jack said the First Minister had been a "formidable politician". Sir Keir Starmer said Labour "stands ready to be the change that Scotland needs" as he wished her "all the best for her next steps".
Ms Sturgeon's successor will be chosen by the members of the SNP in coming weeks. However, the exact process and timeline is yet to be announced.
Stephen Flynn, the SNP's Westminster leader, said he had "no intention" of running for the top job and indicated MPs would stand aside for someone within the Holyrood MSP group.
Citing the "physical and mental impact" of the job, Ms Sturgeon said it was "time for someone else" to lead the party, admitting she could no longer "give it every ounce of energy that it needs".
Ms Sturgeon denied the decision to resign was due to short-term pressures such as the ongoing controversies around her Government's position on gender reform and the case of the trans prisoner and double rapist, Isla Bryson.
She said: "If this was just a question of my ability or my resilience to get through the latest period of pressure I wouldn't be standing here today, but it's not. This decision comes from a deeper and longer-term assessment. I know it may seem sudden, but I have been wrestling with it, albeit with oscillating levels of intensity for some weeks."
The decision comes ahead of a key meeting of the SNP at its "special democracy conference", which will see the party settle on its independence strategy and was set to back Ms Sturgeon's plan for the next general election to be fought as a "de-facto referendum".
Her resignation, however, will allow the party to be "free" of her views on the matter, the First Minister said, potentially providing a route towards a change of strategy.
Among those paying tribute to Ms Sturgeon was her potential successor, and health secretary, Humza Yousaf, who said he was "gutted" to see her standing down. However, SNP MP Joanna Cherry, who has clashed with Ms Sturgeon, particularly over gender issues, called for "reform and healing" in their party. "Our party needs a leadership election that is about policies and not personalities," she said.
Alex Salmond, the SNP leader's former mentor and Alba Party leader, told BBC Radio 4's World At One a new leader could "reunite" the independence movement.
Political rivals within Holyrood also paid tribute, with Scottish Labour leader Anas Sarwar saying Ms Sturgeon had "secured her place" in history and he had "never for a moment doubted" her passion for Scotland.
Scottish Conservative leader Douglas Ross, however, said the First Minister "refused to accept the result" of the 2014 independence referendum. He said her tenure as First Minister was marked with "relentless agitating" for another referendum.
Potential candidates to succeed Ms Sturgeon include constitution secretary Angus Robertson, finance secretary Kate Forbes, and deputy first minister John Swinney. It is understood the SNP national executive committee will meet soon to discuss a timetable for the leadership election.
After the appointment of a new leader, MSPs will be asked to vote for a new first minister, with the agreement between the SNP and the Scottish Greens enough to secure their victory.
Ms Sturgeon entered frontline politics in 1999 when she was first elected to the Scottish Parliament, before serving in Mr Salmond's Cabinet until his resignation following the independence referendum defeat in 2014. She took over shortly afterwards, becoming the first female First Minister and the longest-serving late last year.
Want to hear more from The Scotsman's politics team? Check out the latest episode of our political podcast, The Steamie.