Nicola Sturgeon resignation: Kate Forbes, Angus Robertson and John Swinney - who will replace the First Minister as SNP leader?
Nicola Sturgeon has quit as First Minister in a shock announcement at a press conference in Edinburgh.
This comes despite a recent poll for the Sunday Times finding "don't know" was the resounding favourite for next leader, on 69 per cent. Here are the candidates who might replace her.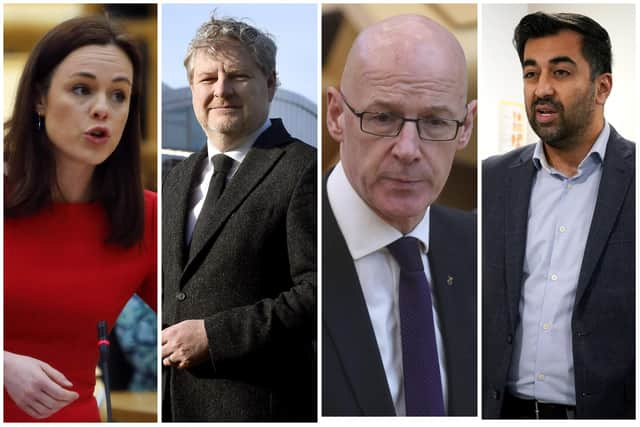 Kate Forbes
An early favourite, Kate Forbes is considered less polarising and softer on gender recognition reform, which could cause headaches for the Tories. A Gaelic speaker, the finance secretary is popular within the party and respected at Holyrood. Ms Forbes would be the youngest SNP leader if she won.
However, as an active member of the Free Church of Scotland, she would face questions about her religious beliefs, with its teachings at odds with Scottish Government policies on gay rights and transgender policy.
Currently on maternity leave until April, Ms Forbes's interest in the top job has been widely discussed among the SNP since her shock appointment following the resignation of scandal-hit predecessor Derek Mackay.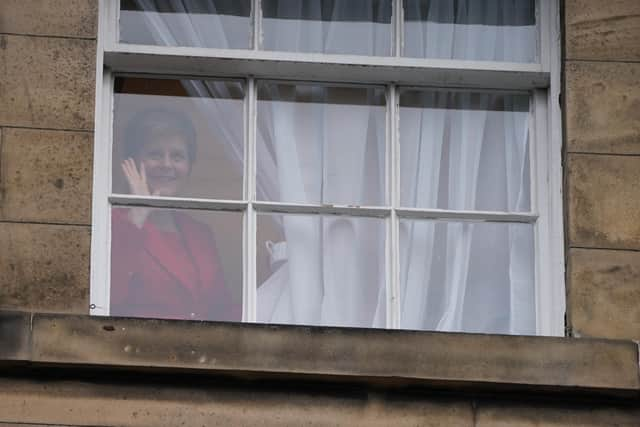 It saw her deliver the Scottish Government's Budget announcement at hours' notice, to universal acclaim. Despite this, she gave a categorical "no" when asked if she ever wanted to be leader in 2020, but things may have changed.
Angus Robertson
Another strong contender is Angus Robertson, the culture and external affairs secretary. When he returned to elected office in the 2021 election, Ms Sturgeon immediately gave Mr Robertson the constitutional affairs brief.
A former Westminster leader of the SNP, he has experience in top jobs, as well as running successful election campaigns. The 53-year-old is also well know internationally, having worked extensively in Brussels to win the SNP friends in the EU.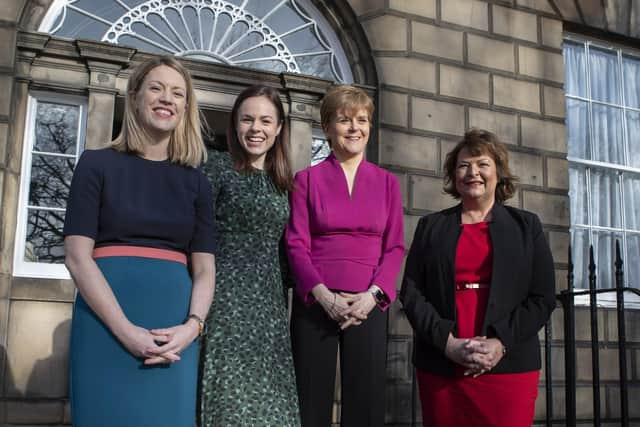 He would not be a universally popular choice across the party, however, having forced a change of policy to support joining Nato. There are also some in the SNP who consider him out of touch with issues beyond independence.
Sources close to him have previously suggested he is more interested in his family than the top job.
John Swinney
The Deputy First Minister is part of Ms Sturgeon's inner circle, and as such a close ally with a wealth of Government experience. Mr Swinney has also held the tricky briefs of education and pandemic recovery, and would be considered a safe choice, albeit not an exciting one.
However, he briefly served as SNP leader in the early 2000s after former first minister Alex Salmond unexpectedly quit as party leader, but later resigned after a difficult tenure.
Humza Yousaf
The health secretary has long been tipped as a candidate to replace Ms Sturgeon, but his record in Government could hold him back.
He introduced the Hate Crime Bill, which caused controversy among opposition parties, and has faced repeated demands from opposition parties that he resign over issues in the NHS.
Mr Yousaf has held a number of posts including transport, Europe minister and justice, and is widely expected to go for the top job.
The SNP Westminster leader is nothing if not ambitious, having replaced Ian Blackford despite only becoming MP for Aberdeen South in 2019. His leadership has galvanised many in the SNP Westminster group, who see him as having new ideas to deliver independence.
The 34-year-old is seen as having a different approach, which could help, but also means he is at odds with those close to Mr Blackford. He could become SNP leader, but not First Minister, however, as he is an MP. Therefore without a rule change, he is unlikely to take up residency at Bute House any time soon.
Despite being tipped to run, Mr Flynn has confirmed he has "no intention" of putting himself forward for the SNP leadership, saying "the next leader of our party, of Scotland's government, will be a member of the SNP Holyrood group".
The Clydesdale MSP has made immediate waves in Holyrood, despite only being elected in 2021. Only 30 years of age, she stepped into government as environment minister, and has already been responsible for guiding foxhunting legislation through Parliament.
A former solicitor who served as a special advisor to Ms Sturgeon before winning her seat, Ms McAllan is widely tipped to one day lead the party. There are questions over whether it is too early for now, but Ms McAllan's background gives her a strong understanding of how Government operates at the highest level.
Another outside bet, Neil Gray could become a unity candidate if no obvious leader emerges. The Airdrie and Shotts MSP swapped his seat in Westminster for a Holyrood one in 2021, sparking rumours about his ambition for higher office.
An impressive media performer, he is serving as the minister for Culture and Europe. He is also well liked, having impressed in his ministerial role steering the Ukrainian refugee programme.
The lawyer has been a prominent critic of Ms Sturgeon and a controversial member of the SNP's Westminster group since she was first elected to Edinburgh South West in 2015.
Outspoken on gender reform, Ms Cherry has built a following within some sections of the party, and more palpably outside of it. However, given the strong feelings over gender reform with the party, Ms Cherry would be far from a unity candidate.
There is also the same issue as Mr Flynn, with the 56-year-old not an MSP.
Keith Brown is the deputy leader of the SNP, having served in the role since 2018. Another dark horse, the 61-year-old has had a long ministerial career, but never really looked likely for the top job.
He has served in briefs including schools and skills, transport and infrastructure, and the economy, before being secretary for justice and veterans in 2021. Born in Edinburgh, he is a veteran of the Falklands War.
Another unlikely candidate could be Jenny Gilruth, the SNP transport minister. Previously a junior minister for Europe and international development, she has been the MSP for Mid Fife and Glenrothes since 2016.
Comments
 0 comments
Want to join the conversation? Please or to comment on this article.