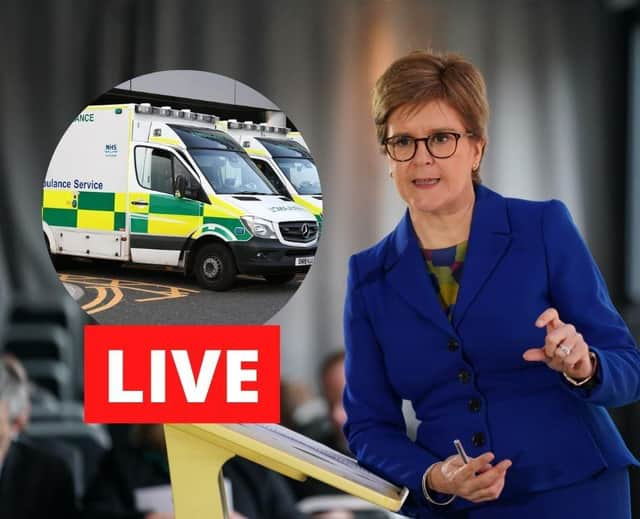 The briefing comes following a meeting of the Scottish Government resilience committee (SGoRR) which took place on Friday to discuss the response to ongoing winter pressures on the health and social care system.
Last week, Nicola Sturgeon pledged the Scottish Government would "leave no stone unturned" when examining measures that could relieve pressure on the NHS.
With details of how to watch the briefing emerging, we'll also be running a live blog to follow the latest news and developments from the media briefing.
Updates as Nicola Sturgeon to deliver briefing on NHS winter pressures
Key Events
Show new updates
If you are just joining us here's what you need to know
Nicola Sturgeon has praised health workers as she spoke at a briefing about pressures facing the NHS in Scotland.

Ms Sturgeon said that while vaccines and treatment have "very significantly" reduced the health harm of Covid, more than 400 people with the virus were admitted to hospital last week and there are currently more than 1,200 patients with Covid in hospital, which is double the number four weeks ago.

More staff will be recruited for the NHS 24 call service and extra care home beds will be freed up to take patients from hospital in a bid to alleviate the "exceptional" pressures on Scotland's health service

Sturgeon also said the Scottish Government will take "further immediate steps" to speed up discharge from hospitals.

Talks are ongoing to try and prevent any strike action across the Scottish NHS.

The First Minister said:"In addition to Covid, the country has been experiencing extraordinary levels of winter flu, more than 1,000 patients were admitted to hospital with flu during each of the last two weeks, and finally there has also been a rising number of cases of Strep A and other respiratory viruses resulting in a significant demand for services. So, the impact of this combination of Covid, flu and Strep A is clear in the statistics measuring demand for health services."
Nicola Sturgeon will be joined by Health Secretary Humza Yousaf and Chief Medical Officer Gregor Smith at around 11am today.
Yesterday a doctor appeared on The Sunday Show on BBC to discuss the issues facing the NHS warning patient safety is being put at risk in A&E daily.
Dr Lailah Peel, deputy chairwoman of the British Medical Association in Scotland, said patients are "absolutely" dying as a result of pressure on the NHS.
She said: "There is no shadow of a doubt that is happening.
"Every health care worker in Scotland right now will be able to tell you a story about a patient that has suffered because of the crisis at the moment."
Dr Peel told the programme: "This is an unprecedented crisis.
"I don't use that word lightly but it is something all governments are facing, not just in these islands but many in Europe and right across the world.
"People are not getting the level of care I would want for them, or indeed that I would want for myself or a family member, in many instances."
Health Secretary Humza Yousaf said over the weekend that the NHS is dealing with high levels of both flu and coronavirus, Mr Yousaf said, along with Strep A cases and other viral infections.
Recent figures show the largest number of hospital beds being occupied by those well enough to be discharged – an average of 1,898 beds a day in October.
A record 1,925 Scots spent 12 hours or over in A&E in the week leading up to Christmas Day.
Nicola Sturgeon starts out by saying that this is the most difficult winter ever for the NHS but praises the work of all those working for the NHS but says she understands the "toll it is taking on them"
She says that she and her entire government are thankful for their service. She adds that the NHS was under pressure before Covid struck