We will bring you live updates throughout the press conference and throughout the day with the briefing set to begin at 11:30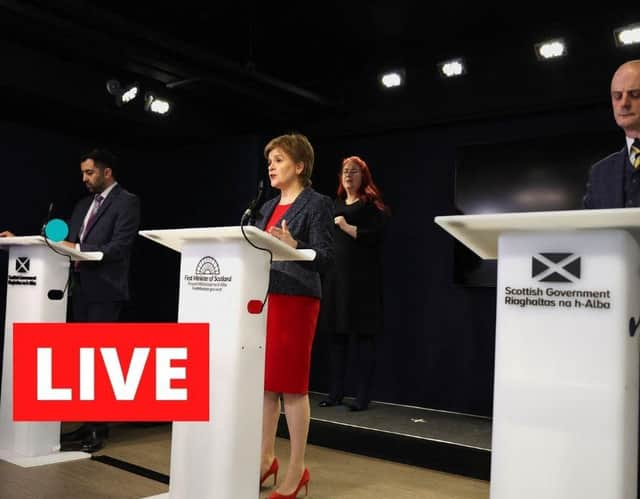 Nicola Sturgeon briefing live updates
Show new updates
Scotland's First Minister has said Tory Party chairman Nadhim Zahawi's position is "untenable" after he paid a penalty to resolve a tax dispute while he was chancellor.
Speaking to journalists at a press conference in Edinburgh, Nicola Sturgeon called on Mr Zahawi to quit.
She said: "I think his position … is untenable. I think he should resign his current position as chair of the Conservative Party.
"It seems to be the case … that while he was Chancellor he settled a seven-figure tax bill with HMRC which included a very significant penalty.
"That means, as far as I can see, that there must have been something untoward about his tax affairs to a very large tune, in terms of the amount of money involved.
"I think somebody who is a government minister in that position, I just think their position is untenable.
"I would think he should resign his post, and if he doesn't do so – rather than kicking it into the long grass and instructing an inquiry as the Prime Minister has done this morning – I think the Prime Minister should remove him from office."
Nicola Sturgeon rounds off the media briefing saying that she aims to do the media sessions periodically
The First Minister is asked if she would consider weighing in on the teacher strikes. She says that the government is involved in the discussions regarding the teacher strike. She adds that the governnment will aim to find common ground amid the financial constraints faced by the Scottish Government.
She says that the Scottish Government values teachers and that they are trying to be fair in reaching a settlement.
Nicola Sturgeon is asked if she has seen the video of a bullying incident at Waid Academy, she confirms that she has seen the "difficult watch" but will not be commenting more on it.
She adds that bullying is a signficant issue and a "very significant concern"
The First Minister is asked on the matter of a two-tier health service after Gordon Brown warned that such a move could be possible.
Writing in the Guardian, the former Labour prime minister says payment for services will end up with people missing early diagnoses and undermine the entire basis of the NHS.
Nicola Sturgeon says that such a move would have a profound impact on Scotland.
She says that the move is concerning, and that she mentioned such a claim ahead of the 2014 referendum, which was defended at the time by Gordon Brown.
The First Minister says that the NHS is not safe in the hands of the Conservatives.