Gender Recognition Reform Bill: Nicola Sturgeon says not 'credible' to claim SNP politicians condoned 'TERF' placard at Glasgow rally
Nicola Sturgeon has defended two SNP politicians who appeared to pose close to an "offensive' sign at a Glasgow rally, saying it wasn't "credible" to suggest the elected pair condoned the placard's views.
Police Scotland have confirmed they are investigating reports of "hateful signs" displayed at Saturday's rally in protest against the UK Government's blocking of Scottish gender recognition reforms.
In an image that emerged from the rally, SNP MP Kirsten Oswald and MSP Kaukab Stewart were both pictured close to a placard that read "decapitate TERFs". The term 'TERF' refers to 'trans-exclusionary radical feminists'.
Scottish Tory MSP Murdo Fraser described the sign as "clearly a hate crime and a public order offence" in a post on Twitter and said he had reported the matter to police.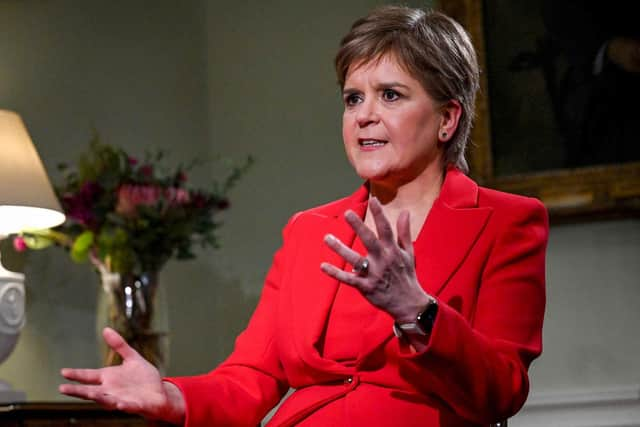 Speaking at a press conference on Monday morning, Ms Sturgeon said: "The placards that I have seen in absolutely no way, shape or form accord with my views and I would condemn the way in which those views were expressed and the views that were expressed there.
"And I don't think it is fair or credible to suggest that the elected representatives who were there in any way share or condone those views."
The First Minister added: "I've seen images over the past couple of weeks, I think from demonstrations against the Gender Recognition Reform Bill, outside Parliament where there have been placards, signs that I've seen images on social media about me that were offensive and, in my view – although I am subjective about these things perhaps – that they were completely unacceptable.
"I think we've all got a responsibility to express ourselves, particularly elected representatives, in ways that we think are appropriate and I would certainly say that applies to me and others within my party."
The protest was held in the wake of the UK Government's decision last week to trigger a section 35 order against the Gender reform Bill, with the matter seemingly destined to be challenged in court by the Scottish Government.
Ms Stewart posted in the wake of the rally: "I was not aware of these hateful signs when I attended today's protest in defence of Scottish democracy and the rights of trans people, and I utterly disagree with them. Violent hate speech is totally unacceptable and has absolutely no place in our public discourse."
Ms Oswald said in a separate statement posted on Twitter: "That's a horrific sign, and it wasn't there when I joined the demo. It most certainly doesn't represent my views, and isn't language I would ever use. Violent hateful language, of any kind, is unacceptable and has no place in the peaceful movement for LGBT equality and democracy.
But Harry Potter author JK Rowling, who has been a vocal critic of Scotland's gender Bill, has criticised the involvement of the SNP politicians.
She said in a social media post: "A strange new form of temporary blindness has broken out among Scottish politicians. None of them could read placards calling for violence against women while standing inches away from them, yet they were instantly cured when photos of them posing with the signs hit the press."
Comments
 0 comments
Want to join the conversation? Please or to comment on this article.