Nato summit: Rishi Sunak rebukes Defence Secretary Ben Wallace over claims Ukraine and Volodymyr Zelensky must show 'gratitude'
The Prime Minister made the comments as G7 countries agreed to stand with Ukraine 'as long as it takes'.
Rishi Sunak has shut down comments by his defence secretary after Ben Wallace suggested Ukraine should show "gratitude" for the military support it had been given.
The Prime Minister told Ukrainian president Volodymyr Zelensky "you belong in Nato" as the G7 countries signed a declaration in Lithuanian capital Vilnius on Wednesday promising new security measures for the war-torn country.
And Mr Sunak stressed Mr Zelensky had "repeatedly expressed gratitude" for what the UK had done for Kyiv since Russia's invasion broke out more than 500 days ago – a statement that came as a seeming rebuke for one of his senior ministers.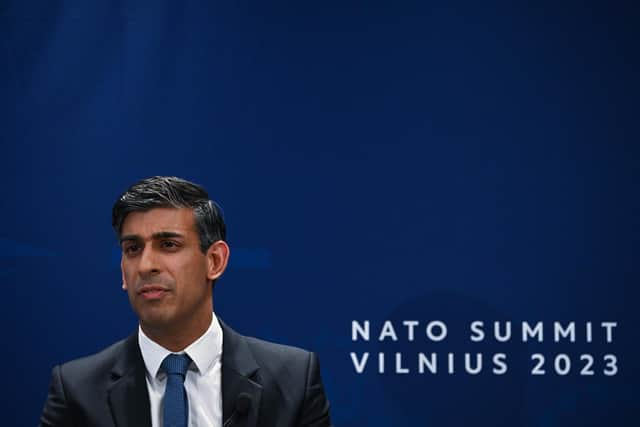 Mr Wallace had suggested allies providing support to Kyiv also "want to see gratitude".
The former Scots Guard appeared to suggest Mr Zelensky needed to be mindful about keeping "doubting politicians" in the US on-side, particularly with a presidential election coming up next year.
Mr Wallace said the US and the UK had told Ukraine that "we're not Amazon" – a reference to the online retail giant – after being handed requests for new weapons.
"There is a slight word of caution here, which is that, whether we like it or not, people want to see gratitude," he said.
"My counsel to the Ukrainians … you're persuading countries to give up their own stocks. And yes, the war is a noble war and yes, we see it as you doing a war for not just yourself, but our freedoms.
"But sometimes you've got to persuade lawmakers on the Hill in America. You've got to persuade doubting politicians in other countries that it's worth it and it's worthwhile and they're getting something for it.
"Whether you like that or not, that is just the reality of it."
But Mr Sunak, in a push back against his Cabinet minister, said the Ukrainian people were "incredibly grateful for the support we have shown".
Many Western allies, including president Joe Biden's Washington administration and the UK Government, have been vocal backers of Ukraine. The UK in particular has been at the forefront of Western states in sending weapons and defensive equipment to the war-torn country.
Speaking at a press briefing after the two-day Nato summit, Mr Sunak said: "President Zelensky has expressed his gratitude for what we have done on a number of occasions, not least in his incredibly moving address that he made to Parliament earlier this year and he has done so again to me, as he has done countless times when I have met him.
"So I know that he and his people are incredibly grateful for the support we have shown, the welcome that we have provided to many Ukrainian families, but also the leadership we have shown throughout this conflict."
Mr Sunak stressed the Ukrainian people were "paying a terrible price" during the invasion and that he understood Mr Zelensky's "desire to do everything he can to protect his people".
Mr Zelensky had spoken openly of his frustration over the reluctance of the 31 member states to agree a timetable for war-torn Ukraine to be admitted into the international defensive alliance.
The war leader said on Tuesday it was "absurd" for Nato to insist there are still military and democratic "conditions" for the eastern European country to meet before it can join once the conflict with Moscow is over. However, the stance of the Ukrainian leader appeared to soften as he attended the Nato summit on Wednesday.
During a press conference with Nato secretary general Jens Stoltenberg, Mr Zelensky said Nato had sent "signals" that were "important" when it came to Ukraine becoming a member state.
Following the signing of the pact, Mr Zelensky said he was leaving the summit with a "significant security victory for Ukraine".
Greeting Mr Zelensky in person on his arrival, Mr Sunak said: "It is good to see you here at Nato where you belong."
Mr Zelensky said it was "good news" they could advance talks on security guarantees for his people, with Mr Sunak assuring him "real progress" had been made in that regard.
The pledge follows the leaders of the wealthiest economies, which includes the UK, US, Japan, Canada, France, Germany and Italy, jointly penning a security accord at the Nato summit.
The Prime Minister said the declaration marked a "new high point" in international support for Ukraine. He said the act would send a message to Russian president Vladimir Putin and had the potential to bring an end to the conflict in eastern Europe.
The pact contains promises to act multilaterally and on a country-to-country basis to offer Ukraine long-term security guarantees. The UK's side of the bargain will involve more Ukrainian pilots being trained in Britain.
No.10 said the precise offer for each country would be set out in their bilateral agreements.
In a joint declaration signed by G7 leaders, they said: "We will stand with Ukraine as it defends itself against Russian aggression, for as long as it takes. We stand united in our enduring support for Ukraine, rooted in our shared democratic values and interests, above all, respect for the UN Charter and the principles of territorial integrity and sovereignty."
The group said the mission was to "ensure a sustainable force capable of defending Ukraine now and deterring Russian aggression in the future".
The pact promises security assistance and modern military equipment, prioritising air defence, artillery and long-range fires, armoured vehicles and other key capabilities, such as air combat.
Ukraine's military equipment will increasingly be brought into "interoperability with Euro-Atlantic partners".
Plans are also in place to boost Kyiv's defence industry, commit to more training exercises and provide support for cyber defence and resilience initiatives. G7 countries are also pledging to help Ukraine meet the reforms asked of it to become a Nato member.
Comments
 0 comments
Want to join the conversation? Please or to comment on this article.