War against Ukraine: Volodymyr Zelensky says Ukraine Nato admission delay is 'absurd'
Rishi Sunak said he wants to see Nato's commitment to inducting Ukraine as a full member of the alliance "reaffirmed" during discussions with leaders at the Vilnius summit
Volodymyr Zelensky said it is "absurd" that no timeframe has been set for Ukraine to join Nato following confirmation the UK is pushing for long-term military support to be pledged for Kyiv.
The Ukrainian president said "uncertainty is weakness" as he criticised Nato leaders for failing to agree a pathway for his war-torn country to accede to the defensive alliance.
Mr Zelensky said the delay was providing Russia with the "motivation to continue its terror".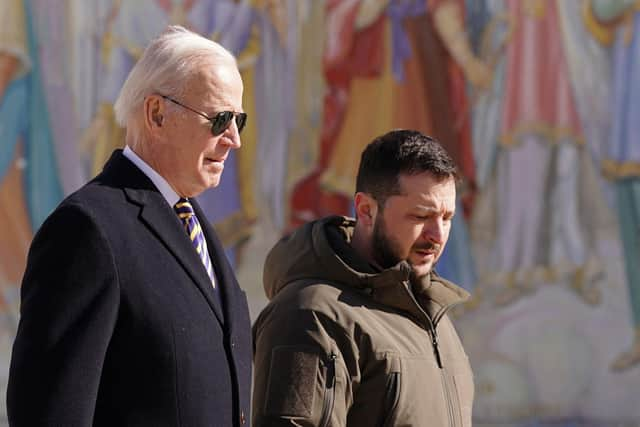 World leaders have descended upon Vilnius for the Nato summit, with Ukraine's membership one of the key items on the agenda.
Prime Minister Rishi Sunak told reporters on his way to the Lithuanian capital that he wanted to see Nato's commitment to inducting Ukraine as a full member of the alliance "reaffirmed" during the two-day gathering.
Nato signalled at its 2008 summit in Bucharest that Kyiv should become a member state.
Mr Sunak repeated his stance that, for the UK, Ukraine's "rightful place is in Nato".
Britain has voiced its support for fast-tracking Kyiv through the membership process, arguing much of the military reforms asked of it are being witnessed on the battlefield in its fight against Russia's invading troops. But the US and Germany are said to be against the idea.
With allies reportedly reluctant to give Ukraine a date for when it will be accepted into the Nato fold, Mr Zelensky, who is due to attend the summit on Wednesday, hit out at the lack of a plan for the Vilnius meeting.
"It's unprecedented and absurd when [a] timeframe is not set neither for the invitation nor for Ukraine's membership, while at the same time vague wording about 'conditions' is added even for inviting Ukraine," he tweeted.
"It seems there is no readiness neither to invite Ukraine to Nato, nor to make it a member of the alliance.
"This means that a window of opportunity is being left to bargain Ukraine's membership in Nato in negotiations with Russia. And for Russia, this means motivation to continue its terror.
"Uncertainty is weakness. And I will openly discuss this at the summit."
Nato secretary general Jens Stoltenberg, who has had his tenure extended for 12 months, has said he is confident the summit will send a "positive message" to Ukraine about its path to membership.
With Nato publicly stating Ukraine is not likely to be made a member while it is fighting back Russian president Vladimir Putin's troops, leading members have reportedly been working on securing a multilateral long-term deal with Kyiv to help support its efforts to reclaim its borders.
The UK, US, France and Germany – dubbed The Quad – are reportedly looking to finalise an "Israel-style" security deal to provide Kyiv with a multi-year plan to defend itself from Russian aggression.
It was reported the deal would be similar to a military and financial pact that Washington has with Tel Aviv to afford it protection in the Middle East.
Conservative Party leader Mr Sunak, without providing details of what the deal could look like, said Britain had played a leading role in the discussions since he put the issue of multilateral Western security assurances on the table during his speech to the Munich security conference in February.
He said providing security guarantees to Ukraine was about showing the Kremlin the West would not tire in its backing for Kyiv.
Mr Sunak said: "We are with Ukraine for as long as it takes. That is why the security assurances are important because what Putin needs to understand is there is no point in just waiting out the West.
"Everyone is in it for the long haul and any thought he had that this would be over quickly has already been proved to be false."
Downing Street said Mr Sunak would use the Vilnius summit to press home the importance of increasing Nato's defence spending to ward off Russian "tyranny", urging member states to meet the target of spending at least 2 per cent of its gross domestic product (GDP) on defence.
The Prime Minister's first bilateral meeting after arriving at the summit was with Turkish President Recep Tayyip Erdogan.
It follows a breakthrough with Ankara, brokered by Mr Stoltenberg, to remove Turkey's objections to Sweden being admitted to Nato.
No 10 said Mr Sunak "commended" the Turkish leader for his efforts to pave the way for Stockholm to join.
The Nordic country, along with Finland, dropped its long-held neutrality position following Moscow's invasion.
A full allies meeting of Nato took place on Tuesday afternoon in Vilnius, with Mr Sunak sat next to US president Joe Biden for the session.
The Prime Minister held further one-on-one talks with the leaders of Poland and the Netherlands.
Dutch prime minister Mark Rutte praised Mr Sunak and the UK's leadership in responding to Russia's aggression in Ukraine.
In a warm meeting between the two leaders, Mr Sunak said he would "miss" working with the outgoing leader after Mr Rutte announced his plans to leave politics following the collapse of his coalition government.
Mr Sunak said: "Mark, we were very sad to hear your news and thank you for your incredible service."
Mr Rutte responded saying: "I'm not done yet. You are stuck with me at least until the election. Hopefully there will be a new government soon, in the Netherlands it takes a little while."
Mr Sunak said: "You've been a great friend to the UK, so we will miss you. I look forward to continuing our work together particularly as we have stood together, you and I, as have other, to defend and support Ukraine."
Mr Rutte replied: "And your leadership there, you personally and the UK as a whole, working with you has been incredible."
Comments
 0 comments
Want to join the conversation? Please or to comment on this article.