Michael Matheson is a 'proper person' who should remain in post despite iPad use confession, says Angus Robertson
Mr Robertson defended the health secretary amid calls for him to resign
A senior SNP minister facing claims he lied about an £11,000 iPad bill is a "proper person" who should remain in post for a long time to come, a colleague has insisted.
Mr Robertson, the cabinet secretary for constitution, external affairs and culture, said he had known Mr Matheson for decades.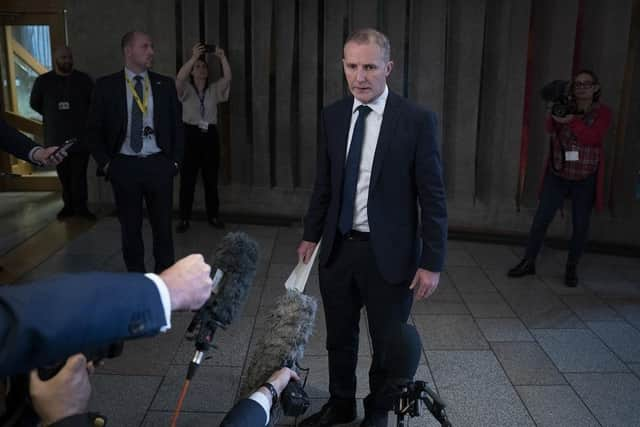 "He's a proper person, I think he's a very competent person, and I know he's been working very hard in relation to the National Health Service and I hope he continues to do so for a long time," he told journalists during a visit to Queen Margaret University near Edinburgh.
Mr Robertson said "any fair-minded person" would appreciate the circumstances outlined by Mr Matheson during an emotional statement in the Scottish Parliament on Thursday. "I want him to continue working as Scotland's health secretary," he added.
Mr Matheson has so far resisted calls to resign after revealing his teenage sons used his Holyrood-issued iPad to watch football matches while on holiday in Morocco over the New Year period – resulting in data roaming charges of almost £11,000.
He had initially insisted the device had only been used for parliamentary work during the trip, meaning taxpayers would foot the bill.
Mr Matheson said he only became aware of the truth on Thursday last week, and agreed to reimburse the cost the next day. He said he made no reference to the revelation in the following days in order to protect his children. On Monday, he told The Scotsman there had been no personal use of the device, despite knowing this was misleading.
Opposition politicians have accused him of lying.
Mr Matheson apologised to MSPs for the cost of the roaming charges, which were the result of failing to update the sim card in the iPad to a new data provider. He said he had referred himself to the Scottish Parliamentary Corporate Body, which will consider whether to investigate further.
Mr Robertson said: "I think it's also the right thing for him to have done to have referred himself to the parliamentary authorities, who will be looking at those circumstances, and it is not for me to second guess that."
Comments
 0 comments
Want to join the conversation? Please or to comment on this article.