Michael Matheson iPad: The principle of trust is at stake and he must now resign – Scotsman comment
The sum of money may be small to some, but important principles of trust should weigh much more heavily than cost
The SNP won't like to hear it, but the fact Michael Matheson, the beleaguered Health Secretary, remains in office, at least as The Scotsman goes to press, has more than a whiff of late period Conservative government about it.
In Holyrood as in Westminster, misdeeds which, in more honourable times, would have led to a letter of regret and resignation, and an appropriate period of rehabilitation, now lead to painful, drawn-out exits. Political calculus, rather than probity, guides the response.
It was not always thus. An actual First Minister, Henry McLeish, was once forced out over an historic "muddle, not a fiddle" – in his words – of income from a sublet constituency office. The sums were greater, still seen as tiny by some, but the SNP was keen to regard it as an important matter of principle at the time.
The principle today is one of trust.
Matheson said he was told about the huge charge in January and "could not understand how the cost could be so high". Despite this, in March he agreed he would pay £3,000 from his office expenses, with parliament paying the rest. In other words, he thought it right the taxpayer pay, even if he didn't know for what they had to pay.
He only decided to stump up himself after being told last week that his sons had watched football via the iPad's data connection.
Many parents might, at this point, have only sympathised. But then he lied. On Monday, when asked by The Scotsman, he said there had not been any personal use of the iPad.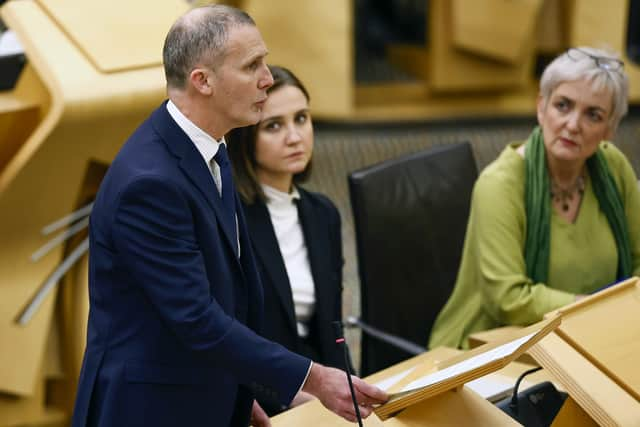 Yesterday, Matheson sought to explain this answer by saying he wanted to protect his children, but the denial raises questions about the rest of his account. He could have admitted there had been "personal use" without mentioning his children.
There are more competent members of this SNP administration who must be cringing, both at Matheson's performance yesterday, and at their First Minister's rash defence of his Minister.
They, like us, must be hoping the inevitable happens sooner rather than later: that he recognise the principles at stake, and steps down.
Comments
 0 comments
Want to join the conversation? Please or to comment on this article.