Emotional Michael Matheson admits £11,000 iPad charge incurred by sons watching football
The heath secretary was visibly emotional as he made a personal statement in Holyrood.
A senior SNP minister is fighting for his political career after admitting an £11,000 data roaming charge on his parliamentary iPad was incurred after his teenage sons watched football during a family holiday in Morocco.
Health secretary Michael Matheson said he had no intention of resigning over the row, despite previously denying there had been any "personal use" of the device. He was visibly emotional as he made a statement in the Scottish Parliament following days of intense scrutiny over the bill.
Mr Matheson said he only became aware of the truth on Thursday last week, and agreed to reimburse the cost the next day. He said he made "no reference" to the revelation in the following days in order to protect his children.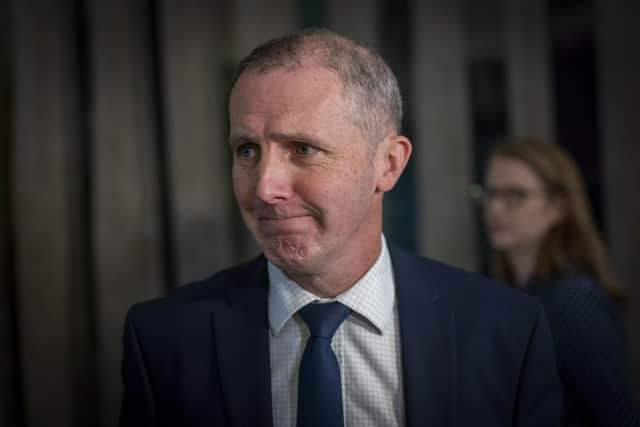 The minister said he did not watch football himself during the holiday, which took place over the New Year period, "and I didn't know the football was being watched either".
On Monday, Mr Matheson was asked by The Scotsman if there had been any personal use of the iPad. He said no, despite knowing by this point that his sons had used it as a hotspot to watch football on other devices.
Douglas Ross, the Scottish Conservative leader, accused him of "blatantly" lying. He said: "The SNP health secretary lied to the press and the public and his position is untenable. [First Minister] Humza Yousaf must sack him immediately."
Scottish Labour deputy leader Jackie Baillie said it was "simply unfathomable that Michael Matheson thinks he can keep his job".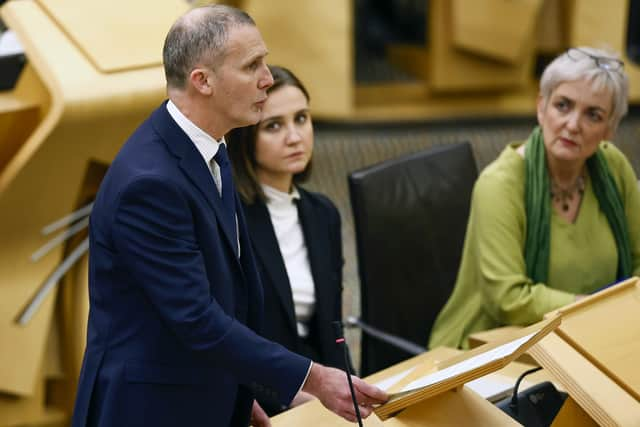 Addressing MSPs, Mr Matheson said: "As a parent, I wanted to protect [my sons] from being part of the political and media scrutiny associated with this, something I believe any parent would want to do. I am a father first and foremost. That was a mistake and I am sorry. I can see now that it just isn't possible to explain the data usage without explaining their role.
"The simple truth is they watched football matches. On Tuesday, I told the First Minster that members of my family had made use of the iPad's data and yesterday evening, I provided him with a full account of the matter and of my intention to inform Parliament.
"Disclosing this information about our family has been extremely difficult. Mistakes have been made. By me. By my family. And mistakes have been made in the way I have handled this."
Mr Matheson said he had referred himself to the Scottish Parliamentary Corporate Body, which will consider whether to investigate further.
The minister had faced days of scrutiny after it emerged he incurred a bill of £10,935.74 on his parliamentary iPad during a week-long holiday in Morocco with his wife, Susan, and two teenage sons between December 27 and January 3 this year.
On January 2 alone, a bill of more than £8,000 was racked up. Opposition politicians were quick to point out this was the date of an Old Firm football match.
Mr Matheson previously provided a written assurance to the Scottish Parliament the device had been used for parliamentary work. He initially said he would contribute £3,000 towards the bill from his expenses budget while the Scottish Parliament paid the rest.
However, Mr Matheson agreed to reimburse the full cost at the end of last week, amid outrage over taxpayers footing the bill.
In a statement in Holyrood, Mr Matheson apologised for the roaming charges, and accepted they were incurred because he did not switch his parliamentary device to a new data provider as required. He said he had contacted the Parliament's IT department on December 28 to tell them he was out of the country.
"Nothing in those discussions led me to believe there was any risks in using my iPad while in Morocco," he said.
Mr Matheson said he was informed of the high data charges in January and did not know what had caused them. "I had not used the iPad for any purpose other than parliamentary and constituency business and so could not understand how the cost could be so high," he said.
The minister said he was then made aware on Thursday last week "that other members of our family had made use of the iPad's data". He added: "I had previously checked this, but the truth only emerged after this story was in the news. I should have pressed harder. I should have been less willing to believe what I had been told."
Ms Baillie said: "It is simply unfathomable that Michael Matheson thinks he can keep his job after deceiving the public and Parliament over his actions. Michael Matheson said the bill was accrued by conducting parliamentary business – that was clearly not true.
"It beggars belief and raises serious security questions over the fact that Michael Matheson claims that other people can access his Parliament iPad. Anyone with teenage children will understand the situation – what they will not understand or forgive is the cover-up.
"While our NHS is on its knees and 820,000 people are stuck on waiting lists, the fact that we are discussing Mr Matheson's conduct shows that he is no longer fit to hold his role. This ultimately was an attempt to cover up wrong-doing and would have cost the taxpayer £11,000."
Mr Ross said: "This Parliament's code of conduct requires MSPs to be honest. Michael Matheson has failed that basic test. He charged taxpayers for an £11,000 bill that was his to pay.
"When he submitted this claim, Michael Matheson must have known it was false. But when the claim was questioned by Parliament, he insisted it was legitimate. He gave the Parliament written assurances it was legitimate. That promise has been broken. Parliament has been misled.
"The new excuses we have just heard are not credible. Michael Matheson said he could not understand why the data charges were so high, yet he didn't question how they were racked up. The two stories do not add up. How could he claim for data that he couldn't account for?
"The health secretary had many opportunities to be honest. He chose the opposite approach until he ran out of road. He kept on insisting it was legitimate even after he supposedly knew for certain that it wasn't. The apology today doesn't make up for his false £11,000 claim – and Michael Matheson and Humza Yousaf still have many questions to answer."
Comments
 0 comments
Want to join the conversation? Please or to comment on this article.