Sir Keir Starmer has told the SNP and the Conservatives not to "dither and delay" over an expected by-election in Margaret Ferrier's constituency.
He made the comments while campaigning at the Rutherglen Exchange Shopping Centre with Scottish Labour leader Anas Sarwar and the party's potential local candidate Michael Shanks on Friday.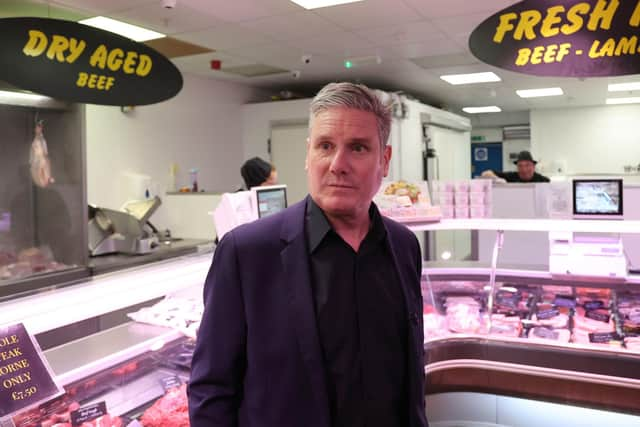 It came as Ms Ferrier's proposed 30-day suspension from the House of Commons for breaching coronavirus rules was delayed by the UK Government. The House of Commons is now in recess, which means the earliest the motion can reappear on the order paper is Monday, June 5.
It is understood there were concerns there was not the requisite number of MPs in the Commons for the vote to take place. But Labour pointed to a "grubby backroom deal" between Ms Ferrier, the SNP and some Tories.
If the suspension is approved, it would spark Scotland's first recall petition, with constituents given the chance to call a by-election if 10 per cent sign the document.
Labour, which held the seat before it was taken by the SNP in 2019, has been increasingly active in the now-independent MP's constituency, selecting Mr Shanks, who is a teacher, to stand in any potential contest.
Sir Keir said: "The Government pulled [the motion], and I think they should have got on with it, but I wouldn't get too hung up about it – it's going to happen. Parliament, I'm sure, will vote to uphold the sanction and I have no doubt there will be a recall petition and I have no doubt we will have a by-election. It will affect the timing, but I don't think it affects the fact that there's going to be a by-election."
The Labour leader said everyone he had spoken to in Rutherglen was "really frustrated", adding: "Downstairs in the shopping centre, people [are] saying to me 'how can it happen that three years after the event, we still haven't got an effective representative here in Rutherglen?' There's a frustration, and the easy way through this is for her to step down, which is what, frankly, she should have done three years ago."
Asked if some Tories were trying to drag their heels on the recall petition in order to protect former prime minister Boris Johnson from a similar fate, Sir Keir said: "There were all sorts of things going on yesterday, when the decision should have been very, very simple and straightforward."
He added: "This constituency has been let down for too long. We need to get on with this by-election and nobody should be dithering and delaying, whether it's the Tories or the SNP. They have no right to deprive this constituency of the effective representation that it deserves, and so they have to answer for the fact that they are dragging this out."
Mr Sarwar said: "I think what you're going to start to see is the SNP deliberately trying to dither and delay on this by-election. So we're making a direct demand of the SNP that when this motion comes, and it's got to come as soon as possible, that the SNP MPs vote for this motion, and when the recall is successful – as we think the recall will be given the anger and frustration – they don't then dither and delay in terms of when they then call this by-election.
"Because ultimately they have got to move the writ, and as much as they might think about problems in their own political party, the reality is that this community has been let down for far too long by an absent MP. So stop the dither, stop the delay, allow this community to have an MP, and so move the writ as soon as possible. That's a direct challenge to the SNP."