The declaration comes as Ms Ferrier, the disgraced former SNP politician, earned a short-term reprieve. Her proposed 30-day suspension from the House of Commons for breaching coronavirus rules has been delayed.
A motion had been listed on Thursday's order paper, which, if approved, would have confirmed Ms Ferrier (Rutherglen and Hamilton West) was suspended from Friday and triggered a recall petition necessary for a by-election.
But it is understood the motion will be rescheduled amid suggestions there were not enough MPs present to conduct a vote.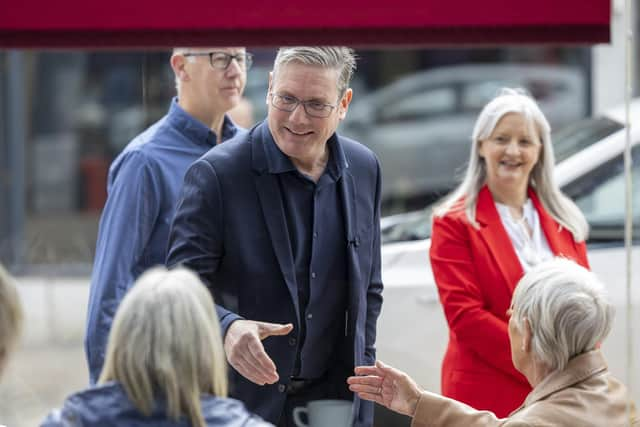 Such motions on proposed suspensions for MPs are usually approved on the nod and without the need for a formal vote, although they can be contested.
The House of Commons is in recess from the close of business on Thursday, which means the earliest the motion can reappear on the order paper is Monday, June 5.
A Labour source said the Government had "bottled it" and pulled the vote amid fears it could have been defeated.
Speaking on a visit to Kirkcaldy – his fifth trip to Scotland this year – Sir Keir said: "We would relish the opportunity to fight that by-election and give people the chance to make the change that is desperately needed. There is a palpable need for change in Scotland. People are desperate to see things improved and that can only happen with a Labour government."
The contest comes at a time when Labour are riding high in the polls, and projected to win a number of seats from the SNP at the next general election.
Recent YouGov research suggested Labour could take 23 seats held by the SNP, including that of deputy Westminster leader Mhairi Black. She has held the Paisley and Renfrewshire South seat since 2015 when she defeated Douglas Alexander, who was then Labour's shadow foreign secretary. Winning it back would be a key indicator that Labour is back on track.
Sir Keir said: "We have carefully changed Scottish Labour and have a clear, positive case to make for a better and stronger Scotland.
"People are increasingly seeing the SNP for what they are – the mask has slipped. More people are focusing on their record. People see they are at the end of their road, and have run out of steam. We can provide the change people here need."
Sir Keir was speaking in a coffee shop directly opposite the constituency office of Neale Hanvey, the Alba MP who represents Kirkcaldy and Cowdenbeath – a seat that was solid Labour until former prime minister Gordon Brown stood down in 2015.
Roger Mullin won it for the SNP as the party swept to victory across Scotland, but was defeated two years later by Labour's Lesley Laird, who went on to become shadow Secretary of State for Scotland.
Her Westminster spell lasted just two years when Mr Hanvey stood and won, despite being stripped of the SNP candidacy just weeks before the ballot. He was elected as an independent, and now sits as one of two Alba MPs at Westminster.
The seat is seen as one of the keys to Labour's ambitions to reclaim grounds north of the border.
"It is a very important seat," Sir Keir said. "It is really important we win here. We are fighting for a stranger Scotland in a better UK. We are a powerful voice for Scotland."
Sir Keir was in the Fife town to meet Wilma Brown, the newly adopted Labour candidate for the Kirkcaldy and Cowdenbeath constituency. She was one of two candidates appointed recently in the Kingdom, with Councillor Graeme Downie selected to fight the Dunfermline and West Fife seat held by the SNP's Douglas Chapman, which is also high on their radar.