'Great deal to do' before women can see 'substantive' changes in healthcare, says BMA Scotland
Two years on from launching the women's health plan, a senior figure at BMA Scotland warns much more needs to be done to tackle women's health inequalities
A senior figure from BMA Scotland says there is still a long way to go before women and girls will see a "substantive" change in Scottish healthcare.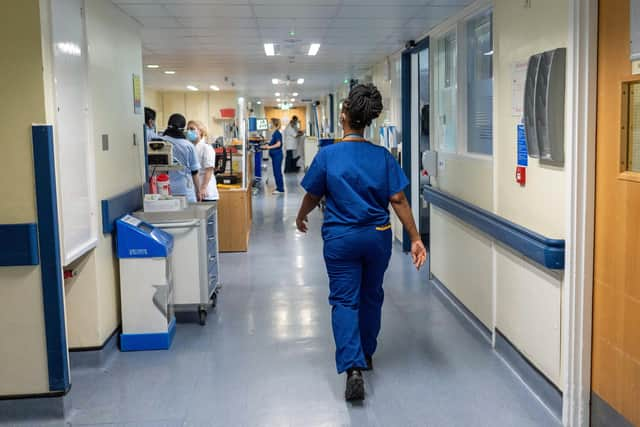 However, two years on from the plan first being introduced, Dr Patricia Moultrie, the deputy chair of BMA Scotland's GP committee, said while progress had been made, there was a "great deal" still to do.
Speaking on BBC's Good Morning Scotland, Dr Moultrie said: "It is true to say progress has been made in a difficult situation with long waiting lists and increased pressure on GPs. General practice has the vast majority of care for women and girls, but it remains very difficult.
"Primary care is under-resourced and struggling, and there are long waiting lists for secondary care, so I don't think there is a practical and substantive change felt by women and girls. I think the resources that are available to the public on NHS Inform are very useful in helping women and girls to do self-care and to empower them to come forward for care.
"But there is a great deal to do before women and girls in this country feel something has changed."
She said specialists within hospitals needed to make sure they were working with GPs and other community clinicians to make sure the best care was being provided.
Prof Glasier agreed, saying "it takes a long time to change historical attitudes".
"But there are long waiting lists for surgery and outpatient appointments as a result partly of the pandemic, but partly from under-staffing and under-funding the NHS. Everyone is doing their best to overcome this, but it takes time.
"It will also take time to change the culture and attitudes – the discrepancies in women's health have been embedded for many years."
Prof Glasier said these attitudes mean women who go to the GP with chest pains are treated for indigestion and pulled muscles, whereas men are treated for a heart attack. She also said some women's services such as access to contraception was "much worse" since the coronavirus pandemic.
However, Prof Glasier said she had not met any resistance in her role, and there was great enthusiasm for the women's health plan.
"I've met a huge number of people dealing with women's health and we have had very useful and fruitful conversations, which bring people together who haven't in the past been working together," she said.
A spokeswoman for the Scottish Government said it has invested an additional £1 billion in health and social care, which includes supporting staff specialising in women's health.
They said: "Scotland was the first country in the UK to publish an ambitious women's health plan, and wide-ranging progress has been made, including establishing a women's health leads network, adding new content on the NHS Inform women's health platform including information on the pelvic floor and lipoedema, launching an awareness campaign for heart month highlighting the impact of heart disease on women in Scotland and working in partnership with the ALLIANCE to provide more information to women on menstrual health, including polycystic ovary syndrome and endometriosis."
They added: "There is value in recognising progress, even when there is still much to do, as we work towards our collective ambition for a Scotland where all women and girls enjoy the best possible health, throughout their lives."
Comments
 0 comments
Want to join the conversation? Please or to comment on this article.