This time it was the Scottish Conservatives making the claim, while in the past it has tended to be politically unaffiliated think tanks. So what is happening?
According to analysis of Office for National Statistics (ONS) data, the Scottish advantage over England fell from around 12 per cent in 2006 to around three per cent in 2019. Going back to 1999-2000, the Institute for Fiscal Studies (IFS) calculate that the advantage has fallen from a 22 per cent high.
However, such comparisons should also take into account the impact of different relative 'needs' between the two countries. This means adjusting for the impact of factors like the population's age profile, sparsity and level of deprivation.
These are not easy judgements to make but past efforts suggest that Scotland's health spending needs are higher, compared to England. This was recognised in HM Treasury needs assessments, undertaken in the late 1970s and early 1990s, and in the most recent such analysis by academics, from 2012. The latter estimated that the differential should be about ten per cent in Scotland's favour, in order to allow for a matching level of health service provision.
This means that Scots are now, relatively speaking, underfunded by about seven per cent compared to English citizens. Restoring the differential from three to ten per cent would add around £1 billion to the Scottish health budget.
The situation appears to have little to do with Scottish spending suffering from a 'Barnett Squeeze', ie, where population-related spending changes result in a narrowing of the excess spend that Scotland has historically experienced over England. The overall differential in spending between England and Scotland remained at around 20 per cent over the same period, while the differential for devolved services is unchanged, at 27 per cent in Scotland's favour. Instead, the 'protection' of health spending in Scotland seems to have been only partial, allowing for other policy priorities to benefit at its expense.
In its defence, the Scottish Government claims that all NHS spending 'Barnet consequentials' from the UK Government are fully passed on and that Scottish 'frontline' spending is 10.6 per cent higher than in England. However, their calculations imply an overall health spending figure that is higher than the entire Scottish health budget, including over £1 billion for adult social care, casting doubt over the veracity of the comparison. Furthermore, it does not address whether or not any positive differential has been declining over time.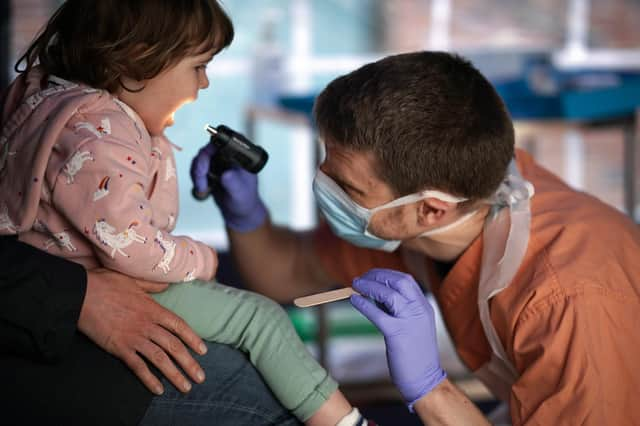 Assuming that the ONS data is accurate, how can such a dwindling health spending advantage be explained? There appear to be three elements to this.
First, straightforward mathematics. If Scottish spending per head was historically higher than in England and each year Scotland gets only a population-based top-up, then the differential will inevitably decline over time.
Second, definitional. Spending on the NHS is only around 80 per cent of the overall health budget and does not include areas like GPs and dentistry, who may not be receiving their full consequentials. Third, confusion. When the IFS looked at this issue in 2021, they found it difficult to resolve and recommended that the Scottish Government do more to reconcile and understand what is going on. No such work has been undertaken.
If the overall spending differential has remained roughly the same, then who has benefitted at the health budget's expense? Analyses by think tank Our Scottish Future and also by the Fraser of Allander Institute suggest that education, local government and justice have been the main beneficiaries.
A particular stand-out is the growing differential in higher education spending between Scotland and England. In order to maintain 'free' higher education, the differential in such spending has risen from around £100 per head in 2006 to over £230 per head in 2019. This figure is way above the £80 per head differential seen on health spending.
Of course, it could be argued that the money spent on 'free' higher education is of greater value than if it had been spent on the NHS, but it would be nice to see some evidence for this. Rather, according to IFS analysis, the policy has resulted in Scotland having the lowest share of 18-year-olds entering higher education across the UK's four nations in 2019, as well as the highest gap between the share of more and less disadvantaged students attending university. So the question needs to be asked: is this the best use of scarce resources?
The Scottish Government might also complain that it is underfunded by the UK Government. However, it is free to spend the money it receives as it sees fit. In recent times, this has meant diverting it to its own priority policy areas rather than maintaining 'needs'-justified higher health spending. In other words, this comes down to choices and trade-offs. But are the right ones being made?
It scarcely needs to be said that this is a vital area of concern at present. Post-Covid and with lengthening waiting lists in Scotland, how wise has the Scottish Government's policy of protecting uniquely Scottish policies, at the expense of health spending, been?
How much worse is the situation in Scotland than if the full ten per cent differential were restored? Having another £1 billion available may not be a cure but it could surely make a significant difference.
As the IFS suggests, greater clarity needs to be brought to this situation. Unfortunately, analysis of health spending in Scotland, and health activity in general, remains woeful.
Additional spending on higher education, on adult social care and on some forms of social security benefits all have their advantages, but do they justify the relative underfunding of the health budget?
John McLaren is a political economist who has worked in the Treasury, the Scottish Office and for a variety of economic think tanks