NHS Scotland's waiting times 'demonstrably worse' than south of the border
Scotland's long-term NHS waiting times are "demonstrably worse" than those south of the Border, new figures have revealed.
Thousands of Scots are waiting more than two years for treatment but in England only a few hundred face the same waits, according to Public Health Scotland (PHS) statistics.
Opposition leaders said the figures represented a "shameful failure" of the SNP government, and that ministers have previously been "quick to draw comparisons to England when it suits them".
As of March 31, 7,849 Scots have been waiting over two years for inpatient, outpatient or day care treatment from NHS Scotland, while in England just 599 were suffering through the same lengthy waits.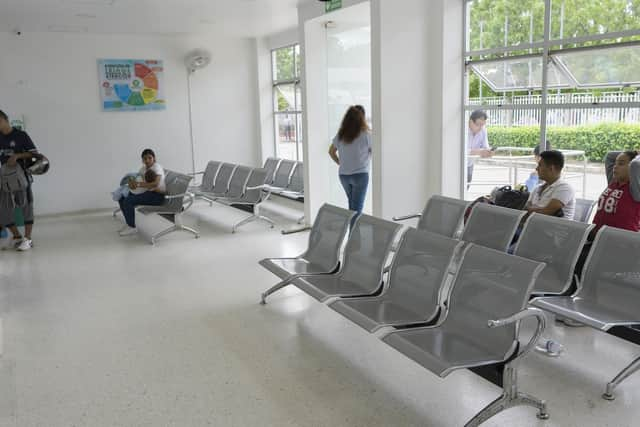 England's NHS also appears to outperform NHS Scotland at the 18-month mark. In England, 10,737 patients have been waiting longer than 18 months for treatment, while in Scotland, the figure is 21,681 - more than twice the number of English patients.
Scottish Labour said the "extraordinary revelation exposes the scale of the crisis in Scotland's NHS", while the Scottish Conservatives said the figures are a "damning indictment" of First Minister Humza Yousaf's "abject failure".
"As health secretary, he pledged to eradicate outpatient waits of more than a year by March – yet another target he manifestly failed to reach," said Dr Sandesh Gulhane, the Scottish Conservative's shadow health secretary.
"The SNP are forever spinning that the NHS is better in Scotland than in the rest of the UK, often on highly dubious grounds.
"But this is another example where the situation in Scotland is demonstrably worse than south of the border, due to SNP mismanagement and dire workforce planning.
"Not that comparisons matter to long-suffering Scottish patients – they just want to be treated.
"[New health secretary] Michael Matheson must come up with a new recovery plan that will tackle these dangerously long delays because his predecessor's plan is not fit for purpose."
Scottish Labour Health spokesperson Jackie Baillie called on the SNP "to get a grip".
She said: "The SNP is quick to draw comparisons to England when it suits them, but not when it lays bare their shameful failures.
"This disaster spiralled out of control when Humza Yousaf was Health Secretary and it was his incompetence that has left thousands of Scots in limbo and in pain for years on end.
"The SNP must get a grip of the waiting time emergency engulfing our NHS and finally deliver on their promise to end to these appalling long waits."
The figures provide a rough estimate of how each nation is performing on long-term waiting times.
The NHS Scotland figures, compiled by PHS, constitute inpatient, outpatient and day care waiting times, while the NHS stats from south of the border count Referral-to-Treatment (RTT) waiting times.
Both sets of figures provide a snapshot of the number of patients waiting longer than 78 and 104 weeks as of March 31, but may use different methodologies.
Dr Iain Kennedy, chair of BMA Scotland, said sometimes comparisons between nations "aren't helpful" as they "may not reveal the true extent of the issues with each nation potentially recording targets and waiting times differently".
"However, we can say that in Scotland we simply do not have enough doctors to meet demand which is far outstripping capacity across both primary and secondary care," said Dr Kennedy.
"We do not want to see patients, many of whom will be in pain, waiting these lengths of time for operations.
"Doctors and other healthcare workers are doing everything they can but they are exhausted and facing burnout under the increasing workloads.
"We desperately need the Scottish Government to move forward with a national conversation, involving the public, on the future of NHS Scotland and what it can realistically provide under its current limitations."
A Scottish Government spokesperson said: "NHS Scotland is making welcome progress on reducing the longest waits for care, with the numbers of outpatients waiting over 78 weeks having almost halved since the targets were introduced."
The same PHS data set revealed how Mr Yousaf's target to "eradicate" long NHS waiting times has been missed.
In July last year, the then-health secretary Mr Yousaf announced "some of the most ambitious targets in the UK" - including eliminating waits of one year or more to see a nurse or a doctor as an outpatient by March 2023.
However, the data shows that as of March 31, a total of 31,498 outpatients had ongoing waits of more than 52 weeks. The comparative figure for England is 359,798, roughly in line with the population difference.
When the target was first announced, there were 37,321 outpatients waiting one year or more, showing a decrease of 5,823, but still way off Mr Yousaf's "eradication" target.
The figures, which date from Mr Yousaf's last month as health secretary before becoming First Minister, show there were 779,533 Scots on an NHS waiting list.
This is the highest point on record and an increase of 175,890 compared to mid-2021, shortly after Mr Yousaf took over as health secretary, and an increase of almost 7,000 from December 2022, when 772,887 were waiting for treatment.
As of March, 479,725 patients were waiting for an outpatient procedure, 147,241 patients were waiting for an inpatient procedure, and 152,567 were waiting for a diagnostic procedure.
Mr Yousaf also pledged to eradicate waiting times of over eighteen months for inpatients in most specialities by the end of September 2023, and waiting times of one year for inpatients by the end of September 2024.
Comments
 0 comments
Want to join the conversation? Please or to comment on this article.