First Minister urged to pause short term lets scheme after 'risible' number of licence applications
Scottish Government insists 1 October deadline will remain in place
Pressure is mounting on the Scottish Government to revisit a new licensing scheme for short-term rental properties after official statistics showed that only 2,500 applications have been made, despite the fact the initiative is due to go live next month.
Statistics published yesterday by Ally McAlpine, Scotland's chief statistician, show that there were just 2,587 valid applications for short-term let (STL) licences by the likes of B&B and self-catering holiday home owners up to 31 March, with those based in major cities among those least likely to sign up. In Dundee, the local authority has received just 18 applications.
The leading trade body for self-caterers in Scotland described the figures as "risible", and warned that the scheme remained "riddled with problems" ahead of the planned 1 October launch. But housing minister Paul McLennan stressed that the statistics only went up to the first quarter of this year, with "many more hosts" applying in the five months since then.
It comes as the former SNP tourism minister, Fergus Ewing, urged First Minister Humza Yousaf to "show leadership" by pausing and reviewing the looming licensing regime. He warned that if it went ahead as planned, it would "decimate" the tourism sector across the country.
Supporters of the scheme say it will help address the chronic affordable housing shortage across parts of the country, and provide stability and security for communities. But the figures released by Mr McAlpine point to widespread fluctuations across Scotland in terms of the numbers of owners and operators seeking to join the scheme.
There were 920 applications in the Highlands, the highest of any local authority area. Together with Dumfries and Galloway (426) and Fife (300) it accounts for almost two thirds of all the valid applications submitted by the end of March.
However, just 90 hosts had come forward in Edinburgh, where an estimated 12,000 STL properties are operating. The number is even smaller in Glasgow and Aberdeen, where councils have only received 78 and 32 applications respectively.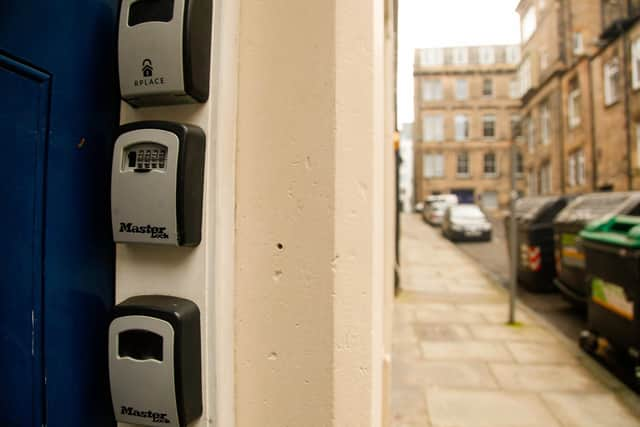 It is understood that all of 2,587 applications have been rubber stamped; as of the end of March, some 1,625 of them were awaiting determination, with 848 approved with no conditions, and 102 granted with some additional conditions. However, none had been refused or revoked by that date, and the government said no application has been rejected since then.
But Fiona Campbell, CEO of the Association of Scotland's Self-Caterers said the lack of people signing up should lead to the scheme being delayed, adding that the cost of the licences was unduly prohibitive.
"These statistics offer cold comfort for the Scottish Government," she explained. "Widespread concern remains throughout the sector after ministers completely ignored our policy solutions to put things right.
"While the data only covers up to 31 March, the flow of applications remains only a trickle and is unlikely to change anytime soon due to the massive legal uncertainty faced by many local schemes and the onerous and costly nature of the application process. In Edinburgh, a whopping 97 per cent of businesses haven't submitted an application."
Ms Campbell went on: "What the frankly risible statistics don't show is the total cost for these applications for small businesses like self-catering and B&Bs. For many, it is a cost too high to bear and many long-established self-caterers have already said enough is enough.
"The Scottish Government urgently needs to take stock and pause their licensing scheme to properly get a grip of the situation and work constructively with stakeholders – in the spirit of the First Minister's new deal for business – to put in place a fair, balanced and legally sound regulatory framework."
Mr Yousaf yesterday ruled out extending the deadline for applications beyond 1 October, pointing out that there had already been a six month extension. "This has support from many members of the public," he said. "People want to see, when it comes to short term lets, particular standards in place for guests. The licensing scheme is absolutely appropriate."
Mr McLennan added: "Operators can take confidence that local authorities are working pragmatically to support new licensees through the application process - and we can see from the information that no completed applications had been rejected in the period, or since. I would repeat calls to everyone within the industry to back the scheme and encourage short-term let operators to apply for a licence in good time and before the deadline."
But Mr Ewing, who was among a cross-party group of 37 MSPs who have urged Mr Yousaf to pause the scheme, said that the government would be "criminalising law-abiding, hard-working people" if action was taken against business owners who carry on trading without applying for a licence.
"It would be a tremendous credit to the First Minister, who says he wants to reset business relationships, if he can show real leadership and say, 'These regulations, we haven't got them right at all, let's go back and have a look at them'," Mr Ewing said.
It is unclear exactly how many STL properties are operating in Scotland. Research carried out by the government showed that as of May 2019, there were 31,884 active Airbnb listings across the country, but that figure does not take into account other properties that do not use the online marketplace, or the impact of the pandemic on the STL market.
The new scheme is mandatory for all STL accommodation across Scotland, including holiday cottages, B&Bs, guest houses, rooms within a home, and unconventional accommodation such as pods and yurts. Local authorities have the power to designate control areas to manage high concentrations of STLs, with Edinburgh becoming the country's first such designated area last September.
Comments
 0 comments
Want to join the conversation? Please or to comment on this article.