Scottish tourism: Vehicle tax and review of right to roam legislation is needed to combat 'over-tourism' issues, report says
Environmental damage including pollution, wildfires and illegal road parking, have been cited as some of the reasons in the report as to why change needs to happen
Scotland needs to review its "right to roam" policy with the country seeing a steady increase in tourism, particularly in motorhome and off grid campers to rural areas, a new report has said.
The document, called Combatting Over Tourism in Scotland, addresses the issues that come with an increase in visitors to the country and makes recommendations on how to cope with them.
The report said with the right to roam policy introduced in the Land Reform Act 2003, there had been "a massive growth in roadside camping for which there are no facilities and no means to control it".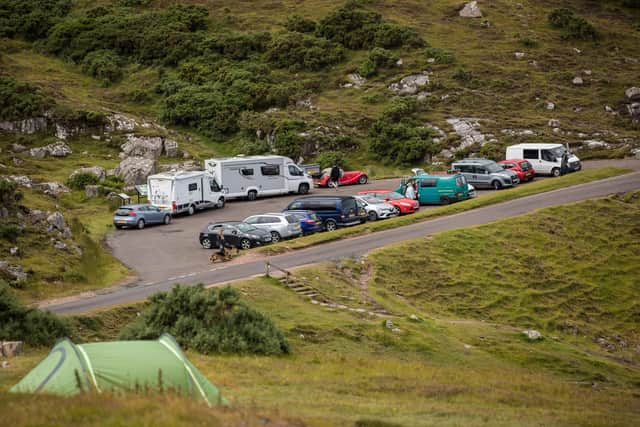 Some of the concerns raised include extensive litter and human waste pollution, destruction of and damage to flora and fauna, erosion of road verges by parked cars and vans, obstruction to other road users, including emergency services, and disturbance to farm animals.
The paper, authored by Robin Pettigrew, of the Institute of Occupational Safety and Health, said: "There should be a use of the existing powers granted to local authorities and SNH (now NatureScot) within the Land Reform Act to enact local by-laws to protect the worst affected areas.
"This should not be to restrict access, but purely to prohibit damaging activities such as camping and lighting fires in environmentally sensitive areas, as already implemented for heritage sites, and to protect local communities from the negative impacts of over-tourism."
Some other suggestions included a review of possible designated camping areas to be ranger supervised, the sale of disposable barbeques to be banned at times of high fire risk, which would be enforced with punitive fines, and for local land owners to set up so-called Aires – motorhome stopovers – for camping vehicles.
The report has recommended a full review of the Outdoor Access Code – a set of guidelines to follow when out and about to help ensure a person is accessing land in Scotland responsibly in accordance with the Act – because it has not yet been reviewed "for suitability in dealing with roadside camping". The document said there should also be a review of policing policy in light of any changes to the Act and/or code and a ban on non-local overnight parking.
The report has been compiled with the support of business owners and residents of the Highlands where communities are "overwhelmed by the influx of visitors", an issue, it said, that is often compounded by popular sites being well advertised on social media.
Authors also said there was concern with the heavy focus on marketing Scotland as a holiday destination with "very little reciprocal infrastructure investment targeted to ensure our smaller and rural communities can cope with this influx".
They claim the successful campaigns of the likes of VisitScotland are exacerbating this issue of "over-tourism".
The report pointed out in 2018 and 2019, VisitScotland spent more than £87 million in marketing Scottish tourism. In the same period, just £6m was made available to improve rural tourism infrastructure via the Rural Tourism Infrastructure Fund.
Authors noted in rural tourism there has been a particular surge in motorhome and off grid camping tourists who "are largely self-sufficient" and "spend little".
"The odd pint in a local pub or a coffee and cake in the café does not add much to the economy," the report said. "These visitors must still be welcomed, but communities need assistance in coping with their number since they add so little to community coffers."
Recommendations included taxation strategies to fund tourism improvements and concluded a vehicle-based visitor levy as the way forward.
The report acknowledged that accommodation-based taxation alone, which is being consulted on for the Visitor Levy (Scotland) Bill introduced earlier this year, is unfair as there are many thousands of visitors who don't stay in paid accommodation.
A Scottish Government spokesman pointed to its Rural Tourism Infrastructure Fund's introduction – £18.9m in funding that has been awarded to 75 projects across 17 local authorities and both national park authorities, investing in facilities such as car parks, waste disposal and toilet provision.
"We also work with partner organisations, including VisitScotland, to deliver co-ordinated approaches to responsible tourism marketing, education and awareness activity," a spokesman said. "This includes developing and delivering public-facing communications across a wide range of channels."
Malcolm Roughead, chief executive of VisitScotland, said: "As Scotland's national tourism organisation, we recognise there is a careful balance to strike between the benefits tourism brings and impact on communities and the environment.
"Responsible tourism is a core part of our recovery plan and Scotland's tourism strategy, Scotland Outlook 2030.
"We have adjusted our marketing strategy to reflect the challenges faced in specific areas, focusing our activity on encouraging visitors to visit a wider variety of destinations across the year.
"Through the Rural Tourism Infrastructure Fund, we are working with communities across Scotland to ensure infrastructure is in place to meet visitor demand. To date we have distributed £18 million in Scottish Government funding to 74 projects including provision of public toilets, parking and motorhome waste facilities.
"More recently, as part of the reopening and recovery of tourism from the impact of Covid-19 we have been working with partners including NatureScot, Police Scotland and the National Parks on a Scotland-wide approach to Visitor Management. Through combined marketing and PR activity plus practical measures such as recruitment of seasonal rangers and monitoring of visitor numbers, we have been able to address some key visitor management challenges with this work ongoing.
"However, we understand that more work needs to be done. Responsible tourism is going to be even more important for Scotland in the future with this a core part of our recovery plan. Tourism is a force for good, it creates jobs, sustains communities, and contributes significantly to the economy especially in our more rural areas."
Comments
 0 comments
Want to join the conversation? Please or to comment on this article.