Analysis: So is this an 'independence election' or not?
It should be straightforward for voters, given the central plank of the Scottish National Party's political agenda – a vote for them in any parliamentary election is a vote for independence.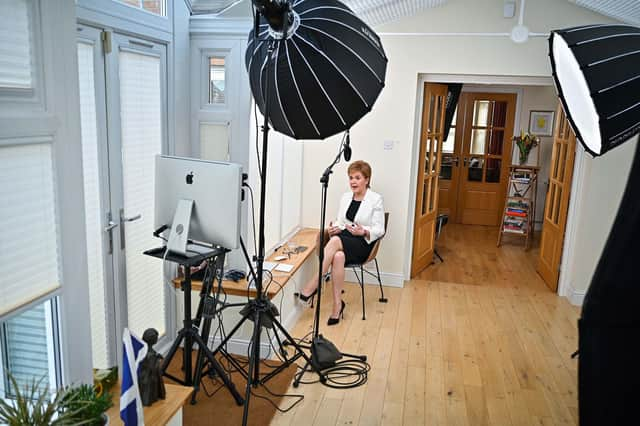 First Minister Nicola Sturgeon appearing on the BBC1 current affairs programme, The Andrew Marr Show from her home in Glasgow.
But there have been times, in the not-too distant past, when the electorate were being urged to "lend" the SNP their votes, and told this could be done without having to take a stance on the constitutional issue of the day.
That an SNP win then equalled a mandate for a second independence referendum maybe came as a surprise to those who were happy to back Nicola Sturgeon but weren't so hot on the whole indyref2 idea.
And here we are again. This election the message from the SNP has gone from being a fullscale march to independence (after the Covid pandemic is over) to dropping plans to have "Vote SNP for IndyRef2" on the ballot paper, to accusations that independence is only mentioned in the very small print on leaflets.
Then on Sunday Nicola Sturgeon told the BBC's Andrew Marr that the fact her party has no new economic case for taking Scotland out of the union doesn't matter at this time, as this election is not about asking people to vote for independence.
A strange stance perhaps for a party which is always all about independence, and which has made no secret of its determination to hold a second referendum, and indeed passed a Referendums Bill before Parliament dissolved.
It is at the point of a referendum, Ms Sturgeon says that all the difficult questions, the "practical matters" as she put it, will be dealt with.
So why the change in tone and language? The opinion polls may be the answer. When it appeared the SNP would win an outright majority, there was no need to assuage the worries of the don't knows or the "soft unionists" but in recent weeks that majority has reduced to slim to non-existent, depending on which pollster you favour.
Perhaps the focus on independence has been too much for many voters who, again according to polls, seem to believe that the recovery should be the number one concern.
Yet on the other side of the coin there are those vehemently for independence who no longer believe voting SNP is the way to gain that outcome, hence the formation of the Alba Party. .
And then there are the Scottish Greens who look set to return double their numbers with 11 MSPs.
Together with the SNP they would ensure a pro-independence majority in Holyrood, as they have for the last five years, and could have the whip hand on just when any new demand for a referendum is made.
But, unsurprisingly, their campaign focus has remained on climate politics with a side-order of social justice. How confident can they be that those who cast their votes greenwards are voting for indyref2?
This election, for all its oddity given the Covid restrictions, is perhaps proving tougher for the SNP than Nicola Sturgeon first envisioned. There's no doubt she'll be back in Bute House and at the helm of the Scottish Government after May 6, but if she has made no gains can she confidently return to the mandate mantra of old?
A message from the Editor:Thank you for reading this article. We're more reliant on your support than ever as the shift in consumer habits brought about by Coronavirus impacts our advertisers.
If you haven't already, please consider supporting our trusted, fact-checked journalism by taking out a digital subscription.
Want to join the conversation? Please or to comment on this article.