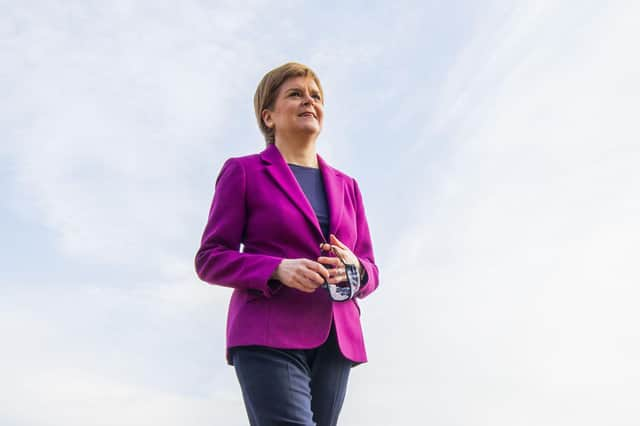 Nicola Sturgeon believes negotiated arrangements between an independent Scotland and England could keep trade flowing over the border.
Nicola Sturgeon defended a lack of updated information on the economics of an independent Scotland as she was quizzed on new figures showing Scotland's deficit has soared and on how she intends to ensure there is no trade border between Scotland and England, in the event an independent Scotland rejoined the EU.
Speaking on the BBC's Andrew Marr show, she said "arrangements" would be made to ensure goods flowed freely between Scotland and England, despite EU rules which would expect the border to be policed, and new customs arrangements put in place.
Ms Sturgeon also said that her party would set out its plans for that eventuality, as well as on other "practical matters", in the same way they had for the 2014 referendum with a government white paper.
Asked if it was "shameful" that she had not done economic modelling already when she was asking people to return her as First Minister, she said: "If I was asking people a week on Thursday to vote on the question of whether or not Scotland should be independent, yes I would agree, but I'm not asking people to make that choice on Thursday.
"If I were to do all that modelling now we would have to redo it when we got to the point of people making that choice. It's only right to ask people to make a choice of that magnitude on the basis of quality, up-to-date information.
"We're in an election to the Scottish Parliament where I'm asking people to vote for me as First Minister to continue to lead us through a global pandemic, then to implement a bold transformative manifesto to kick start that recovery, and drive that recovery, then when we're out of the crisis to give people in Scotland the choice over what kind of future we want and the country we want to build."
Pressed on how trade arrangements would work with England, which accounts for 60 per cent of Scottish trade, should Scotland be independent, she said the EU was the world's single biggest market and she wanted Scotland to be part of it.
"But of course I want to, and will work with others, to keep trade flowing across the border with Scotland and England. Nobody with any credibility suggests an independent Scotland wouldn't continue to be a member of the Common Travel Area, so free movement of people across the UK and if we were in the EU, across the EU, would be guaranteed.
"It's not the SNP that raises issues with borders, this issue only transpires because of the UK government's Brexit obsession and the fact they've ripped Scotland out of the EU against our will."
She added: "We will put in place arrangements and negotiate those with the UK to ensure businesses do not in a practical sense suffer from any of that, and before we get to the point where we're asking people to choose whether or not they want Scotland to be independent, we will set out all the implications of independence, all the advantages and all the practical issues people have to consider so that people make an informed choice.
"On Brexit right now businesses are facing these costs… if Scotland chooses independence it will do so with full availability of the information so that people can take a considered view and reach an informed choice, and that is how democracy should work but that's not Scotland's experience right now."
Ms Sturgeon said Scotland exported more "manufactured goods" to the rest of the world than the rest of the UK "so the importance of being able to trade freely – not just across the UK which is important and I've never tried to suggest otherwise, and we need to work to make sure that can be secured – across the EU single market and internationally, is also vital.
"The invidious position that Scotland has been forced into in losing the single market is not some abstract hypothetical, it is costing our exporting businesses particularly our world class food and drink sector, a lot of money. We shouldn't be forced to choose between these two things – it's a price Scotland is paying right now for not being an independent country."
Asked if she had modelled the impact of independence on people's incomes – given a London School of Economics study which suggests they could fall by as much as eight per cent – she said: "Not yet. We will do all of that as we did in 2014 as we get to an independence referendum and that will take account of all the up-to-date financial and economic information. It we'd done that before the Covid pandemic struck then obviously that modelling would be out of date now because the world has turned upside down."
On the Institute for Fiscal Studies report which said Scotland's deficit is now between 22 and 25 per cent of the country's Gross Domestic Product, higher than rest of the UK and eight times worse than the three per cent required for entry to the EU, she said: " That deficit is Scotland's fiscal position within the UK not a reflection of what Scotland would be like as an independent country."
Commenting on Ms Sturgeon's remarks, Scottish Labour's Shadow Scotland Secretary Ian Murray said: "With economists warning Scotland is headed for a jobs crisis it is reckless beyond imagining to call for a referendum during our recovery.
"But hearing the casual way with which Nicola Sturgeon dismisses those independent experts that she is so fond of quoting when they agree with her and her failure to answer any of the tough questions on separation – from effects on income to the border – is playing fast and loose with people's futures.
"Scotland deserves better than this."
Responding to the IFS figures on Scotland's deficit, Scottish Liberal Democrat Treasury spokesperson Christine Jardine said: "This shows yet again both the scale of the economic challenge facing the country and the fallacy of claims of quick re-entry to the EU put forward by the SNP.
"It's time they came clean on whether they are planning tax rises or spending cuts to meet that target.
"This week has not only exposed the SNP as desperately confused over the economics of independence but revealed that they are contemplating a hard border with England. This would not only be dreadful for trade but throw up barriers between friends and families."
Scottish Conservative leader Douglas Ross described a potential border with England as a "hammer-blow" for Scottish businesses, which h said would "put hundreds of thousands of jobs at risk that rely on trade with the rest of the UK."
He added: "By Nicola Sturgeon's own admission, the SNP are clueless about the economic impact of independence. They've done no analysis on how many jobs it would put at risk or how much damage would be done to Scotland's economy.
"She floundered and didn't have a single convincing answer to dispel the overwhelming evidence that separating Scotland from the rest of the UK would be devastating for jobs and businesses."
And Pamela Nash, chief executive of Scotland in Union, said: "Nicola Sturgeon isn't being honest with the people of Scotland.
"Leaving the UK would require a hard border with England, creating barriers between families and friends, and jeopardising people's jobs.
"It's no surprise that the SNP hasn't done any modelling on the impact that leaving the UK would have on our incomes as it knows it's likely to be bad news.
"The SNP needs to explain how much it would cut from schools and hospitals and what the impact would be on household incomes."
A message from the Editor:Thank you for reading this article. We're more reliant on your support than ever as the shift in consumer habits brought about by Coronavirus impacts our advertisers.
If you haven't already, please consider supporting our trusted, fact-checked journalism by taking out a digital subscription.