The latest exclusive poll from Savanta ComRes for The Scotsman suggests the SNP will miss out on a majority by two seats and will be reliant on the Scottish Greens to pass major legislation and the budget.
It is also the lowest figures seen for the SNP during this series of polling since December.
The figures remain strong for a party that has governed for 14 years, but loom as a disappointment to those within the SNP hoping for a clear majority in Holyrood post May 6.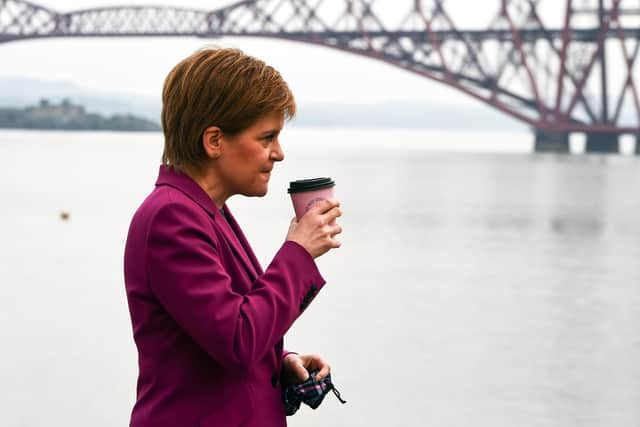 The survey interviewed 1,001 Scottish adults aged 16 or over between April 16 and 20.
Scots remain broadly split on independence, according to the poll. However, support for No has grown since the last poll in this series at the start of April.
Support for the union is now on 48 per cent, with those stating they would vote Yes now sitting at 45 per cent, with a further 8 per cent saying they did not know.
With don't knows excluded, support for No sits at 52 per cent and Yes at 48 per cent.
Figures from the poll put SNP support in the constituency vote at the same level as their final result in 2016 with 46 per cent of the vote.
Alongside their regional list vote of 38 per cent, which is three percentage points lower than the result five years ago for Nicola Sturgeon's party, the SNP would return a total of 63 MSPs.
The Scottish Conservatives have one of their strongest showings in recent polls with 25 per cent of the constituency vote and 23 per cent of the regional list.
Such a result would see Douglas Ross's party return a total of 32 MSPs in May – one higher than their surprise result in 2016 and enough to keep them as the main opposition to the SNP.
Positive approval ratings for Anas Sarwar is yet to translate into votes for Scottish Labour, however, with support for the party remaining at 20 per cent on the constituency, in line with previous polls.
However, more worrying for the former dominant force in Scottish politics is their failure to gain ground on the regional list with just 17 per cent of the vote.
If the result on May 6 was the same, Mr Sarwar would see his cohort of MSPs reduced by three to just 17 MSPs.
The poll show one in six (18 per cent) of Labour voters saying they trust Mr Ross's party the most on the union compared to just 4 per cent of Conservative voters who would say the same about Labour.
Mr Sarwar is, however, the most popular opposition leader with a net favourability rating of +6, with Ms Sturgeon well ahead on +15 net favourability and Mr Ross on -13 net favourability.
The Scottish Greens also have one of their lowest results in this series of polls and sit at just 7 per cent, down two points from a poll earlier in April and down four percentage points from their high in December.
Patrick Harvie and Lorna Slater's party would still, however, return a record number of eight MSPs with that result.
Such a result would also see Holyrood return another pro-independence majority, albeit one almost identical to the one the Scottish Parliament saw between 2016 and 2021.
The Scottish Liberal Democrats' voting share is also steady with 6 per cent in constituencies and 5 per cent on the regional list.
This would see Willie Rennie's party return five MSPs – the same number as in 2016.
Support for Alex Salmond's new venture, the Alba Party, is at its lowest since it was established, with just 1 per cent of voters stating they are planning to vote for the pro-independence party.
Such a result would see the former first minister miss out on a return to Holyrood and would destroy any hopes of a pro-independence 'super-majority' without a single Alba party MSP being elected.
Mr Salmond's party is receiving a similar level of support to the Abolish the Scottish Parliament party, George Galloway's All for Unity party, the Scottish Libertarians and UKIP.
This poll also saw a higher number of people stating they would vote for other parties on the regional list, with the figure sitting at 7 per cent.
This is most likely due to an increased number of 'list only' parties standing at this year's election.
Chris Hopkins, associate director at Savanta ComRes, said a "sizeable shift" of regional list voters could still yet provide a route to a majority for the SNP.
He said: "These latest figures show the SNP potentially missing out on a majority, but there are still plenty of routes for them to get one.
"While 'both votes SNP' has never made the most of the SNP's dominance, increasing their vote on the list could top up the seats they need, but they'd require a sizeable shift in their favour from these latest figures.
"Instead, squeezing the soft Labour constituency vote in seats in South Scotland, for example, could help them overtake the Conservatives and give the SNP the majority they crave.
"That could be easier said than done, though, with the Conservatives up in this poll, and with a healthy proportion of Labour voters more likely to trust the Conservatives than their own party to protect the union, the Conservatives will also be trying to squeeze Labour in an attempt to hold off an SNP challenge."
A message from the Editor:
Thank you for reading this article. We're more reliant on your support than ever as the shift in consumer habits brought about by coronavirus impacts our advertisers.
If you haven't already, please consider supporting our trusted, fact-checked journalism by taking out a digital subscription.