Analysis: Humza Yousaf's big day 'torpedoed' by arrest of SNP treasurer
Humza Yousaf had hoped his first major policy speech in the Scottish Parliament would offer a chance to "reset" after a brutal start to his time in office.
The new First Minister has faced an endless parade of negative headlines as a result of the scandal engulfing the SNP. The ongoing police probe into its funding and finances has dominated almost every interview he has given. Mr Yousaf has been constantly on the back foot.
Finally, this was his chance to seize the news agenda; to outline his top priorities and make some major announcements of his own.
Unfortunately for Mr Yousaf, his big day was very quickly overshadowed by the bombshell arrest of Colin Beattie, the SNP's national treasurer. A Police Scotland statement revealed Mr Beattie, 71, had been taken into custody and was being questioned by detectives.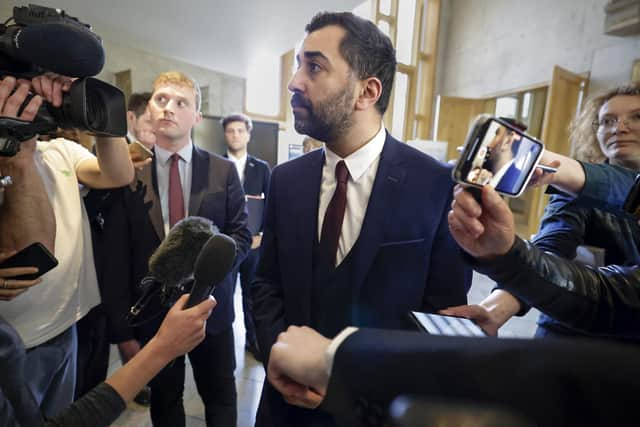 It is the second arrest in a police probe sparked after complaints about how more than £600,000 in donations to the SNP earmarked for an independence referendum had been used.
Earlier this month, former party chief executive Peter Murrell – who is also Nicola Sturgeon's husband – was arrested and questioned for more than 11 hours before being released without charge "pending further investigation". The home the couple share on the outskirts of Glasgow was searched by police, with officers also descending on the SNP's headquarters in central Edinburgh.
Mr Beattie might not have much of a public profile, but he is a senior figure in the SNP. He was the party's national treasurer between 2004 and 2020, losing the position to MP Douglas Chapman. After Mr Chapman quit the post in 2021, claiming he was not being given the required information to carry out the job, Mr Beattie took over once again.
He reportedly told the party's ruling body on Saturday that the SNP would struggle to balance the books. This was later disputed by senior figures, including former Westminster leader Ian Blackford.
Once again, Mr Yousaf was on the back foot. Once again, he was reacting to events outside his control. And once again, he found himself facing a media scrum in the Scottish Parliament.
His answers provided some memorable lines. "Of course I'm surprised that one of my colleagues has been arrested," he told journalists. Not so long ago, it would have been impossible to imagine the First Minister of Scotland uttering that sentence.
Mr Yousaf's speech actually contained some announcements that would normally have led newspaper headlines. Plans to introduce a deposit return scheme for drinks cans and bottles were delayed until next year. Meanwhile, controversial proposals to introduce further restrictions on alcohol advertising will be taken "back to the drawing board".
Both schemes had been facing a huge backlash from business leaders. The decision to rethink them plays into Mr Yousaf's promises of a "fresh start". This is a new administration, with its own way of doing things.
But nothing can drag attention away from the unprecedented crisis Mr Yousaf has inherited.
"Today, Humza Yousaf was supposed to set out his government's priorities, but the complete mess within his party has torpedoed that relaunch," said Scottish Liberal Democrat leader Alex Cole-Hamilton. It was hard to disagree.