Irn-Bru: Why Lawrence Chaney is perfect as the Fairy Godmaw for new Christmas campaign
From being paid £15 a gig to becoming the face of Irn-Bru, it's been a big year for a certain drag queen from Helensburgh.
"Oh, for festive ginger bells!"
This is, I assume, exactly what Lawrence Chaney exclaimed when given the news they would become the star of Irn-Bru's latest Christmas campaign.
It's a Scottish institution, Scotland's other national drink, and its Christmas adverts are the stuff of legend.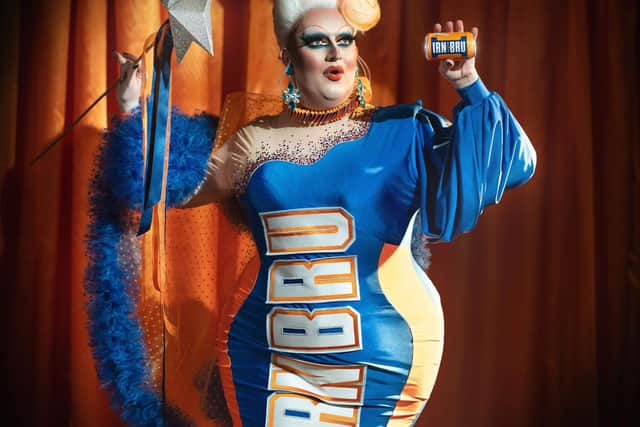 But it's time to give The Snowman a shove into the Firth of Forth. All hail our new festive overlord: the Fairy Godmaw.
She is the vibrant orange and blue spirit summoned to grant a much-needed extra sparkle this Christmas.
So it was only fitting to cast the queen of Scottish drag to play a pantomime dame, one of the UK's most cherished forms of drag.
For those who may not know, Chaney won RuPaul's Drag Race UK at what seems like the beginning of time – but was, in fact, earlier this year.
This then must feel pretty momentous for the 25-year-old. Almost like...a dream come true? (Sorry.)
It's hard not to root for Lawrence. I've only interviewed them twice – once before they won and once after – but they were warm and hilarious as they seem, and even remembered my name. Granted, it was probably because I share a first name with Ginny Lemon, a fellow drag queen.
Back then, Lawrence said just making it to the final of Drag Race was a "testament to queer people in general". Since winning, they've released a book and are filming a mini-series in Hollywood.
And now it's wonderful to see them at the centre of one of Scotland's biggest advertising campaigns. Well done, hen.
Comments
 0 comments
Want to join the conversation? Please or to comment on this article.