Drag Race UK final: Lawrence Chaney and Ellie Diamond on making it to the final four
We speak to the two Scottish finalists of RuPaul's Drag Race UK ahead of the finale.
The finale of the biggest drag competition in the world is almost upon us, and one of these two could be about to snatch the crown for Scotland.
Both Ellie Diamond and Lawrence Chaney are in full glorious drag on our Zoom call, sipping an Irn Bru.
Ellie has a full face of her cutesie almost anime makeup and a baby blue and pink gingham frock – a nod to Dorothy in the Wizard of Oz, she says.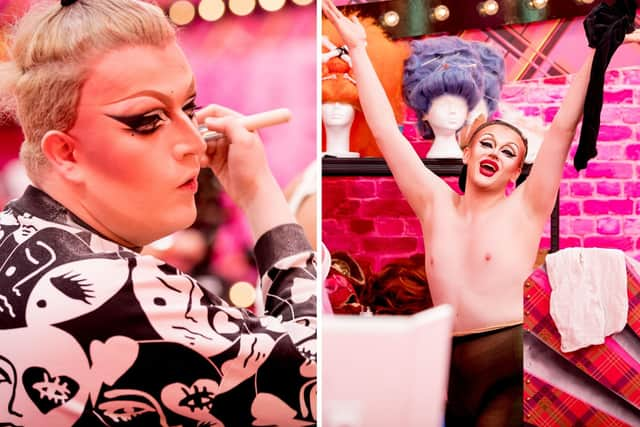 While Lawrence Chaney wears her signature royal purple with voluminous ruffles, matching immaculate makeup and a jet black bouffant.
What would winning Ru Paul's Drag Race UK mean to them?
"It would be a dream come true," says Lawrence, larger than life, even more so than she comes across on TV, "When you apply for the show that's where you want to be, to be at that finish line with the crown and sceptre.
"I didn't go on Drag Race for the success, I did it because I'm a huge fan of the show and wanted to do it to see if I could."
And Ellie, dubbed the Diamond of her hometown Dundee, says: "It would feel quite surreal. That's the dream.
"The fact that we're all already in the top four, in the finale, that's already a massive prize in my eyes.
"Obviously getting the crown would be FABULOUS. But at the moment, top four's enough for me girl."
The pair have fought to get where they are – having faced bullying, abuse, and financial hardship.
Lawrence says: "It's a testament to queer people in general I think. Because for so long – I was bullied for so long.
"Told that I would never be famous, would never succeed. I was told I would stay in Helensburgh forever.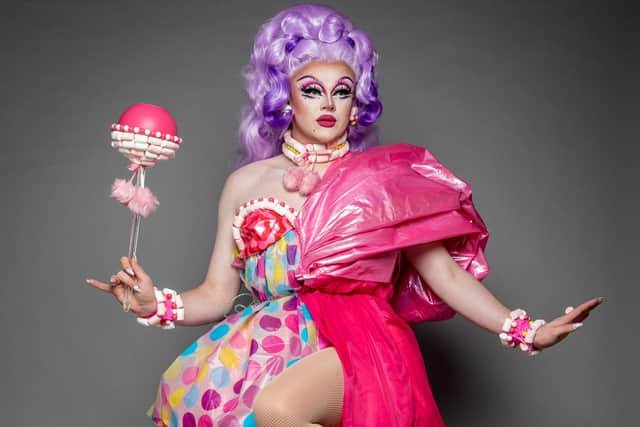 "I was told 'you'll never be like RuPaul'. People just put you down. I've been chased in the streets.
"Drag Race is a testament to that. It's real people, succeeding and being able to showcase their talent to the world."
This is the second UK series of the world famous show, which sees drag queens compete in a number of challenges – from sewing looks from a pile of rubbish, to making hilarious soap parody BeastEnders – all to wow RuPaul and bag a starring role in a Hollywood TV series.
"From Holyrood to Hollywood!" Lawrence jokes. Ellie says: "It's like it's finally paying off you know. The worldwide love is definitely strong."
Scottish drag goes global
Last year's show was watched by millions of people around the world, and it's likely this one will be even bigger.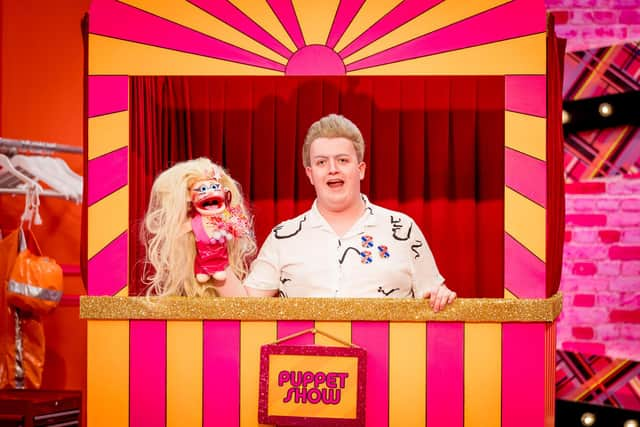 What has it meant for them to showcase the Scottish drag scene on a global stage?
"It means the world to me," says Lawrence, "Yes there's been two Scottish people on Drag Race before, but they were born here and grew up in America.
"Me and Ellie Diamond represent Dundee drag, I represent Glasgow drag. I represent the queens that have helped me become the drag queen I am."
Scottish queens have a "very unique" perspective on drag and the world, she says.
"Scottish drag is so underrepresented. Regardless of Drag Race or not, Scottish drag queens aren't Insta famous!
"To have that put on a worldwide stage and make it to the finale is just mind-blowing."
Lawrence says: "A lot of the time Scottish drag is very looked down upon and seen as 'just Scottish queens'. Let me tell you there's no 'just' about Scottish queens.
"And this is proof of that. We are very, very ambitious, and we have fought a long way to make it to London and to be represented all around the world."
It hasn't always been glitz and glam for these two queens. Both have openly talked about the struggle to make it this far.
When the show had to stop filming half way through the season due to coronavirus, Ellie had to go back to her job at a drive-thru McDonald's – something she said she is thankful for as "otherwise I wouldn't have a leg to stand on".
But she reveals she is still on the books for the fast food restaurant. "If the worst comes to the worst, if money's not coming in, I need to go back to the drive thru, I'm going to have to do that.
"I would hate doing that, it would be horrible."
And the sudden halt of filming was devastating for Lawrence, who says: "I cannot believe six months ago I was on Universal Credit and couldn't afford any food.
"I was in debt because of all the costumes[I'd bought] before coronavirus, thinking 'oh I'm on Drag Race I've made it' and it was a big struggle."
There was little to no support for drag acts in the pandemic, she says.
"We all got told to retrain. That was it. There were these arts funds but they were a one-off payment and – when you're already late by six months on rent, on overdrafts and stuff like that – the help was not proportional to what we needed."
'It was a big stressball'
Like many, the Covid situation also took a toll on her mental health. In the second half of the series, Lawrence – who had shone in earlier challenges – battled with her perfectionism and became her 'own worst critic', according to judge Michelle Visage.
She said: "I struggled to manage it because the world was in pandemonium. It was going mental. So I think I was just a bit emotionally stunted.
"None of these people I'm able to talk to like pals because we all want to win a crown so you can't really confide in each other. So it was just a big stressball.
"I don't think my mental health helped the situation."
The contest also had a strain on Ellie and Lawrence's relationship, with the pair falling out over a stand-up comedy challenge.
It led to Lawrence being labelled a bully and she temporarily deleted her Twitter. "When you're being called a fat c*** by people, what does me being a fat c**** have to do with me being in an argument with a friend?" she asks.
"I love Drag Race and I have opinions too and I love voicing it. But I don't need to be a doormat for people to tag and throw their vitriol and rants at."
But despite the ups and downs, they are both "so thankful" for the Drag Race experience and said either of them winning would be "humbling".
Ellie says: "I just can't wait to go out and do shows. I want to perform, want to get back to performing every single night. Because that's why I love doing drag."
"I just wanted RuPaul to like me and laugh at my jokes," says Lawrence.
"I want to continue to make people laugh, spread my stupid silly jokes, hopefully make people laugh."
BBC Three brings the final episode of RuPaul's Drag Race UK to BBC iPlayer from 7pm Thursday 18 March.
A message from the Editor:
Thank you for reading this article. We're more reliant on your support than ever as the shift in consumer habits brought about by coronavirus impacts our advertisers.
If you haven't already, please consider supporting our trusted, fact-checked journalism by taking out a digital subscription.
Comments
 0 comments
Want to join the conversation? Please or to comment on this article.