Watch incredibly rare phenomenon known as a 'Snownado' caught on film above Edinburgh
The remarkable footage of a rare phenomenon called a 'Snownado' was captured above Edinburgh during the recent cold snap.
Edinburgh photographer Kevin Kirk caught the footage as he flew his drone in the Pentland Hills on Saturday, February, 13, just as the sun was rising at 8am.
They require very specific meteorological conditions to form which is why they are so rare, and because of this very little is known about them.
When he was filming the video, Mr Kirk said that he didn't have a clue what it was, but thought he "may as well try to grab the footage".
He said: "I just thought, wow that must be pretty rare, especially here, over Edinburgh, it was pretty surreal to see it over the city.
"It was actually someone on the Pentlands Facebook group that told me that it was a Snownado and I've done some reading now on how rare it is to capture them, so for me, that's the huge part."
Sometimes referred to as 'Snow Devils', the phenomenon occurs when a cold air mass passes over a slightly warmer surface, and a low-level change of wind direction collides with air currents causing rising air to spin.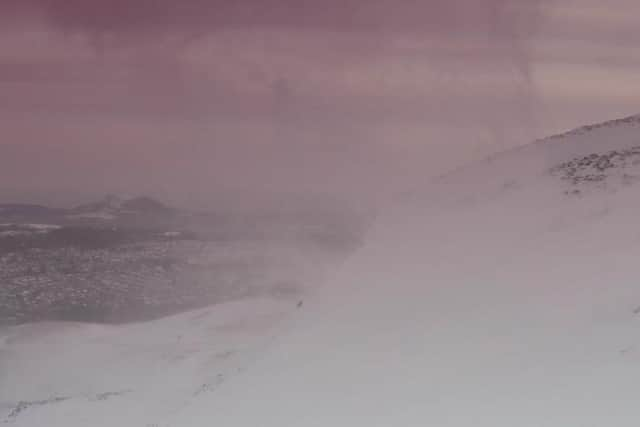 When the surface of the snow is slightly heated by the sunlight, steam or fog can form, then the low-pressure air that is rising and spinning will begin to pick up loose snow which forms the trademark funnel shape that tornadoes are known for.
As the temperatures were so low on Saturday, Mr Kirk had planned to fly the drone for just two minutes and had mapped out a route to give him good views of the city.
He said: "What I tried to do was frame Arthur's Seat with a bit of a reveal, so then when the wee kind of mini snow tornado went by it was like it was revealing Arthur's Seat behind it which was amazing.
"It was great as well because you can see the whole of Edinburgh glowing in the background as the sun was beginning to rise."
He added that he was tempted to fly the drone directly into the Snownado but decided against it as the force would have almost certainly destroyed it.
Flying in such cold conditions was enough of a risk, with wind-chills of almost -20C Mr Kirk said that when he brought the drone back down whole chunks of ice had formed on the equipment.
He said: "In the longer video, you can see the establishing shot of the mountain that the Snownado was on, from Swanston Golf Club up.
"You can then see the Snownado, followed by a few shots of some skiers and snowboarders going down the mountains.
"You get some really incredible shots of Edinburgh, the whole thing is remarkable."
A message from the Editor:Thank you for reading this article. We're more reliant on your support than ever as the shift in consumer habits brought about by coronavirus impacts our advertisers.
If you haven't already, please consider supporting our trusted, fact-checked journalism by taking out a digital subscription.