SNP transphobia row: why has Nicola Sturgeon's party been accused of 'transphobic views' - and who is Teddy Hope?
A former leading SNP equalities campaigner has accused the party of being one of the "core hubs of transphobia in Scotland."
On the evening of 27 January, Ms Sturgeon shared a video with her 1.4 million Twitter followers, which she described as "not scripted", and something that "comes from [her] heart".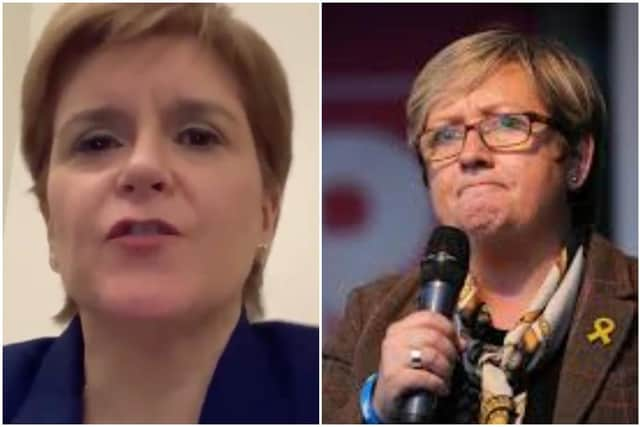 But why have trans people been leaving the SNP - and who is Teddy Hope? This is what happened and Sturgeon's response explained.
The Scottish Government is currently working to amend the Gender Recognition Act, to enable people to self-identify as any gender legally.
This means that transgender people would not need to be diagnosed as experiencing gender dysphoria or prove that they have been living as their identified gender for at least two years, before legally changing their gender identity.
Gender dysphoria is defined as distress as a result of a difference between a person's biological sex and their gender identity.
The amendment proposals also state that the legal age for people to be allowed to change their recognised identity should be lowered from 18 to 16.
However, the proposals have come under fire from 15 SNP politicians - including Scotland's Finance Minister Kate Forbes and Joanna Cherry MP.
Ms Cherry has taken to social media to share her opinions and concerns relating to self-identification.
In an open letter to Nicola Sturgeon, the 15 opposing members described changing the definition of male and female as a "matter of profound significance."
They added that they were "committed to human rights, equality and dignity for all people" and called for an end to "knee-jerk accusations of transphobia" against anyone who raises concerns".
However, the situation escalated last month when former leading SNP equalities activist Teddy Hope, a former SNP member and activist, cancelled their membership and called the SNP one of "the core hubs of transphobia in Scotland."
Teddy Hope is a former SNP equalities activist who worked closely with the Out for Indy wing of the party as its Trans Officer.
Teddy, who identifies as non-binary and uses pronouns "they" and "them", alleged there had been transphobic attacks from SNP members at a branch member's meeting in Bearsden last year.
They have now called for an independent inquiry into transphobic views held by some members of the SNP, and revoked their membership from the party.
What happened at the meeting in Bearsden?
Minutes taken at the meeting explain how a row broke out over the rights of people who identify as transgender.
They read: "At one point photocopies of men taken from the internet were passed with the comments that they had all been convicted of predatory and paedophilic behaviour against women and girls while self-identifying as women.
"There were also shouted comments of men getting access to women/girls in toilets and changing rooms and raping them and the infiltration of LGBTi information in primary schools encouraging children to identify as gay or trans.
"The atmosphere was such that the convener ended this part of the meeting and asked all of those who were non-members to leave.
"The secretary accompanied the guest speakers out of the room and apologised to them for what had happened."
Teddy Hope then shared what had happened at the meeting on their Twitter account, where then National Secretary of the SNP, Angus MacLeod, asked for more details.
However, he failed to respond to any of their messages after August 2020 and no actions are reported to have taken following the incident.
They decided to cancel their membership earlier in January, due to "inaction" against "transphobic views" which compared transgender people to rapists and paedophiles.
Why did Nicola Sturgeon respond in an unofficial video?
Nicola Sturgeon took to Twitter on Wednesday 27 January to share her views on the row and defend trans people in the SNP party.
She stated at the beginning of the video that she had recorded it in line with her responsibilities as SNP leader, not as First Minister.
She explained that she had been made aware of reports of "mainly young people in significant numbers leaving the SNP."
The SNP leader stated she was aggrieved by this, and she would make it her mission to do "everything I can to change that impression and persuade all of you that the SNP is your party and that you should come home where you belong."
What actions will now be taken?
Sturgeon has yet to outline how she will stamp out any transphobia within the party.
However, she did state that "Trans people have as much right as any of us to be safe, secure and valued for who they are.
"Transphobia is wrong and we must treat it with the zero tolerance we treat racism or homophobia," she said in the video.
"Those are the principles I want to characterise the SNP and the country that I am privileged to lead."
Ms Sturgeon acknowledged a difference of opinion on gender recognition reform, but stated the debate should not be a "cover for transphobia".