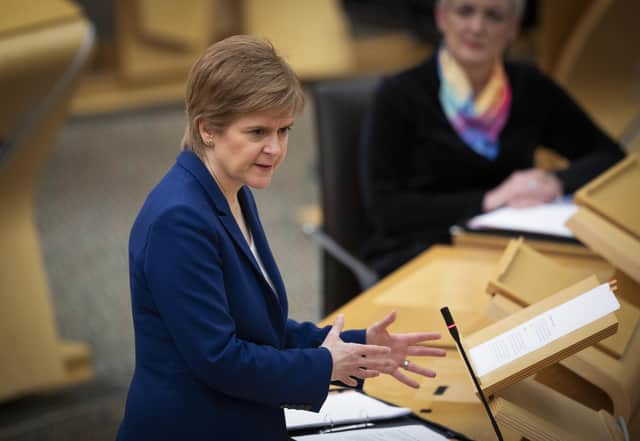 First Minister Nicola Sturgeon responded to calls to apologise to transgender people for alleged problems.
Speaking the day after she issued a personal message on Twitter to party members after reports of high numbers of young people leaving the SNP due to concerns on transphobia, the First Minister said that no debate on trans rights should "become a cover for transphobia".
Ms Sturgeon said she 'recognised' the concern around the erosion of women's rights and on men taking advantage of expanded rights for trans people to attack women.
But, in response to a question from Patrick Harvie, she said the threat to women "is not from trans women".
The co-leader of the Scottish Greens had asked whether she regretted broken promises to transgender Scots.
He said: "Another regret that the First Minister expressed this week was a message she gave yesterday about transphobia within her party and promising a zero tolerance approach to this prejudice in the future.
"Following that statement as a party leader, does she think the same message and the same commitment is needed from her as First Minister for the actions and inactions of the Scottish Government?
"Does she regret the promises made to trans and non-binary people to make their lives easier, to improve their healthcare and uphold their rights were broken and that transphobia in Scotland has grown far worse as a result of the government's failure to act? What now is going to change?"
In response, the First Minister said the debate must be had "openly and honestly", but must not be enable hatred.
Ms Sturgeon said: "I have got a duty and a responsibility to tackle transphobia if it exists in my own party, I have got a duty as First Minister to make sure that the Scottish Government protects and enhances the rights of trans people, but I don't think there is anybody across this chamber in their own organisations or in terms of Scottish society as a whole, who can sit back and rest on their laurels here.
"This is a really important issue. I am a life-long feminist, I understand the concerns that women have about abuse, misogyny, the erosion of women's rights. I face, like women across this chamber and across society do, vile, misogynistic attacks every single day of my life.
"But as a woman I know the threat to my safety is from abusive men, it is not from trans women.
"I recognise the concern that abusive men will exploit trans rights to harm women and we have got to address that.
"These are debates we must have openly and honestly, but we can never allow any debate to become a cover for transphobia.
"Transphobia is wrong. It is as wrong as racism, as homophobia.
"Trans people have the same rights as any of us to feel safe, secure and valued for who they are and I, as First Minister, as leader of the SNP and just as a citizen of this country, will stand against prejudice, discrimination and bigotry wherever I encounter it.
"That is not about political expediency or otherwise, that's a simple matter of conscience and I think that is the approach everybody should take."
A message from the Editor:
Thank you for reading this article. We're more reliant on your support than ever as the shift in consumer habits brought about by coronavirus impacts our advertisers.
If you haven't already, please consider supporting our trusted, fact-checked journalism by taking out a digital subscription.