Scotsman Obituaries: Robin Anderson, administrator who helped build Scottish Ballet into a world-leading company
Robin Anderson, arts administrator. Born: 26 January 1931 in Dunfermline. Died: 29 June 2023 in Garelochhead, aged 91
From prescriptions to pointe shoes, skating to sailing, Robin Anderson's life charted an unlikely but fascinating course. Born in Dunfermline to parents James and Irene in 1931, he was the eldest of three brothers (the youngest of whom is Ian Anderson, founder of Jethro Tull. A pupil at Canmore Primary School and Dunfermline High, Robin went on to experience no shortage of drama during his 92 years – both professionally and personally.
A bicycle accident aged 12 was to have huge repercussions throughout his life, good and bad. A forward-thinking physiotherapist suggested Robin learn to ice-skate as part of his recovery process, which he duly did. Nine years later, after much hard work and determination, he became the figure skating champion of Scotland and was invited to join a highly respected ice-dance company. Two weeks into rehearsals for an upcoming tour, however, the injuries from his boyhood accident proved too much and Robin collapsed on the ice, leaving his dreams of professional ice skating in tatters.
Fortunately, he had also spent the previous four years training to be a pharmacist at Heriot- Watt University in Edinburgh – leading to a career he followed for almost 20 years, both in London and Edinburgh.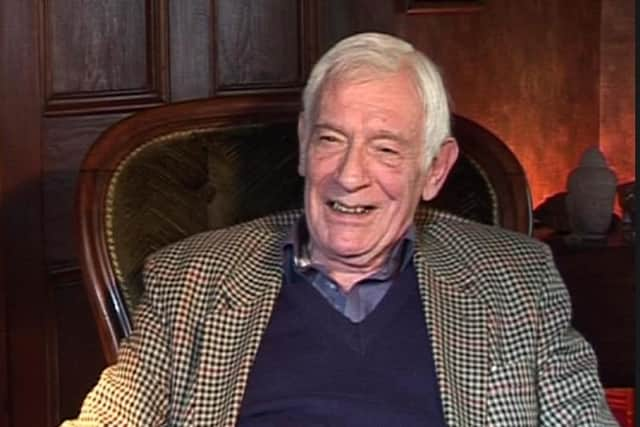 But that early taste of the arts kept calling, and after two decades Robin decided to leave the medicine cabinet behind and pursue an entirely different path. Working in theatre management, he secured a bursary from the Arts Council and spent time at several venues in England, including the Phoenix Theatre in Leicester.
Until one day, an advertisement for a job in dance caught his eye. Four years earlier in 1969, the Western Theatre Ballet in Bristol had packed up its worldly goods and relocated to Glasgow. Renamed Scottish Theatre Ballet (now Scottish Ballet), the company was looking for a General Administrator and Robin thought he'd fit the bill perfectly.
It almost didn't happen, however, as artistic director Peter Darrell was far from charmed by Robin at their first meeting. In fact, in a tribute to Darrell, Robin recalled: "Peter took an instant dislike to me at my interview." Happily, the company's then chairman, Robin Duff, took the two men out for lunch and "more than several glasses of wine", by the end of which both Robin and Peter had decided they could work together. What followed was what Robin described as "a demanding, joyous, and exciting 15 years" during his employment with the company from 1973 to 1988.
It was a heady time for Scottish Ballet, as they created and toured exciting new works to adoring audiences in many locations at home and abroad. Robin's role as General Administrator was to help integrate the organisation into Scotland's artistic realm and establish it as a renowned company of balletic excellence and bold creative expression, nationally and internationally. It was a role he relished, bringing to bear his previous work in theatre management and combining it with his love of dance honed on the ice all those years earlier.
Robin and Darrell worked hand in hand until Darrell's untimely death in 1987 aged just 58. Together with the rest of the team, they devised programmes, built Scottish Ballet's repertoire, and thought strategically about how to achieve their goals.
One aspect of this was to invite legendary ballerina Dame Margot Fonteyn on a tour of Australia and New Zealand which entailed no less than 46 performances. Robin also played a role in bringing in Rudolf Nureyev to dance with the company in Glasgow and on a tour of Spain. He also oversaw a much-needed move to new premises at 261 West Princes Street in 1978, where Scottish Ballet was to reside for the next 31 years until its relocation to Tramway in 2009.
Robin had long-since moved on by then and – having undertaken a refresher course to bring him up to speed – he returned to the world of pharmaceuticals, working as a part-time locum during his semi-retirement. Dance was still very much in his orbit, however, not least through his long-term partner, Scottish dancer and choreographer Jim Hastie . Both men were heavily involved in the Ma rgaret Morris Movement (MMM), a unique system of exercise, dance and movement training that develops suppleness, strength and stamina.
With Hastie taking over as artistic director of MMM from Morris following her death in 1980, the couple continued to help develop the Movement around the world and preserve Morris's legacy. With a nod to Robin's teenage passion, he and Hastie were also judges at the Scottish Ice Skating Championship in April 1988.
Outside of his work life, Robin had no shortage of other interests. He and his middle brother, Alistair, shared a love of small boats which they indulged through events run by the Arthur Ransome Society, named for the author of Swallows and Amazons and other adventure books .
After Hastie's death in 2010, Robin also embarked on his own adventure – a tour around the UK by caravan with close friend Peter Brabender.
The two men were also both big fans of American singer/songwriter Todd Rundgren to the extent that they organised a fan convention at Kelburn Castle in Largs to celebrate Rundgren's 70th birthday in 2018.
This proved to be Robin's last foray in the world of arts and entertainment. His adolescent injuries from that fateful bicycle accident once again reared their head, rendering Robin largely inactive during the past few years.
Throughout, Brabender proved to be a trusted mainstay and carer. And although Robin's body had little left to give, his mind remained sharp and his love for music, theatre and dance never wavered.
In the words of his brother, Ian Anderson, "During the last few years Robin's intellect and passion for the arts remained undiminished and his friendship and legacy will be remembered by many throughout the Scottish arts community."
If you would like to submit an obituary (800-1000 words preferred, with jpeg image), or have a suggestion for a subject, contact [email protected]