Following the plot of a narrative ballet isn't always an easy ride, with gestures and motifs that can leave the uninitiated firmly in the dark. Watching Scottish Ballet's much-lauded production of A Streetcar Named Desire, however, you feel as if Tennessee Williams himself is standing at the side of the stage reading you his play. Not only that, but the complex layers of emotional torment and fantasy are all there for the taking, too.
Yet none of this is spoon-fed. As an audience, we have to work to reap the benefits of this superb adaptation, with every sense alive and engaged. Peter Salem's score takes us from the grandeur of a Mississippi mansion to the heat of a shabby New Orleans apartment. Using emotive refrains, he regularly recalls the tragic event that leaves troubled heroine Blanche DuBois fragile and broken. The set design features beer crates not just to build, destroy and rebuild locations but to echo the alcohol use that soothes, enflames and ensnares the characters in equal measure.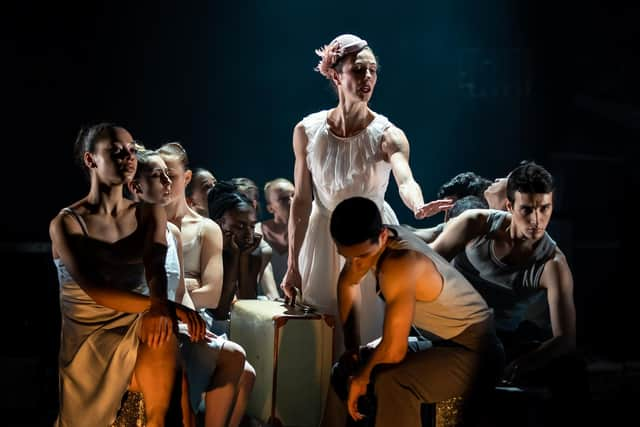 It's 13 years since this ballet first premiered, winning Scottish Ballet multiple awards, critical acclaim and a healthy box office. Back with a new cast, it packs as big a punch as ever – thanks in no small part to the hard work carried out by director Nancy Meckler and choreographer Annabelle Lopez Ochoa. They created a structure in which all who enter can shine, but special mention must go to Marge Hendrick and Javier Andreu in the roles of Blanche and Alan. Each time they share the stage, the gentle yet doomed love between them is evident in every move, falter, look and crumble. Hendrick, in particular, gives a career-defining performance.
Stylistically bold, cleverly told and beautifully danced, A Streetcar Named Desire is, once again, Scottish Ballet at its finest.
Scottish Ballet: A Streetcar Named Desire is at Eden Court, Inverness, 21 and 22 April, and on tour to Aberdeen, Edinburgh, Kirkwall and Stornoway