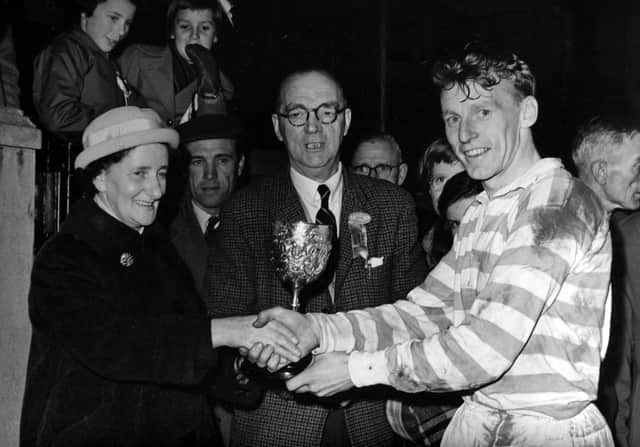 Ken Scotland earned a richly deserved place of honour as one of Scottish rugby's greatest ever players, one whose name is universally revered and will resonate through the ages. He represented all that was good about rugby, world class on the pitch, a wonderful ambassador for the game off it as a complete gent whose self-effacing demeanour revealed no hint of his godlike rugby status or sporting competitive nature. A true hero to many a schoolboy and countless others.
Recital of career statistics scarcely captures his impact – he won 27 Scotland caps, played in five Tests for the British and Irish Lions, represented the Barbarians, Edinburgh and North and Midlands Districts, the Army and Combined Services on many occasions, won 3 "Blues" with Cambridge University and played club rugby with distinction for Heriot's FP's, Leicester, London Scottish, Ballymena and Aberdeenshire among others. He captained almost all those teams. At '7's' he twice won Melrose medals with Heriot's and once with Cambridge University, ironically against Heriot's (including brother Ronnie), becoming the first to win there with two clubs, while with London Scottish he twice won the Middlesex '7's'.
Ken will be particularly remembered for being one of the first attacking full backs, having been encouraged to join the line to create overlaps by his captain at Cambridge, Geoff Windsor-Lewis. He was also one of the first goal kickers to use his instep in the "round the corner" style. Such innovations helped make him a standout on the 1959 Lions Tour of New Zealand, endearing him to that rugby-mad nation. As a footnote, when Ken's son Iain visited New Zealand some years ago, he met by chance former All Blacks coach Graeme Henry, who eulogised Ken and enthusiastically recalled watching him as a 14-year-old schoolboy.
Nor were his sporting talents confined to the rugby pitch. Ken also represented Scotland at cricket, gaining one cap against Ireland, became a low handicap golfer and while at George Heriot's captained the tennis team and was a noted middle distance runner. Later, aged 46, he completed the first Edinburgh Marathon and aged 50 ran the punishing Goat Fell race in Arran.
Kenneth James Forbes Scotland was the eldest child of Jack and Edith, brought up with brother Ronnie and sister Elsie near Heriot's Goldenacre rugby ground. His father was a senior Advocates' Clerk in the capital's Law Courts. It was fortuitous that Ken lived in the shadow of Goldenacre as he was to spend so much time there developing his sporting talent. It was a source of great pride for him in 2001 to have a new pavilion there named in his honour.
In 1946 his father took him to Murrayfield to watch Scotland play the New Zealand Army, an unforgettable experience. He loved everything about it, "the players like gladiators, it really fired my ambition to play for Scotland". Soon his potential became apparent at Heriot's where he played mostly at stand off in the 1st XV, leading to selection for Edinburgh and Scottish Schools. He modelled his play on Jackie Kyle, the great Irish stand off, earning widespread plaudits, being described as "perhaps the most complete footballer Heriot's has ever had". Ken also excelled at cricket, spending six years in the 1st XI scoring several centuries, while away from sport he was School Captain. National Service with the Signals followed as his rugby career developed down south, leading to his first cap aged 20 at full back against France in Paris in January 1957 when, with a penalty and dropped goal, he scored Scotland's points in a debut success, having missed an earlier penalty. "Mistakes never bothered me very much," he remarked.
Next, a degree in History and Economics at Cambridge University awaited, subject to passing a Latin exam which caused Ken difficulty and put him under pressure. That carried over on to the rugby field when he played "the worst game of my life" in the Freshers' Trial. After that sticky start, his confidence returned with games for London Scottish before establishing himself in the University side for Varsity matches. Selection for the Lions ensued – "a tremendous experience" – and he was a regular for Scotland until 1963 when employment took him to Aberdeen, entailing playing for "open club" Aberdeenshire, whose lower level fixtures did not enhance his international career. To his credit he persevered and won a final cap in 1965, although he continued enjoying playing rugby until 1969.
In 1961 at St Andrews Church, Juniper Green, Ken wed Doreen Marshall whom he had met via friends at school dances. They shared almost 62 years of happy marriage and had three sons, Robin, Iain and Alistair.
After Cambridge Ken worked initially in management consultancy in the Midlands while playing for Leicester. Moving back to Scotland, he took up a post in Aberdeen with Hall's Builders, later becoming Deputy Managing Director with Aberdeen Construction Group. After ten years in Aberdeen the family returned to Edinburgh where Ken worked in house construction with the Walker Group and Salvesens and was a non-executive Director on the Scottish Postal Board. Thereafter he and Doreen enjoyed several years at Brodick Castle in Arran where Ken was Administrator, before doing a similar job at Paxton House, Berwickshire, prior to returning to Edinburgh.
The couple enjoyed hillwalking and golfing together and with friends. Ken played regularly at Bruntsfield Links where he maintained a single figure handicap into his sixties.
Much loved by family and friends, Ken was an unassuming, honest gent who treated everyone the same, irrespective of station in life. He is survived by Doreen, their sons, his siblings, seven grandchildren and four great grandchildren.
If you would like to submit an obituary (800-1000 words preferred, with jpeg image), or have a suggestion for a subject, contact [email protected]