Ken Scotland was sublime - he ghosted like summer down through New Zealand defences
Many players are deservedly long remembered for their records and achievements. There are some, a select few, who, years after they have retired from the field, remain a vivid picture in the mind's eye. No one shines more brightly in that memory for me than Ken Scotland .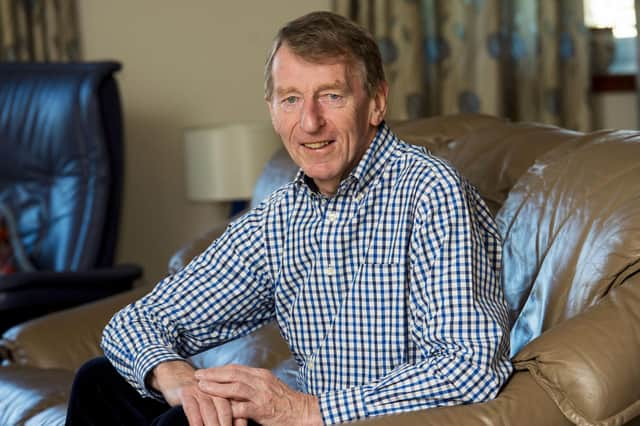 He was a couple of years older than me and I had never seen him play when, as a 20-year-old National Serviceman, he was selected at full-back for Scotland against France in Paris in January 1957. A fly-half at school (George Heriot's), Ken's only experience at full-back had then been in the two Scottish trials in December. There was no TV coverage of that Paris match – I listened to it on the radio – and it was played on a vile day, a cold wind and showers of sleet or snow. There was no score at half-time. Then the French fly-half missed touch with a clearance. Ken gathered a bouncing ball and dropped a goal. Before then, as he later wrote, he had had "a pretty average game". Later he kicked a penalty. Scotland won 6-0. A star was born.
The star was soon dimmed. Going up to Cambridge that autumn, he had a horror of a game in the Freshmen's trial. He remembered it as "the worst game of rugby I had ever played". He didn't get a blue that year and in the spring, the Scottish selectors preferred Robin Chisholm, the Melrose full-back. There were some quick to dismiss Ken as a flash in the pan. But, Chisholm being injured, he was recalled for the Calcutta Cup. For the next five years, his place was never in doubt.
Full-backs were then essentially defenders. Ken transformed the understanding of what was possible for the position. He probably wasn't the first to play an attacking role, occasionally anyway, but, even though playing in the most restrictive period of rugby history when the laws might have been devised to make attacking ball-handling play difficult if not impossible – only eleven tries were scored in his seven Calcutta Cup matches – he changed the understanding of what was could be done from the No 15 position, not only by running back poorly directed kicks but by timely interventions in the three-quarter line, most often between outside centre and the wing. He was a beautiful passer of the ball. The great wing Arthur Smith, who captained both Scotland and the Lions, thought Ken he best passer he ever played with.
Sadly, we in Scotland never saw him at his very best. That was on the 1959 Lions tour of Australia and New Zealand. The Lions played 33 matches; he played in 22 of them , including five of the six Tests. Injuries means that he played full-back, centre, fly-half and one game at scrum- half. The New Zealand press called him "sublime". The leading journalist Terry McLean wrote of him "ghosting like summer down through New Zealand defences", a lovely description of a lovely player.
After Cambridge, married to Doreen, his beloved wife for more than 60 years, and soon a father, work took precedence over rugby as was usual in the amateur era. He played two seasons for Leicester Tigers. Distance meant he trained on is own and only saw his team-mates on match-days. Nevertheless, a club poll named him as full-back in the Tigers' team of the 20th century.
Work then took him to Aberdeen. In those days, before motorways and road bridges over the Tay and Forth, the journey to Edinburgh, where he might have played for Heriot's, was slow and arduous. Family responsibilities and sometimes Saturday morning work made it impossible. He joined Aberdeenshire, an agreeable club but one with an undemanding fixture list. The Scottish selectors were unimpressed, though they did recall him for one match in 1965. He continued to play for the 'Shire and in district games for the North-Midlands.
The last time I saw him play was for the North-Midlands against Australia in Aberdeen on a bitterly cold, finger-nipping late November day in 1968. He gave an immaculate performance. I retain one vivid mind's eye picture.He fielded an Australian kick some 40 yards out. Taking the ball on the right touchline, he swivelled and unleashed a left-foot drop at goal. It soared over the post, either just out or in. The referee thought it wide. Prejudiced, I disagreed. No matter; it was a moment of pure class. He took place kicks with his right foot, but all full backs and fly-halves had to kick well with either foot in those days.
More than twenty years ago I wrote about that drop-kick in The Scotsman and had a letter from Dunfermline's Robin Lind, the North-Midland's fly-half that day. Like me he thought the kick good. He also told me of a club game in which Dunfermline's Ronnie Glasgow, a ferocious tackling flanker who should have had more than his handful of Scottish caps, assured him he would take care of Ken. "Not a chance," Robin said. "Ken outwitted him every time."
Late in life, Ken wrote an autobiography (published by Polaris) – I was honoured to be asked to contribute a Foreword. I recommend the book to anyone as a picture of the long-vanished amateur game.
A final memory. In – I think – 1969, Tom Kiernan, the full-back who captained both Ireland and the Lions, was interviewed on TV and asked to name the greatest player of his time. His reply was immediate and brief: "Ken Scotland – it was an honour to be on the same field."