Scotsman Obituaries: John Dykes, former Royal Highland and Agricultural Society of Scotland chairman
John Dykes FRAgS, Scottish livestock breeder. Born: 18 March 1942 in Lanark. Died: 14 July 2023, aged 81​
Former Royal Highland and Agricultural Society of Scotland chairman John Dykes has died suddenly at the age of 81. A gifted livestock breeder, he brought out prizewinning Hereford and Simmental cattle, Blackface, Border Leicester and more recently Bluefaced Leicester sheep and, along with his wife Kate, Highland Ponies from their renowned Mendick Stud.
He took a deep interest in all aspects of pedigree livestock breeding and at various times was appointed president of the Blackface Sheep Breeders Association, the Highland Pony Society and the British Simmental Cattle Society. He was chairman of the Scottish Bluefaced Leicester association at the time of his passing.
He was also much sought after as a livestock judge. A member of East Lothian Young Farmers Club, John excelled in stock judging competitions and went on to international level, where he is believed to be the only person to represent Scotland in the dairy cattle, beef cattle, sheep and poultry sections.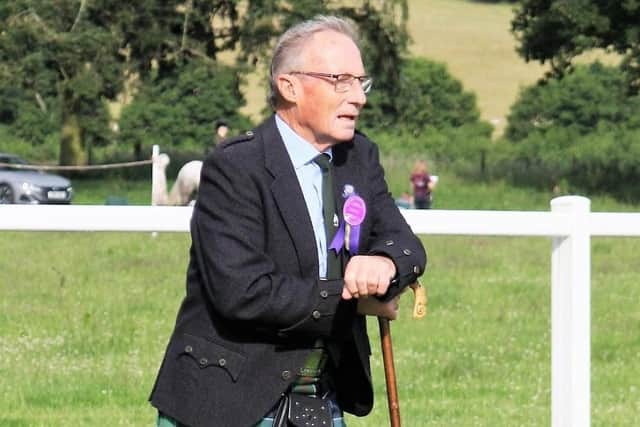 In later years he was invited to judge cattle, sheep or ponies at the Royal Highland Show on eight occasions, and five times at the Royal Show. His last Royal Highland judging assignment was only a few weeks ago at the 2023 Show where he and Kate placed the overall Young Handlers competition for the Dalchirla Trophy.
John was judging the Highland Pony Societies centenary show at Strathallan Castle the weekend before his death.
A long-serving RHASS director, he was appointed chairman of the board in 2008 and officiated at two particularly busy shows. In 2009 he hosted HRH Princess Anne and Queen Elizabeth II in the last of her three Royal Highland visits and in 2010 welcomed delegates to the Royal Agricultural Societies of the Commonwealth conference held in Edinburgh immediately after the show.
John was an active Fellow of The Royal Agricultural Societies (FRAgS) and served on the board of Lawrie and Symington livestock auctioneers for several years, where he went on to become vice chairman.
He was instrumental in helping steer the firm through some difficult years and played a key role in instigating the construction of a new market in Lanark.
The first child of Robert and Margaret Dykes of Nether Affleck, Lanark, he was born in March 1942. He was to be followed by Tom, Jean and Robert. The family moved to Myles Farm, Tranent, East Lothian in 1948.
John was educated at Tranent Primary and then Dollar Academy before having a year's livestock marketing experience with auctioneering firm John Swan and Co at Gorgie Market in Edinburgh.
He then worked at home with his father for several years, all the while taking time to travel and widen his farming knowledge in New Zealand, Australia and the United States.
A keen member of East Lothian Young Farmers Club, he excelled not only at stock judging but also at speechmaking. He represented Scotland in an International Youth Forum speechmaking competition and was later to become chairman of the East Region of the Scottish Association of Young Farmers Clubs (SAYFC).
In 1967 he married Kate Kirkpatrick in Thornhill, Dumfriesshire. They embarked on married life by setting up home at South Slipperfield farm, West Linton. The farm was to become their home for 56 years and there they brought up three sons, the late Andrew, and Hamish and Iain.
Hamish and his family farm at South Slipperfield while Iain and his family live in the Czech Republic, where he is a director of a large-scale agricultural business.
Some may also remember John along with Kate, Hamish and his family for the sterling job they did in simultaneously promoting Scottish agriculture and entertaining the nation in the 2014 BBC series Lambing Live.
Away from the farm John was a keen curler and a member of West Linton Curling Club. He was member of a Scottish team which toured Canada in 2003. Latterly he greatly enjoyed the camaraderie playing bridge and bowls with local clubs.
John's family have been overwhelmed by the huge number of condolences and kind messages received since his passing, and will be eternally grateful. A common theme is what a true gentleman he was, always willing to give of his time, knowledge and experience wholly for the benefit of others.
A memorial service will be held in Peebles Old Parish Church at 1.30pm today, Thursday 3 August. For those unable to attend there will also be a simultaneous webcast. Please click the following link to watch the event: www.williampurves.co.uk/webcast/PEB55586
If you would like to submit an obituary (800-1000 words preferred, with jpeg image), or have a suggestion for a subject, contact [email protected]