Scotsman Obituaries: Jim Wainwright, Warden of Glenalmond College
James Frederick Wainwright, Warden of Glenalmond College. Born: 17 August 1932 in Birmingham. Died: 25 May 2023 at Glenalmond, Perth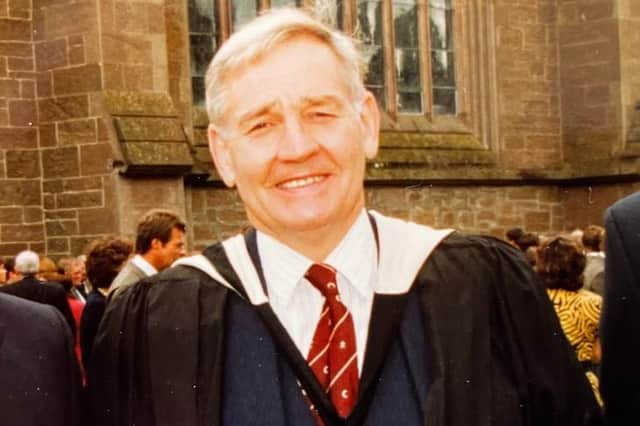 After a long career in teaching, Jim and Jean Wainwright had been accepted for Voluntary Service Overseas, when he was asked a very short notice (four hours, to be precise) to become Warden (headmaster) of Glenalmond College after the sudden resignation of his predecessor.
He accepted the challenge at once. The next four terms were a whirlwind. Apart from running the school, the priorities were to increase the numbers of the school, which were falling sharply, and restore the confidence of staff, old boys and parents.
Visits were made around Scotland and to Singapore, Hong Kong and Kenya, and day pupils were taken as well as boarders. In these and other ways, he was able to hand over the school to his successor in much better shape than he found it.
In retrospect, it was as though Jim's previous life had been a preparation for this immense task.
After Selwyn College, Cambridge, where he was awarded a Rugby Blue, he started teaching at Brighton College in 1958, and married Jean Palmer-Lewis the same year. His subject was Geography.
Though a very junior assistant master, he was given the role of housemaster for a year. In 1962 he became Head of Geography at Trinity College, Glenalmond, the start of a 30-year career at the school.
After a year's exchange with Trinity College School, Port hope, Ontario, he became housemaster of the Cairnies, one of the six boarding houses.
This was a very busy time, with five young children ands 60 boys to look after; Jean had to oversee catering and cleaning for the house.
Jim's vision and enterprise bore fruit in his new role. For example, he started a house orchestra in which he himself played the trombone, and staged a musical. He led an expedition to walk the length of Corsica. Under his leadership, the house flourished, winning many sporting competitions.
Following his retirement from the house after 15 years, he and Jean spent a sabbatical term at the Tyndale Biscoe Mission school in Srinagar, in the Indian subcontinent.
As a result of the connections he made there, Jim subsequently organised a walking and climbing party to Kashmir with staff and boys. He became Sub-Warden of Glenalmond, which gave him more opportunies to share another abiding interest – golf.
Thus, when he took on the Wardenship, he had experienced almost every aspect of the trade of schoolmaster.
Jim was born in 1932, the second son of Jack and Doris (née van Hagen). Jack was the manager of Pearce Bros of Ladywood, Birmingham, which sold house furnishings and clothes.
In due course Jim went to King Edward's School, Birmingham, where he became a school prefect, and a member of the 1st XV. His father has been denied a university education and so was determined that his sons would have one.
The summer Jim left school, he was able to go on a British Schools' Exploring Society expedition to Iceland. That experience engendered a love of travel and adventure that lasted all his active life.
After his Wardenship, a change, not retirement, beckoned. He and Jean joined the staff of Permbroke House School in Kenya. They took the opportunity to explore the country to the full during their four years there.
Another activity was cycling, which they enjoyed well into their seventies. They cycled across the United States in 1996, and with touring clubs in many parts of the world. It was while she was on a cycling tour of Cuba in 2011 that Jean tragically died after an accident.
Ill-health began to catch up with Jim. Nevertheless he continued to be as active as possible.
He played golf into his 91st year. He was invited to join the Monks of St Giles, a dining club at which members submit and declaim poems. This unlocked a new talent, a proficiency in writing light verse.
After Jean died Jim took to spending the winter months on the Costa Blanca, where he relished bathing in the warm Mediterranean, playing table tennis and bridge, and enjoying new friendships.
Jim was very sociable. In the course of his long life he made a point of keeping up with connections he had made, and he used his prodigious memory of people and places to encourage and promote others, whether friends, colleagues or pupils. Many are grateful for the advice Jim gave them.
In his memoir, he called himself "Lucky Jim", in that his successes had come from initial disappointments. But he thought that his greatest good fortune came from his 53-year marriage to Jean and the "resultant marvellous family" (his words) – five children, Holly, who won a rowing blue at Cambridge, Sasha, Alison, Robert, who won a blue at Cambridge and captained the Scottish XV, and Joanna, and 14 grandchildren.
If you would like to submit an obituary (800-1000 words preferred, with jpeg image), or have a suggestion for a subject, contact [email protected]