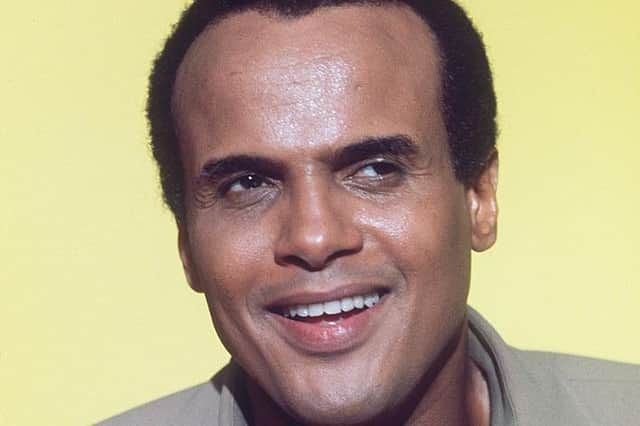 One of the biggest recording stars of the 1950s, Harry Belafonte popularised calypso music in the UK and US and then used his celebrity status to become one of America's highest-profile civil rights campaigners, a confidant of Martin Luther King and one of the organisers of the mass March on Washington in 1963.
His best-known song probably remains The Banana Boat Song, with its catchy "Day-o, day-ay-ay-o, daylight come and me wan' go home" chorus. But he also had the 1957 UK Christmas Number One Mary's Boy Child and his repertoire was sufficiently diverse to include Hole in the Bucket and the Jewish folk song Hava Nagile - he had Jewish ancestry on his father's side, Scottish on his mother's and African on both.
He sang at the inauguration of President Kennedy, but he also supported Soviet peace initiatives during the Cold War and visited Fidel Castro Cuba's revolutionary Communist leader, persuading him that rap music was "a good thing" and should be officially supported and nurtured by the state.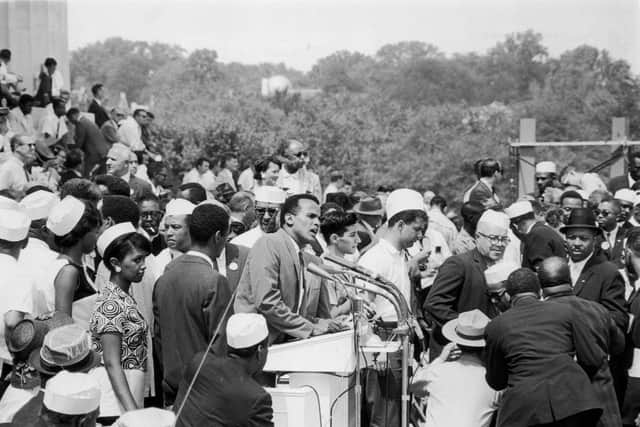 A persistent critic of US foreign policy, he branded President George W Bush a "terrorist" following the US invasion of Iraq. And, far from welcoming the appointment of black Republican Secretaries of State Colin Powell and Condoleezza Rice, he compared them to the favoured house slaves in the days of slavery.
His criticism was not reserved for Republicans . He took President Obama to task over the Guantanamo detention centre, while championing left-wing Venezuelan leader Hugo Chavez.
Belafonte was undoubtedly a thorn in the side of the establishment, even the liberal establishment, which at times seemed unsure whether to honour him or disown him. Condoleezza Rice responded to his criticism of her by saying: "I don't need Harry Belafonte to tell me what it means to be black."
In the event Belafonte acquired a host of accolades. He was a UNICEF Goodwill Ambassador. He won three Grammy awards, an Emmy, a Tony - for his performance in a Broadway revue in 1954 before his hit singles and the album Calypso, which became the first by a solo artist to sell a million copies in the US. It was Number One in the US for 31 weeks.
He had a successful film career in the 1950s running parallel to his music career. He was a member of the famous EGOT club – Emmy, Grammy, Oscar, Tony, if you count his honorary Oscar.
The Ku Klux Klan threatened to burn down cinemas that screened the film Island in the Sun, which suggested a romantic relationship between his character and that of the very white Joan Fontaine. In reality Belafonte was having an affair with the film's other Joan – Joan Collins.
He turned down the lead in Porgy and Bess because he felt the portrayal of black society was regressive. The role went to his old friend Sidney Poitier, with whom he used to literally share one theatre ticket when they were starting out. One would watch the first half of a play and recount to the other what had happened before the second person watched the second half.
At the end of the 1950s Belafonte more or less turned his back on Hollywood because he did not like the roles on offer to black actors. He did return to the big screen very occasionally from the early 1970s onwards and co-starred with Poitier in the western Buck and the Preacher, which Poitier also directed.
In 2014 the Academy of Motion Picture Arts and Sciences gave him the Jean Hersholt Humanitarian Award, completing his EGOT set.
He was born Harold George Bellanfanti (sic) in the Harlem area of New York City in 1927. His parents were from the West Indies and his father worked as a chef on merchant ships. His maternal grandfather was a Scot, who went to Jamaica as a plantation overseer.
It was a tough neighbourhood and Belafonte recalled continual fights during his early years. When he was about eight his mother returned to Jamaica, which is where Belafonte became acquainted with calypso music.
During the Second World War he served in the US Navy and was a storekeeper in an all-black unit. Subsequently he worked as a janitor and a tenant gave him tickets for a play by the American Negro Theatre, which directly excited his interest in acting. He later joined the company.
He started singing in New York clubs to earn money for acting classes and very quickly made a success of it. He was making records in the late 1940s, but The Banana Boat Song, the album Calypso and movies took him to new heights in the following decade.
He was the male lead in Carmen Jones, Otto Preminger's updating of the Bizet opera in an American setting, though ironically his signing was dubbed by opera singer LeVern Hutcherson.
His 1962 album Midnight Special is notable for giving another even more famous musician his professional recording debut, with Bob Dylan playing harmonica.
Belafonte continued recording, touring and appearing on television, but increasingly he also devoted much of his time to civil rights campaigns and politics, standing shoulder to shoulder with Martin Luther King when the latter made his famous "I have a dream" speech in 1963 and introducing Nelson Mandela at a rally at New York's Yankee Stadium in 1990.
In 1985 he was inspired by Bob Geldof and the charity single Do They Know Its Christmas? to initiate the project that became USA for Africa and the album and single We Are the World to raise money for famine relief in Ethiopia. It brought together various famous singers, including Michael Jackson, Tina Turner and Bruce Springsteen. He also performed at Live Aid in Philadelphia.
Belafonte was married three times, divorced twice. He was 77 and had been married to his second wife for 47 years when they divorced. But he described it as "airless".
"I felt angry and trapped," he wrote in his autobiography, "but then I'd always felt that way. Trapped by my mother, by poverty, by the responsibility I felt for the global poor."
He married again a few years later. He is survived by his third wife photographer Pamela Frank and by four children.
If you would like to submit an obituary (800-1000 words preferred, with jpeg image), or have a suggestion for a subject, contact [email protected]