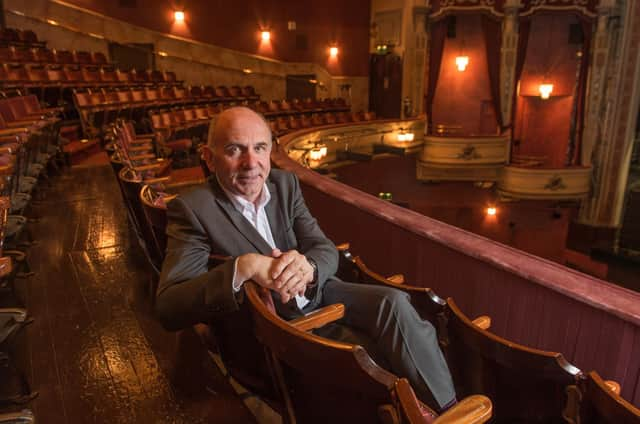 Soothing the overblown egos of global superstars is an occupational hazard for promoters and entertainment venue bosses but Duncan Hendry had a secret weapon – a psychology degree.
He often credited his study of the human mind with helping him negotiate tricky situations, enabling him to bring to Aberdeen iconic acts from The Clash to Stephane Grappelli and the Godfather of Soul James Brown, the latter with a fiery reputation and penchant for collecting his full fee in advance in cash.
Others would contend it was his innate good manners, kindness and honest approach that hallmarked a successful career in music and entertainment which saw him bestride Scotland's cultural scene for 50 years. It took him from young graduate to bar, nightclub and band manager, music event promoter, festival director and chief executive of two of the country's most successful theatres.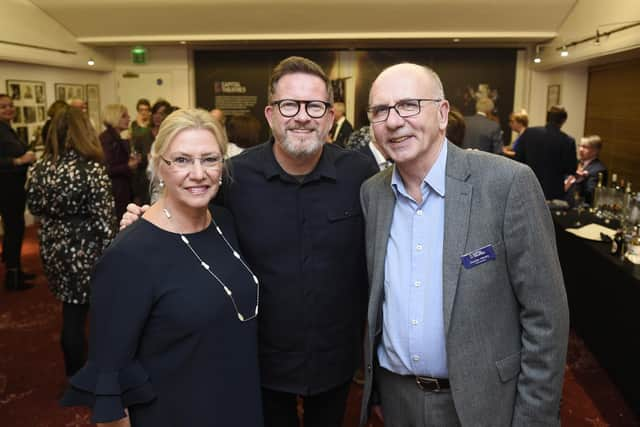 In Aberdeen, while in charge of His Majesty's Theatre and Music Hall, he played an instrumental role in moving both venues into a charitable trust, forming Aberdeen Performing Arts and becoming its first chief executive.
In Edinburgh his stewardship of Capital Theatres reversed the organisation's fortunes and brought world-class shows to the city including War Horse, Mary Poppins and Les Miserables.
Born in Glasgow in 1951, the second son of Margaret and Robert Hendry, he spent his early years in Ayrshire but moved around due to his father's work and attended at least four secondary schools. His first jobs, while at school and university, included making Waverley ice cream wafers, selling sportswear in a department store and working as a butcher's delivery boy. But his favourite was as a ski instructor at Glenshee.
After graduating MSc in psychology from St Andrews University in 1972 he moved to Glasgow to join Unicorn Leisure which ran the Glasgow Apollo and managed various acts including Billy Connolly. Hendry's role was managing bars and nightclubs and he worked, amongst others, at the Muscular Arms in Glasgow and Clouds in Edinburgh.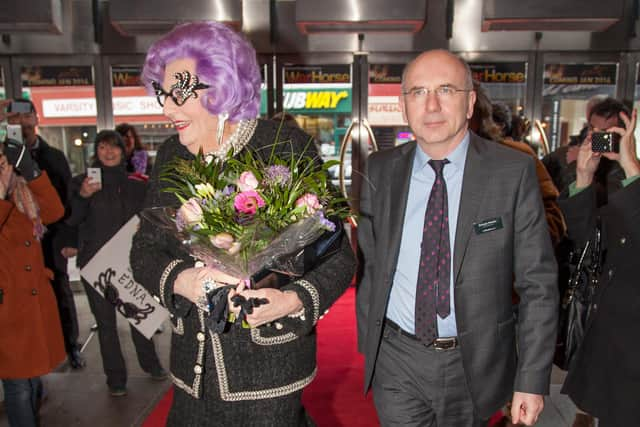 In 1975 he became co-owner of the Crow's Nest and Crazy Daisy's bar and disco near Aberdeen Harbour. A couple of years later he set up Moondance Agency, followed by Aberdeen Rock in 1979. As a freelance concert and music event promoter he ran mobile discos and weekend nightclub events, managed several local bands and promoted concerts both local and national. He ran Valhalla's and the Venue in Aberdeen and acts he booked included Siouxsie and the Banshees, Gil Scott-Heron, The Clash, Wet Wet Wet, Simply Red and The Proclaimers, who thanked him publicly on their Sunshine on Leith alum for his support as they started out. He also had Relax clothes shop in the city's Rosemount.
His breadth of experience led to his appointment as artistic director of Aberdeen Alternative Festival, in 1988, which he developed into Scotland's second-largest festival, bringing a diverse range of national and international musicians, comedians and dancers to the city – Stephane Grappelli, Kid Creole and The Coconuts, Van Morrison, Jools Holland and one of his own favourite performers, Louden Wainwright III. He pulled off quite a coup in 1993 flying James Brown, his entire band, dancers and family into Aberdeen for the star's first performance in Scotland.
Through Aberdeen Rock, he was still managing musicians, organising and promoting music events, orchestrating the city's New Year celebrations and producing an independent listings magazine, Granite City. By 1997 Hendry was general manager of Aberdeen Music Hall, going on to become CEO of the venue plus His Majesty's Theatre (HMT) and, latterly, the Lemon Tree which he helped to save and incorporate into Aberdeen Performing Arts.
Renowned for his strong commercial acumen, he was also passionate about presenting and producing great shows and established HMT as the home of the West End in the North-east, bringing many of the biggest touring shows to the Granite City.
He also oversaw a new extension to the theatre which was opened by the then HRH Prince Edward and Sophie, Countess of Wessex, and was incredibly proud of starting in-house productions at HMT, beginning with Sunset Song and Silver Darlings, which both toured Scotland and went to the Edinburgh Fringe.
On moving in 2012 to Edinburgh Festival Theatres, later Capital Theatres, he immediately threw himself into the challenge of reinvigorating the company, overseeing the opening of multi-purpose resource The Studio on Potterrow, presenting Scotland's first relaxed performance for people with additional needs, spearheading the long-awaited development of the King's Theatre and commissioning John Byrne to paint the theatre's dome.
One of his proudest achievements was establishing a new tradition of Scottish Ballet performing in Edinburgh at Christmas. He was also responsible for forging a relationship with Cameron Mackintosh to bring blockbusters to Edinburgh, generating record audiences and sales. He left Capital Theatres in 2019, becoming a board member of Creative Scotland, Eden Court Theatre, Inverness, Edinburgh International Jazz and Blues Festival and chair of Lung Ha Theatre for actors with a learning disability.
Professor Dame Joan Stringer, chair of Capital Theatres' board, described Hendry as one of the most respected and quietly influential people in the theatre world: "We have lost a major figure in Scotland's cultural life. The arts were in Duncan's blood and his contribution to the sector was immense. At Capital Theatres, his considerable leadership qualities combined with his business acumen transformed the fortunes of two of Edinburgh's major venues. Not only did he turn them around financially but through his gifted programming skills ensured high quality shows were performed all year round at the Festival and King's theatres."
Although his first love was work, his second was golf. He was a member of Longniddry's Craigielaw Golf Club and enjoyed playing with theatre staff, visiting actors, friends and family.
He died of a brain tumour and is survived by his wife Rosemary, whom he married in 1990, and children Rachel and Adam.
The funeral of Duncan Hendry will take place at St Andrew's and St George's West Church, Edinburgh, at 1pm on Wednesday 29 March. Thereafter, the family would love for you to join them at The Festival Theatre. Please just drop a note to [email protected] if you'd like to come along.
Family flowers only. A collection will be taken at the service in support of The King's Theatre Redevelopment Fund and The Brain Tumour Charity.
If you would like to submit an obituary (800-1000 words preferred, with jpeg image), or have a suggestion for a subject, contact [email protected]