Hip-hop musical sensation Hamilton is heading for Edinburgh
The hip-hop Broadway and West End musical sensation Hamilton is heading to Scotland for the first time – after being secured by one of Edinburgh's leading venues.
Lin-Manuel Miranda's multi-award winning production, which charts the story of the son of a Scotsman who became one of the founding fathers of the United States, will be at the Festival Theatre next spring.
The Festival Theatre will host a nine-week run of the show, which has won huge acclaim since its off-Broadway world premiere in Manhattan in 2015, as part of its first ever UK tour. That tour will get underway at the Palace Theatre in Manchester in November.
No other UK venues have been announced for the tour, which will see a brand new company put together.
Scottish actor Rueben Joseph is currently playing the lead role of Alexander Hamilton in the West End production. Tickets will go on general sale on March 13 for the shows at the 1,915-capacity Festival Theatre, which will run from February 28 until April 27.
The show is being brought to Edinburgh by Cameron Mackintosh, the British producer of Les Misérables and The Phantom of the Opera, who launched Hamilton in the West End in 2017, and the show's original American producer Jeffrey Seller.
Hamilton, which is billed as "the story of America then, as told by America now", will be staged in the Scottish capital 19 years after Miranda appeared at the Edinburgh Festival Fringe with the hip hop comedy musical group Freestyle Love Supreme, who performed at the Assembly Rooms and also busked on the Royal Mile.
The Fringe act, which had emerged during rehearsals for Miranda's first Broadway musical In The Heights, would go on to have a hit Broadway show of their own.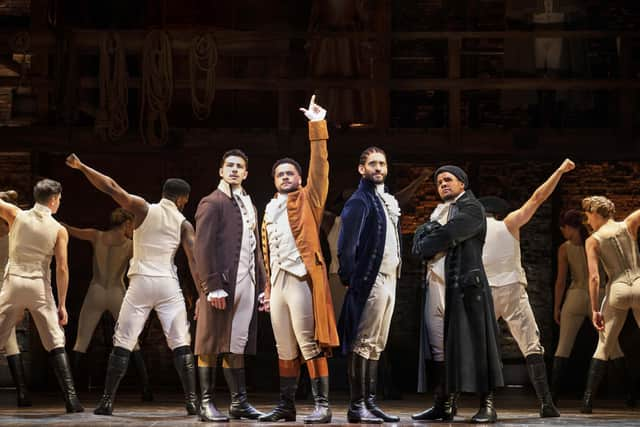 Miranda began developing ideas for a musical after reading a biography of Alexander Hamilton, who was born in the Caribbean, was abandoned by his Ayrshire-born father and left orphaned when his mother died.
After making his was to the North American colonies, he fought in the American Revolutionary War, helped draft the US Constitution, and served as its first secretary of the treasury.
Hip-hop, jazz, blues, rap and R&B numbers are all used to tell Hamilton's story in the musical, which has won multiple Tony, Olivier and Pulitzer Prize awards, and has also toured across North America, as well as to Canada, Germany and Australia.
Mackintosh said: "Lin-Manuel Miranda's Hamilton is indisputably the most brilliant, ground-breaking, contemporary musical of modern times. I feel extraordinarily fortunate that Lin and my friend Jeffrey Seller, the show's original producer, have entrusted me with their wonderful musical in the UK and Ireland.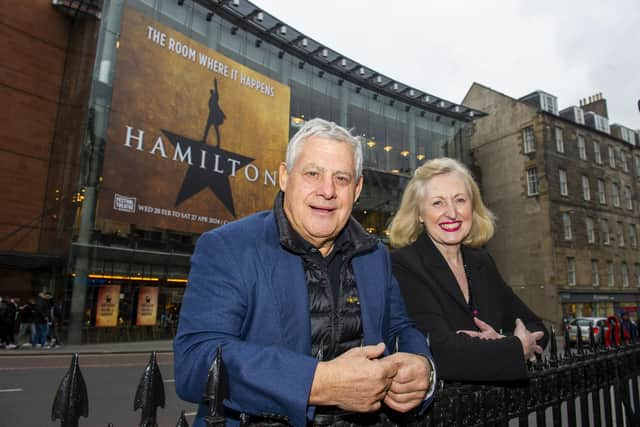 "The London production opened in 2017 at the Victoria Palace, a theatre I completely rebuilt to house Hamilton, where it continues to play and has proved to be as big a success as the Broadway original.
"So, I'm thrilled that it's time to put together a second British national touring company to bring this great show to our leading cities, opening first in Manchester, followed by Edinburgh – not far from where the real story of Alexander Hamilton began in Ayrshire, where his father was born in the 1700s, before he moved to Nevis in the West Indies."
Fiona Gibson, chief executive of Capital Theatres, who run the Festival Theatre, said: "We're utterly thrilled to be hosting the Scottish premiere of Hamilton at the Festival Theatre. It's even more significant that Alexander Hamilton was of Scottish descent, so in many ways the story is coming home.
"To have this iconic show which has delighted audiences round the world here at the Festival Theatre and in Edinburgh where Lin-Manuel Miranda once busked at the Edinburgh Festival Fringe is really special."
Seller said: "Since the day the show opened at the Victoria Palace Theatre, London has embraced Hamilton with an enthusiasm we could never have imagined. We are excited to embark on a UK tour and share this special musical with audiences in Manchester and Edinburgh first."
Rueben Joseph, one of Scotland's rising stage-and-screen stars, was cast in the lead role in the West End production of Hamilton at the Victoria Palace Theatre last spring. He had previously appeared in the TV series Vigil, Crime and Traces and several National Theatre of Scotland productions, including the musical Orphans.
Discussing the role, which he was originally contracted to for a year, Joseph said: "I find something new in the role every time I do it. It'll be the longest I've ever done a run of anything. But this part is a gold mine in terms of what element do I want to focus on today.
"Am today I going to try to focus on energy? Do I get to play the chip on my shoulder? Or do I really want to focus on making Hamilton a good listener tonight and see what that does?
"In a sense, it's going back to drama school or college – it's a similar set up in that you see the same faces every day and you have a home base, as it were, to practice in and grow in.
"I've got a year worth of shows so I can choose. [There's] so many elements to play in terms of character. Do I want to try to knuckle down on the singing tonight? Am I going to try and emulate Kendrick Lamar? There's so many different avenues to explore.
"This will give you back as much imagination as you put into it."
Comments
 0 comments
Want to join the conversation? Please or to comment on this article.