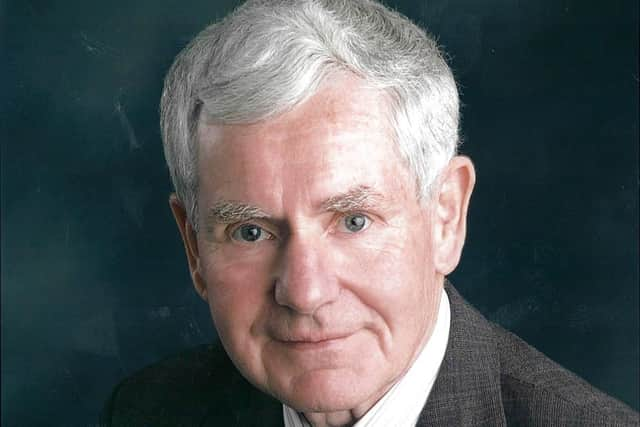 After a resolute fight against cancer, David Mackay, a well-known and respected world leader in environmental conservation and protection, has died.
David was born in Stirling in 1936 and after attending the local elementary schools went on to university, studying Chemistry, Biology and Civil Engineering, with obligatory National Service in Germany with the Royal Air Force, necessitating a short career break.
Later in life, after a distinguished career mainly in public service in Scotland and abroad, he rose to academic eminence, receiving prodigious accolades, including a Doctorate from Paisley University and an Honorary Professorship working at Stirling University's Department of Aquatic Environmental Management, with the Queen conferring an OBE upon him.
His body of published academic papers, some in collaboration with many eminent names in their field, is encyclopaedic.
He was by no means merely a scientist; David was a keen angler, scuba diver, golfer, Rotarian and farmer.
In the early 1990s he purchased a hill farm in Aberdeenshire, which he developed with his wife, Maureen, to whom he was happily married for 43 years until her death in 2004. They renovated the buildings and planted thousands of native tree species, turning it into a haven for wild life.
He began his career as a fresh water biologist at Pitlochry, where he also met Maureen. It was here that he also recognised his love for biology. He furthered his career with the Clyde River Purification Board (Clyde RPB) as a fresh water biologist, going on to develop expertise in the marine environment and heading up a multidisciplinary team to study the complex and heavily polluted waters of the River Clyde Estuary and adjoining coastline.
In 1970 David Mackay was awarded the prestigious Churchill Fellowship where he chose to study marine pollution issues and the regulatory regimes in the United States of America and Canada, which were to be the foundation for his subsequent international career.
Under the auspices of the World Health Organisation and various national governments, he spent the next few years conducting studies and presenting scientific papers all over the world, including in Norway, Denmark, Switzerland, Turkey, Thailand, Japan, India, Spain and Portugal. David was promoted to Depute Director of the Clyde RPB in 1976.
During that period he was permitted to take a three-year sabbatical to work for the Hong Kong Government as their Principal Environmental Protection Officer, working to set up the colony's new Environmental Protection Agency.
He returned to his native Scotland and the Clyde RPB in 1981 but was lured back to Hong Kong to head up the Environmental Services of the international consultancy of Ove Arup & Partners.
With his extensive experience in Scottish river authorities he was appointed to the position of Director and River Inspector at the North East River Purification Board in 1990.
Although outwardly an unpretentious person, David's sincere charismatic style, working with the staff and board members, transformed the culture to the benefit of all and made the organisation ready for a smooth change with the forthcoming establishment of the Scottish Environment Protection Agency (SEPA) in 1996.
David was extremely influential in the planning for the new organisation, becoming the first Director of the agency's North Region. During his time with SEPA, David's experience and expertise in fish farming, studied first hand in Scotland and Asia, made him an obvious candidate to become Professor of Aquatic Environmental Management at Stirling University.
David retired from SEPA in 2001 but continued to play an active role in the environmental field, becoming a board member of Scottish Natural Heritage, and the North Regional Board of SEPA. In addition he was advising, and in some instances chairing, numerous influential environmental bodies, including the Moray Firth Partnership, the Scottish Association for Marine Science, the Scottish Coastal Forum and the Atlantic Frontier Environmental Forum.
In assessing his own life, David would say he had been lucky to have led such a full and rich life but this belied his own enthusiastic and dynamic nature, always looking to the horizon and readying himself for the next challenge, which he would meet with flair and determination.
His professional and private life touched many people who benefited from his warmth and courtesy. He will be sadly missed by those who had the pleasure to have known him.
David is survived by his second wife, Felicity, whom he married in 2016.