SEPA tackles fish barriers to bring life back to Scotland's rivers
Two projects have been completed by Scottish Environment Protection Agency (SEPA) to help wild fish return to rivers in the east of Scotland.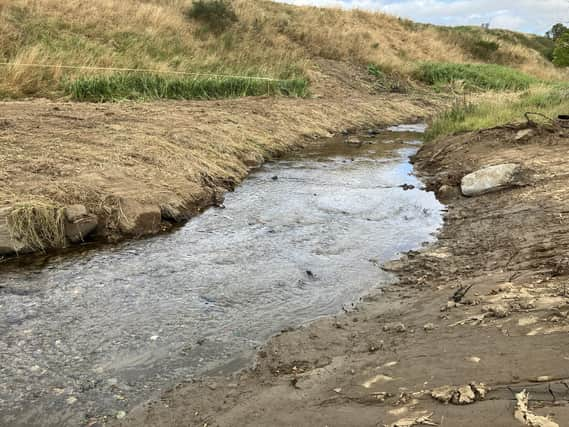 Full weir removals have taken place at Bronie Burn near Ellon and Gateside Mills in Fife allowing fish to pass through.
It comes as some fish, such as Atlantic salmon, begin to make the annual journey from sea back upriver to their breeding grounds.
In a changing climate, it is more important than ever that we preserve, manage and improve Scotland's water environment.
It's fundamental to safeguarding biodiversity, ensuring that our unique aquatic wildlife is protected.
There are redundant weirs installed in some rivers, making them impassable to fish such as Atlantic salmon and sea trout, which spend part of their lives in the ocean before returning to Scottish rivers.
To help repair these watercourses, SEPA administers the Water Environment Fund (WEF) on behalf of the Scottish Government and works in partnership with local authorities, land and structure owners, fishery trusts and conservation bodies to deliver an annual programme of river restoration projects.
The removals, made possible by more than £500,000 of funding from WEF, will reinstate the natural migration of fish and allow them to access up to 30km of upstream habitat that had previously been blocked off.
In turn, this will improve the wider health of the rivers by improving their status for fish migration from poor to good.
Carbon emissions were also cut by around 40 per cent for the Gateside Mills project by working with contractors to find ways to be more sustainable.
Lawrence Belleni, River Restoration Specialist at SEPA, said: "The completion of these projects will bring significant benefits by making larger sections of the rivers accessible to migrating fish and we look forward to their return soon.
"We continue to work in partnership with landowners, local authorities and other organisations across Scotland to identify further opportunities for projects just like these and to create attractive and accessible river corridors within many more towns and cities."