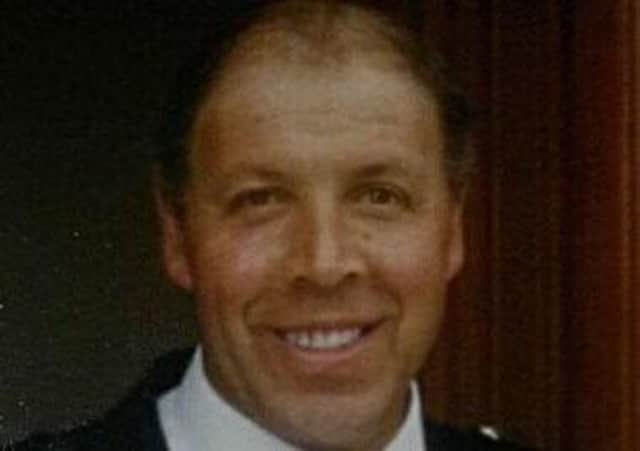 Tony Cohen
Tony Cohen, who has died aged 81, was the epitome of a Highland sportsman, often referred to as "the definitive gentle giant". A successful shinty player, Highland Games heavyweight athlete and boxer, he was a competitor to his fingertips but one whose overriding will to win was never tainted by anything other than the highest standards of sportsmanship. A top level shinty player for more than 20 years, he played for Scotland in 1972 against Ireland at Bught Park, Inverness, when the combined shinty/hurling internationals were resumed and featured in international squads. On the Highland Games field he was twice Scottish Amateur Heavy Events champion in 1970 and 1971, while in the boxing ring he won the East African amateur heavyweight title during National Service.
Anthony Cohen was born in Glasgow and when very young was taken north to be brought up on a farm at Badden, near Inverness. He was a conspicuous figure and it would be fair to say early life held particular challenges. However, he went on to be brought up by Cath Fraser, a member of the farming family who became a mother figure to him. From an early age he helped around the farm, which contributed to the development of his strong physique.
He attended Glen Covinith primary school at Kiltarlity before going on to Inverness High School, where his natural sporting ability was evident to a PE teacher who encouraged him in shinty and athletics.
Leaving school aged 15, Tony began a joinery apprenticeship with Caledonian Builders in Inverness and continued playing shinty, initially with the Lovat club at Kiltarlity and thereafter for many years with Kingussie and Inverness.
Considered to be one of the longest hitters in the game, he played mostly as centre half in the heart of the defence and was noted for skilful and committed play. Shinty being the physical sport it is, it was fairly common for him to sustain bruises and black eyes, but one occasion was particularly memorable.
Having met Betty MacIntosh, a nurse from Nairnside, at a dance, the couple began courting and were married on 23 April 1960 at Ness Bank Church in Inverness. That day Tony's Inverness team was to play in a major trophy final, the MacTavish Cup at Bught Park against Newtonmore. During the reception Tony left to take his place on the shinty field only to receive a whack over the head after 15 minutes, requiring him to attend hospital to be given a tetanus injection. This caused an allergic reaction which required further treatment, making it a far from ideal start to the honeymoon. Despite that initial hiccup they went on to enjoy a long and happy marriage, during which they had two daughters, Susan and Alison.
Having completed his joinery apprenticeship, later in 1960 he was called up for National Service with the Gordon Highlanders. After basic training in Aberdeen he spent almost two years in Kenya, which provided some hair-raising moments at the tail end of the Mau Mau Uprising prior to the country gaining independence in 1963.
Tony's sporting prowess flourished and was encouraged in the army, where he discovered ability at boxing, representing his regiment in many contests, including forces' bouts in Germany. Fighting at heavyweight, he had fast hands and excellent footwork, his high point coming when he won the East African amateur heavyweight title. As a top sportsman he was excused certain general duties but fondly remembered several long distance marches which kindled his enthusiasm for walking later in life.
Back in civvy street, Tony and Betty set up home in Inverness, where they would remain, with Tony resuming work as a joiner employed by Colin Macmillan's building company before latterly working for British Rail maintenance.
By now Tony had developed an interest in heavyweight athletics and was soon competing with success throughout the north in the Highland Games season. A longterm member of Inverness Harriers, he trained regularly with home-made weights and improved his technique at the individual events of shot putt, Scots hammer, 28lb weight for distance, 56lb weight for height and the caber toss. His best events were probably the 56lb weight, in which he could clear over 13 feet, and the 28lb weight, which he threw almost 70 feet.
After success with various North of Scotland titles he graduated to winning the Scottish Amateur Heavy Events title two years in succession at Nairn Highland Games, in 1970 and '71, on both occasions relegating former British international hammer thrower Alex Valentine into second place. The title was decided on aggregate points from the five events and in 1970 he won the 28lb and 56lb weights with a second in the hammer.
In 1971 he repeated those results while adding a third place in shot and caber. His success even led to an appearance on television on Blue Peter in a feature on the heavy events at the Games.
He continued with shinty and Highland games throughout the 1970s and was pleased to be part of the successful Inverness "vets" team that won the Newtonmore '6's' competition in 1987.
Once retired from competitive sport, he loved spending time in the remote outdoors, indulging his love of the Highlands on long hikes and hillwalks. As a wildlife enthusiast fascinated by the natural world, he enjoyed field sports – short of killing animals, which he never did. He was also a talented artist, a skilled wood carver and accomplished general craftsman.
A popular and highly regarded individual, Tony was a determined, self contained character who was quietly self confident – "a true force of nature" according to his daughters. He was a much-loved family man who doted on his grandchildren Jonathan, Gavin, Hannah and Adam. He is survived by his wife, daughters and grandchildren.